Starbucks new store celebrates the craft of coffee with an elevated immersive experience
The first Starbucks store in Canada opened at the Seabus Skytrain Station in 1987. This humble store was the company's first international location, and since then Vancouverites have been embracing the Starbucks Experience. With the 30thanniversary celebration comes a new chapter for Starbucks in Vancouver. Opening today, is the fully renovated Mt. Pleasant location, which is the first store in Vancouver to feature an experiential Starbucks Reserve® coffee bar.
"We know our customers are more curious about coffee than ever before and this new experience places coffee craft at the center of the conversation," said Caroline Ternes, vice president, Starbucks Western Canada. "We are thrilled to offer our customers an elevated experience where they can share in our partners' (employees') passion and expertise."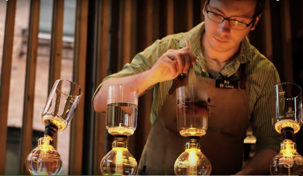 Influenced by the educational aspects of the flagship Starbucks Reserve® Roastery in Seattle, this new store will bring to life the company's rare, small-lot Starbucks Reserve® coffees handcrafted by baristas using state-of-the-art brewing techniques; siphon, The Black Eagle, Clover® brewer and ceramic pour-over as well as featuring Nitro Draft taps. The reserve bar has an expansive six-foot oak bar top, where customers sit face to face with their barista, immersed in the brewing and conversation around coffee.
This location was designed to be a favourite destination for this vibrant neighbourhood. Brick walls and concrete floors contrasted with golden blonde oak and walnut, warm the space creating a comfortable and conversational atmosphere. The space showcases sketches and photography of the flagship Starbucks Reserve® Roastery in Seattle, as well as artwork by two local artists; Diane Nelson of Brandon Johnson Art & Design, and Tyler Keeton Robbins. The woodwork was all hand crafted by a local millworker and the loose furniture was primarily produced by a local furniture shop, celebrating local Vancouver talent and connecting with the community.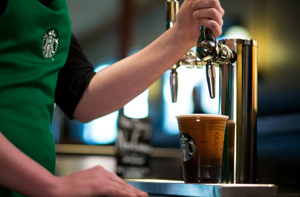 Adding to the elevated experience, all partners are Coffee Masters or currently working on their designation. This designation is the highest level of coffee education for Starbucks where baristas have perfected their craft through coursework and exploration of all Starbucks coffees and are awarded the honour of wearing the black apron.
About Starbucks
Since 1971, Starbucks Coffee Company has been committed to ethically sourcing and roasting high-quality arabica coffee. Today, with stores around the globe, the company is the premier roaster and retailer of specialty coffee in the world. Through our unwavering commitment to excellence and our guiding principles, we bring the unique Starbucks Experience to life for every customer through every cup. To share in the experience, please visit us in our stores or online at www.Starbucks.ca and the Starbucks® Newsroom at www.news.Starbucks.com.