The Deighton Cup 2017 runs Saturday, July 22
One of the most anticipated events of Vancouver's summer season, the 9th Annual Deighton Cup, will return on Saturday, July 22, 2017 at the Hastings Racecourse, from 11am to 6pm.


Presented by Dax Droski and The Social Concierge, the 9th-Annual Deighton Cup will build on its reputation of showcasing the best of both fashion and fun in Vancouver. A heart-pumping day at the races, this year's Deighton Cup boasts an array of new attractions including a Fanny Bay Oyster Bar and oyster shucking competition; the return of the Style Stakes Best Dressed competition and a preview art installation from the Vancouver Biennale.
The 5th Annual Cocktail Jockey Mixology Competition, presented by Piper-Heidsieck, will now be held on Friday, July 21 at Reflections in Hotel Georgia from 12pm to 3pm. Headed by acclaimed Vancouver barkeep Alex Black, the competition will pit 10 of the province's top bartenders against each other in a quest for the ultimate twist on a classic Champagne cocktail sponsored by Piper-Heidsieck. The winner gets bragging rights, the coveted Boothby Julep Trophy and a $1,000 cash prize!
Partial proceeds from all ticket sales to benefit Variety – the Children's Charity as well as imagine1day.
And of course, the centerpiece will be the running of eight heart-stopping horse races, with post time beginning promptly at 1:30 pm.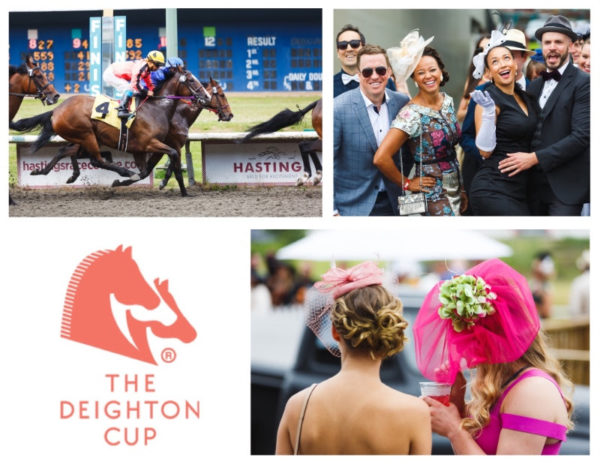 5th ANNUAL COCKTAIL JOCKEY MIXOLOGY COMPETITION
When: Friday, July 21
Where: Reflections in Hotel Georgia – 801 West Georgia Street
Time: 12pm-3pm
Tickets: Coming soon
THE DEIGHTON CUP 2017
When: Saturday, July 22
Where: Hastings Racecourse – 188 North Renfrew Street
Time: 11am – 6pm
Price: Festival Ticket $65 (Early Bird to Thursday, June 30) | Regular Festival Ticket $75
Tickets: Available online at www.deightoncup.com
SOCIAL MEDIA
Twitter: @DeightonCup
Instagram: @DeightonCup
Facebook: /DeightonCup
Website: www.deightoncup.com