Having been a home wine maker for over 25 years, I have always been a little leery about 'wild' yeast fermentations.   'Wild' yeast is also known as 'ambient', 'feral' or 'natural' yeast. My scepticism is not without reason; having bought crushed grapes that began to ferment on their own, before I had a chance to inoculate with a cultured yeast, I've experienced some less than desirable consequences. Commercial yeasts tend to be more powerful and will kill most wild yeasts that could be harmful and turn your potentially lovely Merlot into expensive  red wine vinegar.
OK, time to step back for a moment and speak to those who have never made wine before. Wine Chemistry 101. Grapes are mostly water, sugar, acids and a whole bunch of other 'stuff' (not important for my purpose here). Cultured, or commercial yeasts, when properly hydrated, come out of their dormancy and 'come alive'. When a yeast culture is added to crushed grapes (juice/must) the yeast cells eat the sugar and multiply, producing CO2 and alcohol as by products.   The more sugar, the more alcohol. Grapes are usually picked (many factors to consider here) with the intention of making a wine in the 11-15% alcohol by volume (ABV) range. A big red would not be appealing at 11% and a light fresh, fruity white would not be enjoyable at 15%.
One possible problem with using wild yeast is that it might not be 'strong' enough to ferment all the sugar, which could result in a 'stuck' fermentation – an incomplete fermentation, resulting in low alcohol and high residual sugar. What other problems can you run into with wild yeast? The wine could become vinegar if the yeast was not 'wine friendly', or you could end up with a wine with funky or other 'off' or unusual odours and flavours.
The counterpart to wild yeasts are 'designer' commercial yeasts, which are made to enhance certain aromas (phenols, esters, terpenes – some of the other cool stuff).
Since medieval times, European bakers, brewers and vintners discovered, that yeast cultures specific to each of their needs, became the ambient yeast, and rarely, if ever, needed to inoculate their respective product. Henceforth, 'Old World' winemakers became habituated to the 'Traditional' methodology- usually/mostly with good results. However, these vineyards have likely been around for centuries and the yeasts found in them are 'wine friendly', whereas grapes grown on newer vineyards may be exposed to other types of yeasts. Also, grapes that are transported over long distances could be exposed to other, 'bad /unfriendly' yeasts.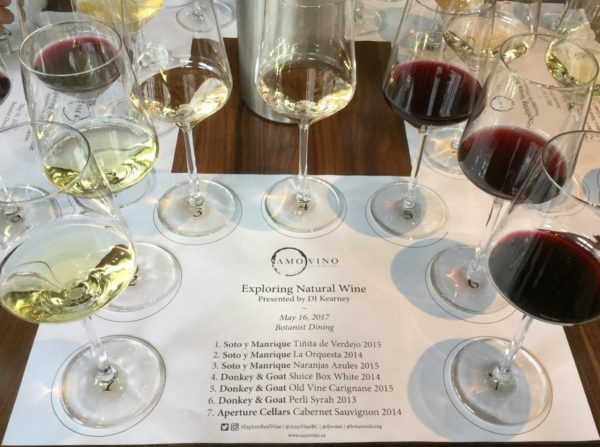 Much as 'traditional', heritage' and 'artisanal' monikers have overtaken the food industry, 'wild', "ancestral' or 'natural' are the latest fads in the wine world. So, it was with great curiosity that I went to a Natural Wines seminar with wine educator DJ Kearney. I have tasted several wines made in this style and found them to be 'good', 'interesting', 'not my cup of tea, or 'why would anyone drink this stuff?'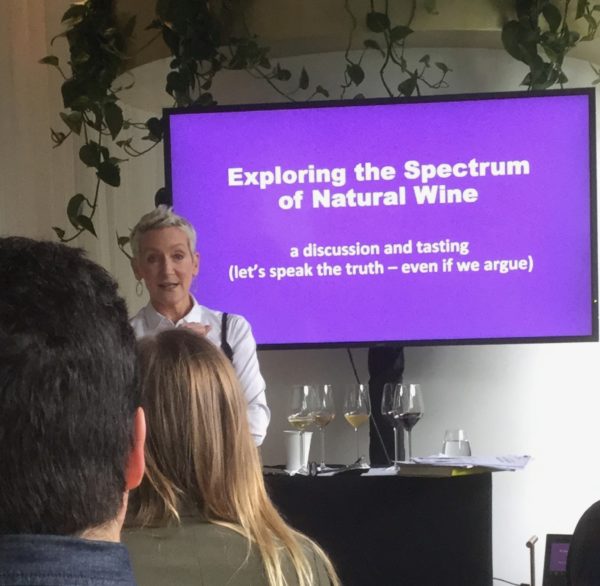 As DJ mentioned, there are a lot of differing opinions out there. Robert Parker has been quoted as saying it is, "one of the major scams being foisted on wine consumers." Whereas Anselme Selosse is of the opinion that, "chemical futzing 'lobotimizes wine'." Paul Old from Les Clos Perdus, a natural wine producer in the Languedoc believes, "making great wine is to flirt with fault." And David Gleave, a master of wine (MW) says, "It is important to me that a wine express the character of the grape and the place in which it is grown. Almost all of the natural wines that I have tasted have this expression marred by one fault or another." The production of bulk, generic, manufactured wines, using additives to clarify and stabilize wine, yeast nutrients, colouring agents and the like, only serves to galvanize the natural wine adherents, while at the same time inviting the scorn of true oenophiles.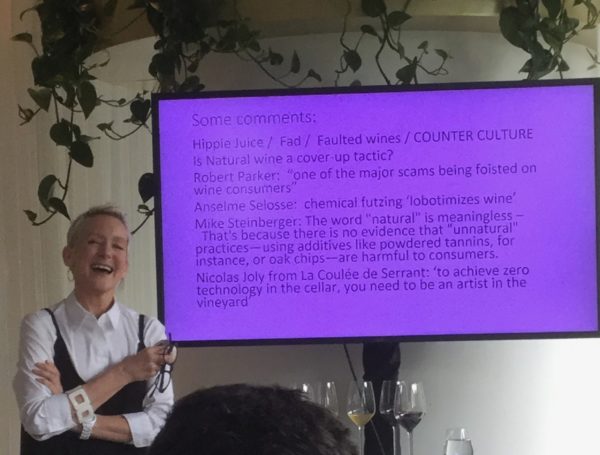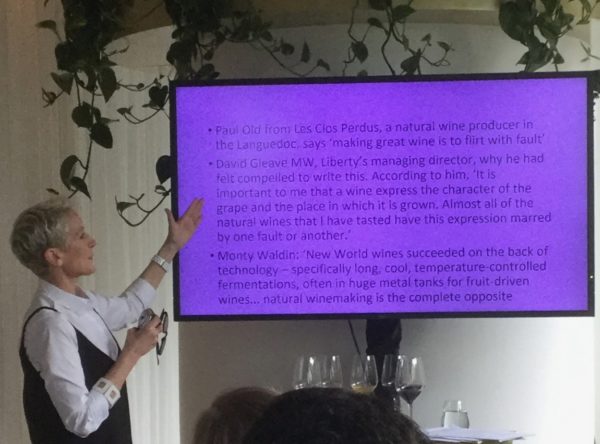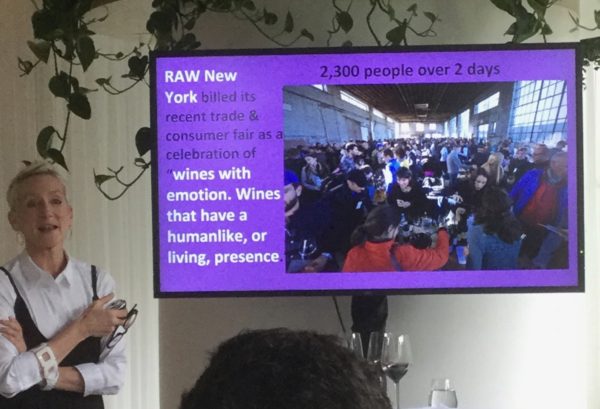 Despite this controversy, RAW artisan wine fairs, 'grown naturally, made naturally' attract many curious wine drinkers to all their events, whether in London or New York, so it is safe to say that there is certainly a market out there for these wines.
Here are the wines we sampled that day.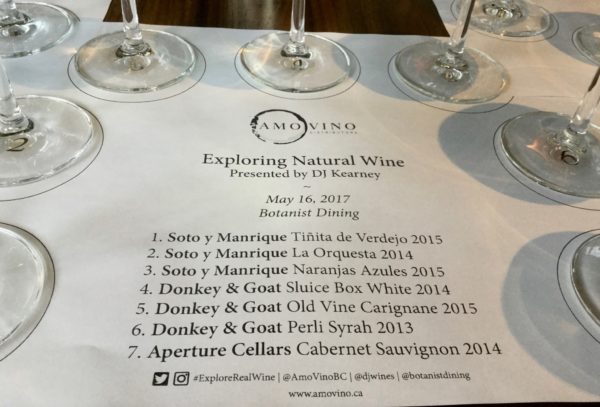 From Spain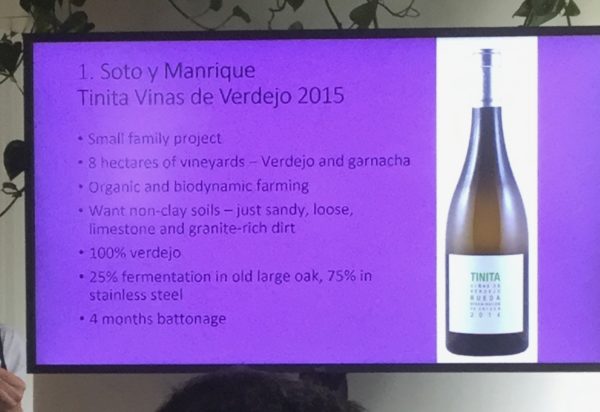 #1. Soto y Manrique
Tinita de Verdejo 2015
This is a small family run project of only eight hectares of Verdejo and Garnacha. They practice organic and biodynamic farming. Made from 35-40 year old vines.
Winery Tasting Notes
"Gold in the glass with complex and inviting aromas of pear and white nectarine, hay, balsamic, bay leaf and hints of well integrated oak. The palate is medium-bodied with subtle and intriguing flavors and sharp nutty acidity. Well-structured with a fat, glossy texture and lingering finish. A beautiful display of excellent site choice and appropriate wine making technique."
My notes
Lemon, cream custard, a touch of salinity, spritz on the tongue, medium-body. Quite pleasing with a medium-short finish.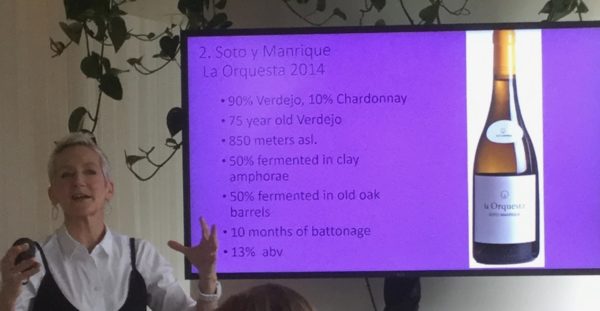 #2 Soto y Manrique
La Orquesta 2014
Made from 90% Verhejo and 10% Chardonnay.   75-year-old vines. 50% fermented in clay amphora and 50% in new oak barrels.
Tasting Notes
"Brilliant gold in the glass, the nose and palate showcase an 'orchestra' of flavours and aromas – ripe nectarine, pear, orange rind, white flowers, hints of hazelnut, balsamic, fennel and an underlying smoke character. Everything is completely in tune and well- harmonized with an undeniable elegance. An intriguing textural experience due to the lees and amphorae. Each note plays brilliantly and together make for an exquisite young wine with great potential for age ability."
My notes
A little unusual at first taste, but in no way unpleasant. Aromas of oak, toast and juicy grapefruit. Approach this wine with no preconceived expectations.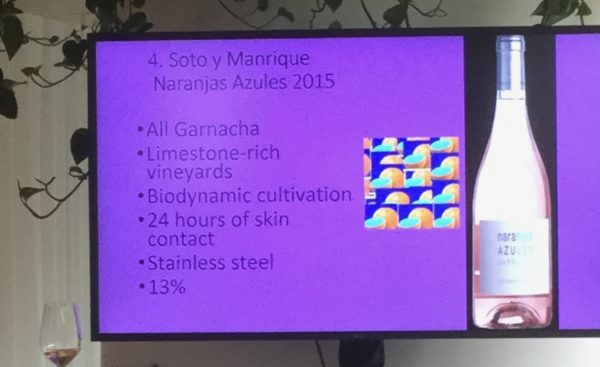 #3 Soto y Manrique
Naranjas Azules 2015
All Garnacha from limestone rich biodynamically farmed vineyards. 245 hours of skin contact for colour. Aged in stainless steel.
Tasting Notes
"Very pale, pink salmon colour in the glass, with a contradicting forward nose and palate. Elegant and complex aromas of varietal strawberry, cherry, with nuance of jasmine, mint and fennel. Light bodied but very fresh with zingy acidity. Complex layers of fruit, herbs and violets in perfect harmony. Persistent flavours and mouthwatering acidity contribute to a pleasant and delicious finish."
My notes
Melon and peach juice. This rosé has just the slightest coppery rose hue with light intensity. Orange zest flavours. A medium-plus finish with some lingering salinity.
From California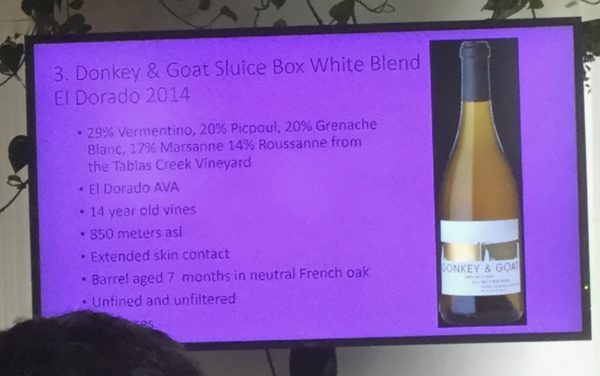 #4 Donkey & Goat
Sluicebox White 2014
A blend of 29% Vermentino, 20% Picpoul, 20% Grenache Blanc, 17% Marsanne, 14% Rousanne from 14 year old vines in the El Dorado AVA. Barrel aged 7 months in neutral French oak. Unfiltered and unfined.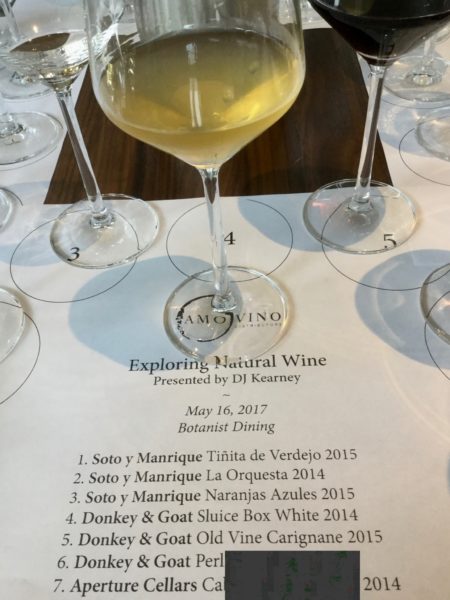 "The appearance is hazy and the color brassy, but the flavors are vivid, fresh and bracing. The mouthfeel has great acidity, an unusually thick texture and fine tannins. A sense of layering and intensity develops with more sips, and lingers on the finish."                                                                                         – Wine Enthusiast
My notes
An unfiltered orange wine. Orange blossoms on the nose with somewhat subdued aromas. Medium bodied. Pleasing flavours on the palate with a medium finish. Quite appealing.

#5   Donkey & Goat
Old Vine Carignane 2015
From 75 year old vines in Mendocino that are now farmed organically and biodynamically. Low yield, about 2.5 tons per acre. 15-day maceration. Aged in neutral French oak for 10 months. Unfiltered and unfined. Only 386 cases made.
Tasting notes
"Bright red fruits, blackberries and dark plums mingle with blood sausage on the nose. A bodacious body dressed in black olives, red fruit and minerality; a hint of concrete on a warm day after a brief rainstorm. The long finish starts dry and ends juicy with mouth-watering acidity."
My notes
Earth and spice, delicate red berries, violets, dry cocoa light body, good colour and depth, a slightly chalky texture rather than tannic, medium finish

#6 Donkey & Goat
Perli Syrah 2013
9% Syrah and 2% Viognier. 45% whole cluster with stems, 16 days in an open top wood vats. Barrel aged for 16 months in 1 to 3 year old French barrels. Unfiltered. Only 190 cases made.
Tasting Note
"Brilliant ruby. A heady, smoke – accented bouquet displays scents of ripe dark berries, olive and cracked pepper, and a spicy note gains power as the wine opens up. Fleshy and broad but surprisingly animated on the palate, offering sweet blackberry and cherry liqueur flavors and a suggestion of licorice pastille. Closes smooth and spicy, featuring sneaky tannins and excellent dark-fruit driven persistence."                                                                                                                         – Josh Raynolds
My notes
I found this wine appealing, with a fruity and perfumed nose, meaty, dark berries, black berry, orange oil. The wine kept opening up and evolving. It was my favourite wine in the flight.
#7 Aperture Cellars
Cabernet Sauvignon 2014
From Jessie Katz. 94% Cabernet Sauvignon with 6% Merlot. Dry farmed in the Alexander Valley. Mostly volcanic soils. 20 months sur lees in 50% new French oak. Unfiltered, unfined and un-acidified. Dark fruit, earthy, plum, berries, spice, vanilla, very good body, smooth ripe tannins, medium-plus finish, big and round in the mouth.
"The 2014 Aperture Cabernet Sauvignon is a silky, concentrated expression of the great Cabernet vineyard sites in Alexander Valley. A beautiful mixture of red and dark fruits are combined with spice, earth and a bit of dark chocolate on the finish. The wine showcases a unique balance of richness and focused natural bright acidity that only the great sites and vintages can create."
Robert Parker, Wine Advocate
Jared and Tracie Brandt who own Donkey and Goat, typically dump anywhere from 5 to 15% of their wine because they are not happy with it.
To have a certified organic vineyard is one thing, but to have a certified organic winery is much harder. With natural wines, it is better to be organic and even biodynamic, though not necessary. Hand harvesting only, indigenous yeast, no enzymes. No additives other than judicial use of SO2. No DAP (diammonium phosphate – yeast nutrient), but Dementer yeast hulls are acceptable. MLF may be used only for acid adjustment, cold stabilized, unfiltered and unfined.
Those who are fans of natural wines maintain that they represent a true, authentic expression of the grape and that they are sustainably produced. They also see these wines as a counterpoint to the mass produced, homogenized wines of the world that lack any individual character.   Those on the other side of the fence, point to problems with stability, transportation and question their ability to age well. They see these often more expensive wines as a short-term fad and that many of them are simply flawed.
The take away for me is that 'normal' wineries and wine makers have a lot of tools at their disposal to change and or manipulate their wines as they see fit. They can easily deal with high/low acid levels, sugar levels, alcohol levels, etc.
For natural wine makers, they really do need to have all their ducks in a row and that means scrupulous attention to detail in the vineyard to ensure they are getting the very best quality possible. Then it makes sense to intervene as little as possible and let the wine speak for itself and reflect the land where it was grown.
As with most things in life, it doesn't have to be a case of 'all or nothing'. While those that buy at the lower end of the scale have no problem with 'manufactured' 'overly manipulated' 'Frankenwines' and don't care about quality, those of us who seek out quality wines that speak of their place, often find ourselves buying wines from producers who believe that less is better.
If you are looking to change things up a bit, if you want to experience new tastes and styles, then give these wines a try. Just be sure to keep an open mind, as they are indeed different.
So why are wine makers going down this path? The very best answer is, "Why not?" Just like in photography, you first need to learn all the rules, then you can experiment and creatively break the rules, which sometimes can have interesting /amazing results. You can't sparkle a red wine – sparkling Shiraz. Riesling is never oaked (I've had a very good one made by someone who decided to see if that 'rule' was true.)
If you are looking for something, new or exciting, if you are a person that loves sour craft beers, if you are a person that likes to stay on top of the latest trends and fashions, then go 'naturel' and seek these wines out and discover a whole new facet of wine making.
(All wines supplied by Amo Vino wine distributors: http://www.amovino.ca/)
(All photos, except as noted – Sam Hauck)