I'm a huge fan of improv, and the talented Vancouver TheatreSports League ensemble. So when I heard that the troupe was unveiling a new show in honour of Canada 150, I was excited. And what better day to take in Oh, Canada – The True North Strong and Funny than on Canada Day, eh?
I – and the enthusiastic audience – weren't disappointed. In fact, it was one of the best shows I've seen in the last few years.
Improv is hard. The cast has to take a random idea from the audience and create comedy on the fly. Sometimes it works, and sometimes it doesn't – but when it does, magic happens. You can literally see the energy and ideas flowing from one performer to the other as everyone on that stage knows that they have a winner on their hands. That's exactly what happened on Canada Day. From the moment Park Ranger Nathan (sporting his own canoe) introduces the red plaid shirted cast, everything clicked.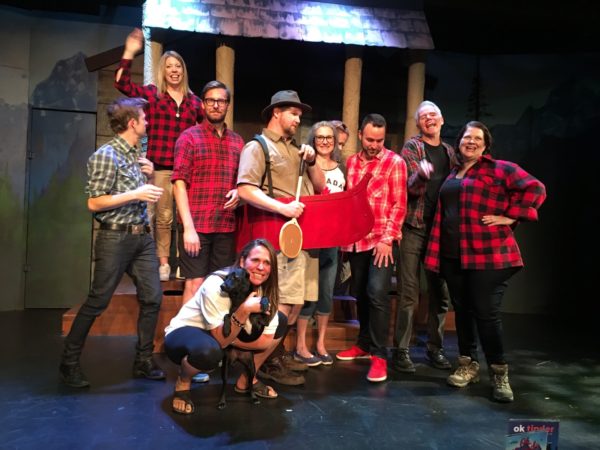 No Canadian stereotype was spared. The Mounties, William Shatner, hockey parents, Tim Hortons, Hinterland Who's Who and the toonie – all were lampooned. And we all laughed ourselves silly.
The kicker – when everyone – Canadians and tourists alike – stood up and sang O Canada at the tops of our lungs as the show wrapped up.  There were a few tears mingled with our smiles as we left.
Oh, Canada – The True North Strong and Funny runs every Thursday through Saturday evening at 7:30 p.m. from June 29 to September 2. All shows take place at VTSL's home theatre, The Improv Centre on Granville Island. Tickets start from as low as $10. Show information and tickets for all VTSL productions can be found at www.vtsl.com.
It's an improv show, so no two performances can ever be the same, but I can guarantee you this much – you will see a group of people loving what they do skewering the country they love. The results will be hilarious. And I'll be going again.