This year, more than 40 of Vancouver's top restaurants and bars are celebrating Pride and showing their support for the Dr. Peter AIDS Foundation and the LGBTQ2+ community by participating in the Pride Crawl Cocktail Fundraiser from July 14 through August 6.
That's a lot of finely-crafted cocktails to choose from, and anyone who knows this wine-loving gal knows I'm no cocktail expert. So I decided to create my own mini-crawl over two days this week to further my cocktail education and highlight a few of the libations you can enjoy over the next several weeks.
Juniper Vancouver – The  Tr-hop-ical Dream
My first stop was to Juniper Vancouver, right in the heart of a burgeoning restaurant scene in Chinatown. Bar Manager Max Borrowman presented me with the Tr-hop-ical Dream, a mix of Jameson, cinnamon and pinapple puree, lemon, and local IPA.
This was a refreshing and complex cocktail – fruit-forward, but then the hops follow, lending a complexity I wasn't expecting with the first sip. A good start for this newbie.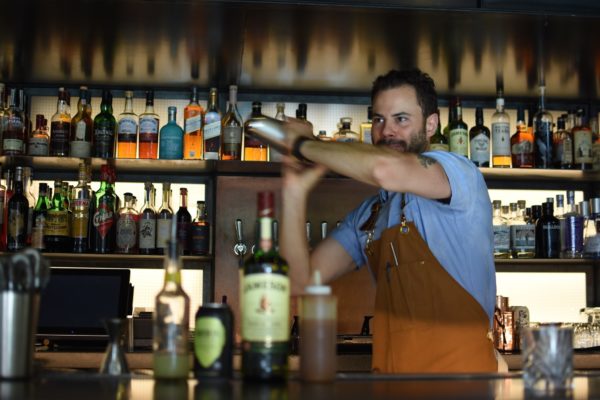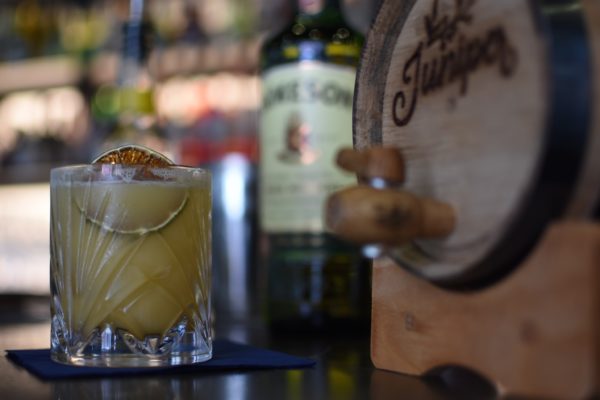 UVA Wine and Cocktail Bar – The Proud Seaman
Next, I visited Sabrine Dhaliwal, Bar Manager at UVA Wine and Cocktail Bar, for a taste of her Pride concoction – The Proud Seaman. This tall, fruity drink consisted of Belvedere Vodka, Okanagan Spirits Haskap Liqueur, apple black tea, lemon juice, and Bittered Sling Cranberry Bitters all topped with a little soda water with a strawberry and umbrella garnish.
Perfect for summer sipping.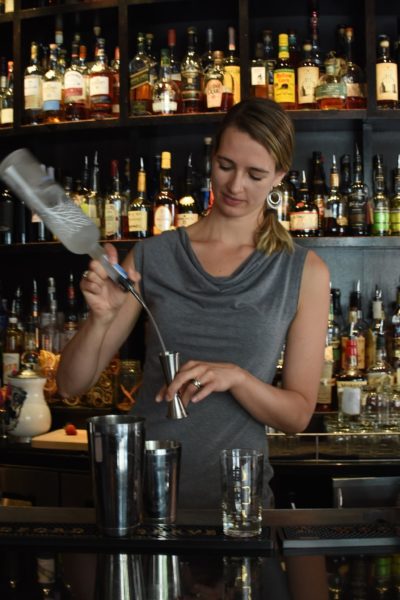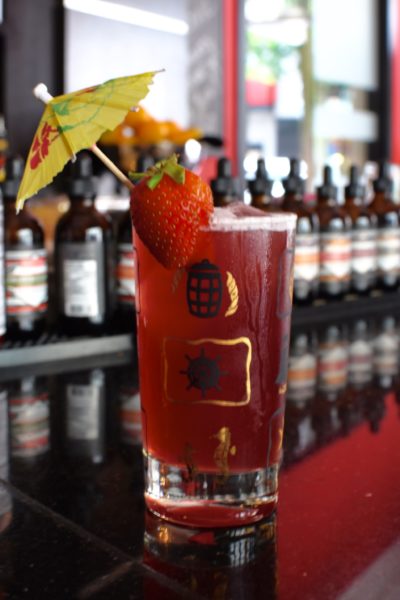 L'Abattoir – The Rhapsody
On the second day of my mimi-crawl I ventured into Gastown and L'Abattoir, where Bar Manager Katie Ingram made me a colourful Rhapsody cocktail. This was a blend of  ingredients new and different for me, so this cocktail became an adventure. Consisting of Olmeca Altos Plata tequila, Bols Blue Curaçao, Giffard Abricot du Roussillon, lime & Bittered Sling Clingstone Peach bitters, the Rhapsody lives up to its name.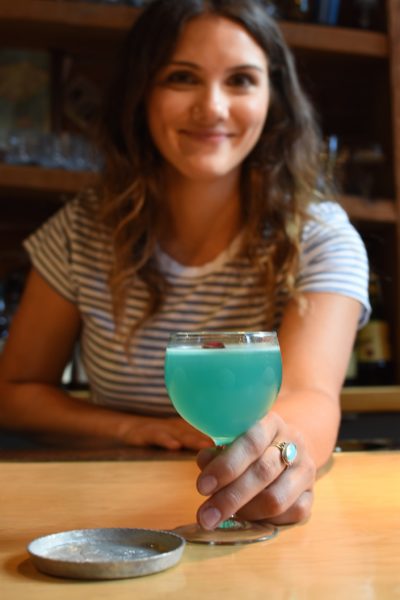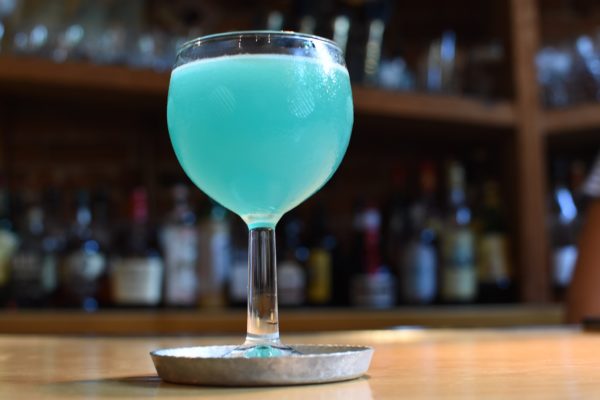 Pourhouse – The Bittercup
I then headed over to the Pourhouse Restaurant, a Gastown destination known for its classic cocktails. And Christopher Flett made me a beautiful, classic Bittercup – a mix of Campari, Fernet Branca, grapefruit and cranberry juices, and sparkling wine – lovely to look at and not too sweet.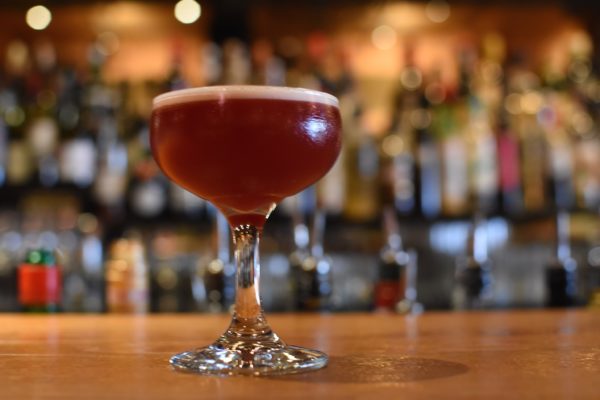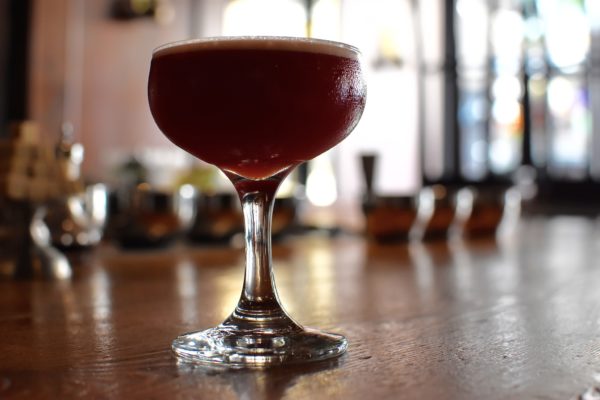 The Keefer Bar – The Ladyboy
My last stop was back in Chinatown at the fun and eclectic Keefer Bar, where Bar Manager Amber Bruce was waiting to serve me her cheekily named Ladyboy cocktail – not only in a glass, but in a bowl for group sipping!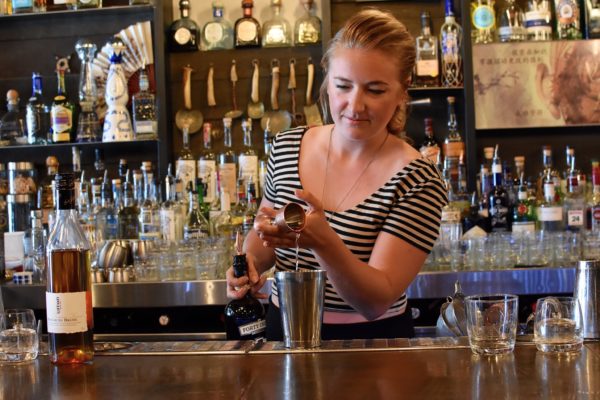 Made with Forty Creek Canadian Whisky, lemon, ginger, banana liqueur, and a housemaid black sake liqueur, the Ladyboy definitely evoked the tropics, but with some intriguing undertones. And who doesn't want to drink out of a flaming punch bowl?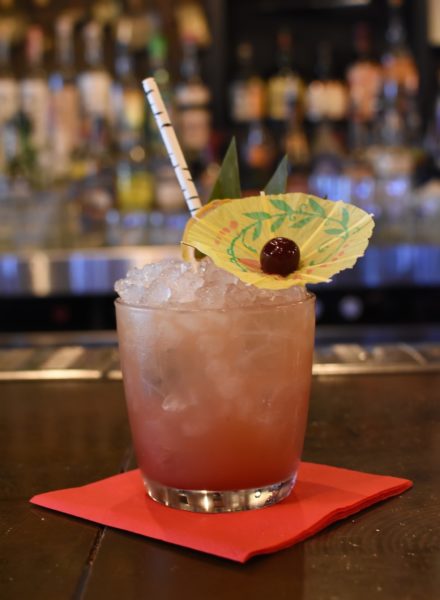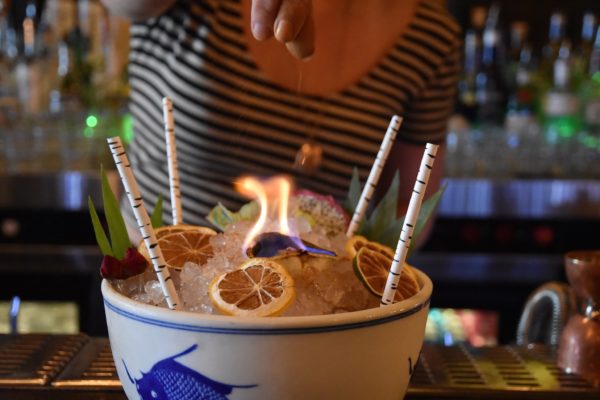 I had a terrific time learning more about cocktails and spending time with some of the most talented mixologists in town. Why not get some friends together and design your own Pride Crawl in support of the Dr. Peter AIDS Foundation? All the participating bars and restaurants can be found by visiting http://www.drpeter.org/events/pride-crawl.
Cheers!