The number one play of the summer!
Whether you are two, twenty-two, or ninety-two you will enjoy the 2017 TUTS production of Mary Poppins. The wise but fun-loving nanny is at it again, solving the problems of the troubled Banks family, effortlessly riding in and out on her umbrella, and together with Bert, the handy chimney sweep, cheering us up 'with a spoonful of sugar'!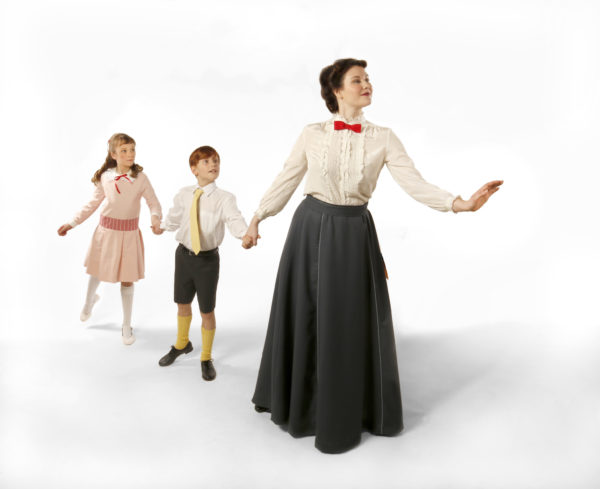 Director Shel Piercy has taken the original story written by Julian Fellowes, and used the adaptations by Cameron MacKintosh from 2004, to create a production that entertains, delights and makes the time just fly by.
Many of the songs have been altered: new lyrics added, some rearranged, or deleted altogether from the original. The musical direction of Wendy Bross Stuart creates a smooth flowing musical with unforgettable songs that leave you humming 'Supercalifragilisticexpialidocious' (which you will have seen twice with semaphore letters), 'Step in Time' and 'Chim Chim Cher-ee'.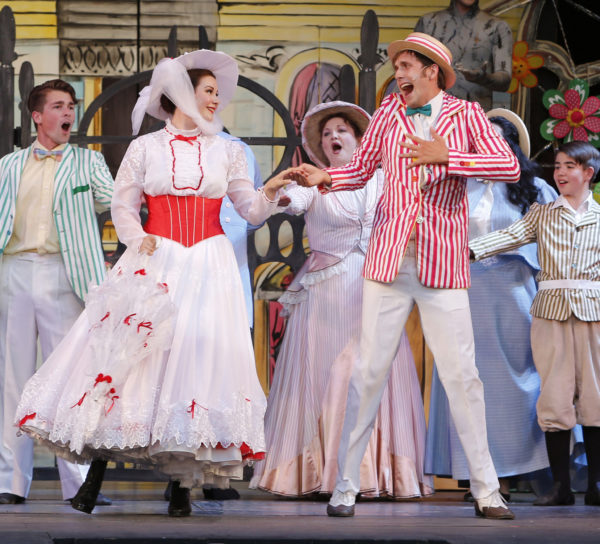 The dazzling choreography of Nicol Spinola includes tap, modern, ballet, and gymnastic moves as well as the aforementioned semaphore. The local company of talented dancers and singers is thrilling. This musical really enables them to show their emerging talent on a professional stage.
A take your breath away moment comes when the dancers, dressed in black, wear tiny lights as part of a constellation. The costumes during the production are colourful: Mary Poppins in red, Winifred Banks in powder blue, the gentlemen in appropriate colours, sometimes carrying black umbrellas, and the kitchen staff in uniform.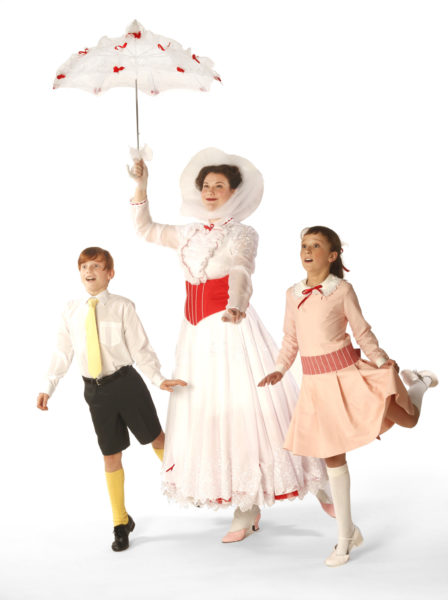 The rotating set design was both simple and complex, it took almost no time to change the scene and the mood transforming from out of doors to the living room and bedrooms of the Banks home, to the bank, to the park and to the rooftops of London quite seamlessly.
Ranae Miller is a sensational Mary Poppins and Victor Hunter plays Bert fabulously, even adding in the Disney cartoon penguins into a dance number. Their voices are absolutely flawless!
The Banks family, father George (Russell Roberts), mother Winnifred (Lalainia Lindbjerg-Strelau), Jane (Lola Marshall) and Michael (Nolen Dubuc) each embody their characters with the appropriate voice: stodgy, unsure, confident, lost, desperate, and happy. The children are exceptional in this setting.
The entire supporting cast, too many to mention, are exemplary but the solo, 'Feed the Birds' by Cecelia Smith as The Bird Woman is especially memorable.
The entire production is perfect! The unparalleled setting, outdoors in Stanley Park, the superlative cast, the perfect costumes and the catchy music create the mood for this very professional production. Watching Mary Poppins teach the Banks family a lesson in love and imagination promises a practically perfect evening for the whole family.
Images: Tim Matheson