Internationally Acclaimed Dance Company teams up with The Social Concierge for its second year to create an enchanted garden at Queen Elizabeth Theatre Plaza
Ballet BC and The Social Concierge are proud to announce their 2nd spectacular cultural collaboration of Babylon, taking place at the Queen Elizabeth Theatre Plaza on Saturday, August 12, from 6pm to 10pm.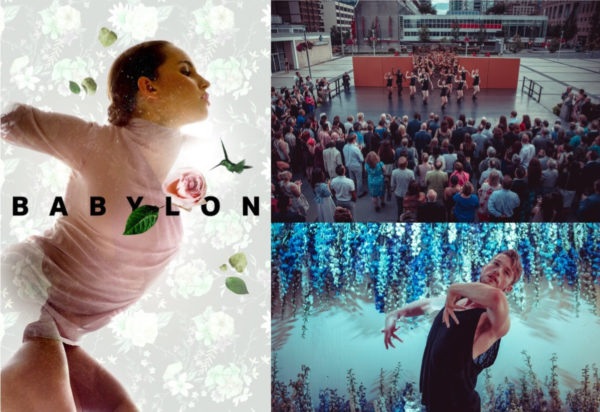 A celebration of nature's beauty and the universal language of dance, Babylon will feature landscapers, event designers and floral artists from across the Lower Mainland (Flower Factory, Our Little Flower Company, Nicola Adams Floral and Fiorre Fosalba Florist) who will transform the Queen Elizabeth Theatre Lobby and Plaza into a contemporary interpretation of the legendary Hanging Gardens of Babylon, one of the Seven Wonders of the Ancient World. Adding to the lush setting, guests will be tempted by floral cocktails in full bloom and a VIP Mezzanine ticket option including delectable bites by Hawksworth.
This glorious botanical backdrop — in the heart of the city and under the stars — will serve as the stage for Ballet BC 's world-class dancers, who will engage in improvised movement and site-specific choreography inspired by the evening's verdant theme. They will also perform highlights of upcoming works on an outdoor stage beneath the midsummer night's sky featuring work from resident choreographer Cayetano Soto.
"This annual celebration provides a unique opportunity for our dancers to explore movement out of the studio and into the gardens of Babylon," says Ballet BC Artistic Director Emily Molnar.
"A contemporary expression reimagined amongst guests and friends."
Garden passes to Babylon are $55 (includes a welcome cocktail) and VIP Mezzanine passes are $120, available at www.thesocialconcierge.com
BABYLON 
When: Saturday, August 12
Time: 6 pm to 10 pm
Where: Queen Elizabeth Theatre and Plaza (West Georgia St. at Hamilton)
Tickets available at www.thesocialconcierge.com:
Garden Pass $55
VIP Mezzanine Pass $120 catered by Hawksworth
Ballet BC Imagery available here.
SOCIAL MEDIA
Twitter: @balletbc / @TSC_Agency
Instagram: @balletbc / @tsc_agency
Facebook: BalletBc  / TheSocialConcierge
About Ballet BC 
Combining classical integrity with a contemporary sensibility, Ballet BC is a creation-based company of 18 talented dancers from Canada and around the world that is committed to exploration and collaboration in contemporary dance. Solidly grounded in the rigour and artistry of classical ballet, with an emphasis on innovation and the immediacy of the 21st century, the Company presents a distinct and diverse repertoire of the most sought-after Canadian and international contemporary ballet choreographers. Ballet BC performs at the Queen Elizabeth Theatre in the fall, winter and spring; tours regionally, nationally and internationally; and offers a range of audience engagement activities and educational programming for youth, families and people of all ages.
About The Social Concierge 
The Social Concierge is a boutique branding and marketing agency that specializes in delivering unique, premium solutions to a select range of experientially focused clients. The Social Concierge is best known for their portfolio of designer in-house events and tailored hosting programmes for special guests both locally and abroad including: The Deighton Cup, Dîner en Blanc, and Dinner by Design, to name a few.