Watch & Learn showcases Vancouver's vibrant arts & culture community August 19 & 20, 2017
Interact with Vancouver's most talented artists, makers, performers, designers, and creatives at the city's first Watch & Learn celebration: a Vancouver maker festival taking place August 19 and 20, 2017. Presented by Vancouver Civic Theatres, Watch & Learn is an all-ages weekend-long event showcasing Vancouver's vibrant arts & culture community. Held at Queen Elizabeth Theatre Plaza, Watch & Learn features workshops, live mural painting, an Etsy Vancouver Marketplace, musical performances, food trucks, a curated art show, a craft beer garden, and much more. Day passes are $7, and weekend passes are $10; free gate admission for children 12 and under.
The inaugural two-day gala event aims to connect the curious-minded with local makers and encourages everyone to tap into their inner creativity. Watch & Learn's incredibly diverse marketplace will showcase art; design, home, and lifestyle wares; fashion and accessories for adults, babies, and children; plus beauty products and skincare curated by the incomparable team at Etsy. Festival goers can shop until they drop or attend demonstrations and hands-on workshops that provide attendees with myriad opportunities to watch skilled artisans or learn by doing. 'How to' workshops include wild-crafted tonics, indigenous body products, patches, indigo dyeing, embroidery, and macramé. Participants must book workshops in advance, and it is highly recommended to secure seats early for the most sought-after tutorials. Guaranteed to sell out are the Saige and Skye macramé workshops and indigo dyeing classes with Sophena Kwon of Indigo Social in which enthusiasts learn different dyeing techniques and take home their personalized creations.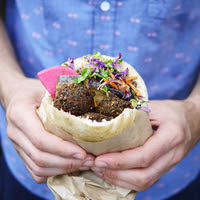 Food is not a side note at Watch & Learn as a stellar roster of savoury and sweet vendors will tantalize visitors' tastebuds during the two-day festival. Choose from Johnny Pops, Via Tevere Pizza, Dinner by Bayan, Chickpea, Tacofino, Disco Cheetah Korean Grill, and Varinicey Pakoras, in addition to Say Hello Sweets vegan ice cream truck and Bandidas brand new food truck. For those of age and carrying ID, there will also be a pop-up bar on site featuring Strange Fellows Brewing, Backcountry Brewing, and Good Company Lager along with cocktails featuring Standard Kombucha and Dickie's Ginger Beer. Foodies can also learn a new skill by booking a wild-crafted tonic workshop with Moonbrew Tonic Co. that guides you through the jun fermentation process utilizing local fruit, herbs, and botanicals.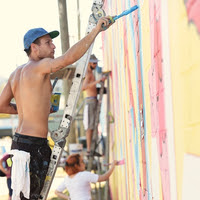 Festival guests will have a unique chance to follow the creative process of two gifted craftsmen. Live painting demonstrations by mural artists Benjamin William Knight and Peter Ricq will take place from 12:00 pm to 5:00 pm each day, and both 8 ft. x 4 ft. paintings will be up for bids at the Watch & Learn silent auction. Musical performances are scheduled at 12:00 pm, 2:30 pm, and 5:00 pm daily with a noteworthy lineup that includes Old Soul Rebel, Andrew Phelan, Twin River, David Morin, Jody Glenham, and Star Captains.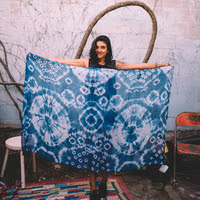 Watch & Learn Festival Details: 
Venue: Queen Elizabeth Theatre Plaza, 650 Hamilton Street, Vancouver, BC
Dates: Saturday, August 19 and Sunday, August 20, 2017
Time: 11:00 am to 7:00 pm
Price*: $7 Day Pass, $10 Weekend Pass
*Children 12 and under enter for free
For tickets visit watchandlearnyvr.ca 
To book a workshop** visit watchandlearnyvr.ca/workshops 
**Workshops are individually priced and must be secured in advance.
About Watch & Learn: Watch & Learn is a Vancouver maker festival presented by Vancouver Civic Theatres in partnership with East Van Arts & Culture Society and Etsy Vancouver. Taking place at Queen Elizabeth Theatre Plaza on August 19 and 20, 2017, Watch & Learn is an all-ages event featuring weekend-long workshops, live demonstrations, musical performances, an Etsy Vancouver Marketplace, musical performances, food trucks, a curated art show, a craft beer garden, and more. For more information and to purchase tickets, please visit watchandlearnyvr.ca.
Find Watch & Learn Online: 
Website: watchandlearnyvr.ca 
Facebook: facebook.com/Watch-Learn 
Instagram: @watchandlearnyvr
Hashtags: #watchandlearnyvr#watchandlearn2017