Tickets on sale now for Passions 2017 – an extraordinary evening on Wednesday, September 27th
What are you passionate about?  The Dr. Peter AIDS Foundation is passionate about providing compassionate (Latin: 'with passion') care at the Dr. Peter Centre for some of the most vulnerable and unwell in our community. In addition to living with HIV, they have significant additional health and social vulnerabilities.  Chefs are passionate about providing their guests with the best food they can create; bartenders care passionately about creating cocktails that delight.
All these elements come together to create one amazing affair – Scotiabank Passions, taking place on September 27 at Performance Works on Granville Island. This year marks the 25th anniversary of the Dr. Peter AIDS Foundation; it also marks fourteen years of Scotiabank Passions raising an invaluable $1.4 million raised in support of compassionate care at the Dr. Peter Centre.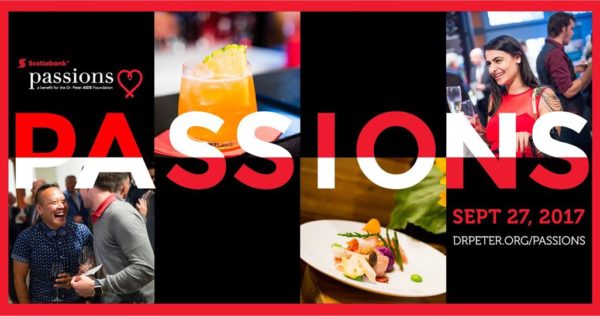 Passions guests will be treated to a stellar line-up of more than twenty of Vancouver's premier restaurants and bartenders. Highlights include:
Bartender of the Year – Sabrine Dhaliwal
Best Upscale Restaurant – Hawksworth
Best Thai Restaurant – Maenam
Best Italian Restaurant – Cin Cin and Silver medalist, Cioppino's Mediterranean Grill
Most buzzed about new restaurant – Botanist at the Fairmont Pacific Rim
Emceed by Global TV anchor Sophie Lui, the evening also includes silent and live auctions featuring a tempting array of prizes. Under the gavel of celebrity auctioneer David C. Jones, attendees will have the opportunity to bid on live auction packages that have been created exclusively for this event.
"To have such an incredible group of culinary professionals, sponsors, and volunteers dedicating their time to making this event a success year after year is a testament to Dr. Peter and his legacy," said Nathan Fong, Passions founder and committee co-chair with Michael Barker-Fyfe.
General admission for the event starting at 6:30 p.m.: $200 until August 25 and $225 after August 25
VIP Tickets (first access to food stations, glasses of bubbly, and VIP gift bags) starting at 5:30pm: $300
Group (10 people) VIP Tickets $2700 and General Admission Group $1750
PARTICIPATING RESTAURANTS
ARC at the Fairmont Waterfront
Boulevard Kitchen & Oyster Bar
Joe Fortes Seafood & Chop House
ABOUT PASSIONS
The history of Passions dates back to 2002, to a small charity cooking class at Barbara-Jo's Books to Cooks. A year later, in 2004, the event was moved to the Dr. Peter Centre and titled Passions. Organized by Vancouver food media personality, Nathan Fong, the inaugural event featured nine chefs, 100 attendees and raised $7,000. Under Nathan's continued stewardship, Scotiabank Passions has since tripled in size and has become one of Vancouver's most popular food and wine events, raising much-needed funds for the Dr. Peter Centre.
ABOUT THE DR. PETER AIDS FOUNDATION AND THE DR. PETER CENTRE 
Named in honour of a British Columbia hero, Dr. Peter Jepson-Young, the Dr. Peter AIDS Foundation is a non-profit organization that operates, and raises funds to support the Dr. Peter Centre in Vancouver's West End neighbourhood. The Dr. Peter Centre is providing compassionate care to some of the most vulnerable and unwell in our community. They are in great need of the Dr. Peter Centre's care and support because, in addition to living with HIV, they have additional challenges, including mental illness, trauma, addiction, poverty and unstable housing. The Foundation manages a seven-day-week day health program, a 24-hour licensed care residence, and an enhanced supportive housing program.
1110 Comox Street, Vancouver, B.C. V6E 1K5 | (604) 608-1874 | www.drpeter.org
Facebook: /DrPeterAIDSFoundation | Twitter: @drpeterAIDSfdn | Instagram: @drpeteraidsfdn