MyVanCity.ca is sharing 15 days of Cocktail Recipes for the Dr. Peter AIDS Foundation Pride Crawl Fundraiser taking place at 45 Cocktail Bars and Lounges in Vancouver July 14 – August 6
Bars and restaurants across Vancouver will stand proud and pledge their support to the Dr. Peter AIDS Foundation this July and August by taking part in the inaugural Pride Crawl Fundraiser to generate financial support for the Dr. Peter Centre in the city's West End.
PRIDE COLADA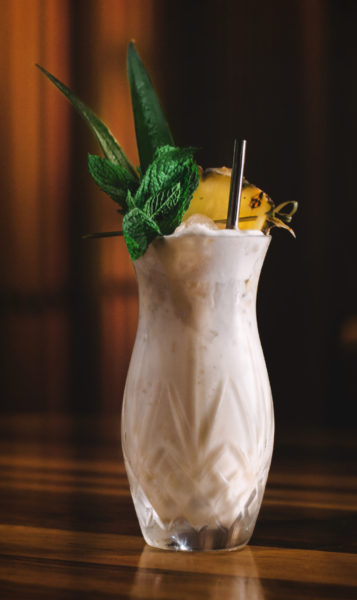 Recipe:
Pride Colada
1.50 oz Havana 3 YO White Rum
0.50 oz Amarula Fruit Liqueur
2.00 oz Fresh Pineapple Juice
3 barspons Boiron Coconut Puree
2 dashes Plum & Rootbeer Bitters
Method: Dry shake all ingredients together, add ice and shake hard to incorporate. Strain over fresh, crushed ice in a sling glass, lined with thin, half pineapple circle and mint with a pick (see photo), a paper umbrella pick and straw. Top the cocktail with 1 dash of rootbeer bitters for a little colour.
Inspired by: Piña Colada
Intro: Just outside the densely populated city of Johannesburg, South Africa, a hilly and mountainous region offers on-lookers an uninterrupted view of this historical city, surrounding townships and arid landscapes – perfect for wildlife and marula fruit.