The Firehall Arts Centre is proud to present the world premiere of Elbow Theatre's Hyperlink from Wednesday, October 4 to Saturday, October 14, 2017.
A collaboration between The Elbow's Artistic Director Itai Erdal, Writer/Performer TJ Dawe, and Director Rachel Peake, Hyperlink delves into life online and the limits of digital empathy. We live in an era of unprecedented technological progress, much of it focused on communication. We have access to our friends, family, and strangers at any time. And yet, many of us are still lonely – perhaps more so than ever – and particularly those of us of the generation that has lived through the Internet becoming embedded in our daily lives. The ubiquity of digital technology leaves us less time for self-reflection. If we face the hard truths that lie behind our actions, both online and off, what answers await us?
Both TJ Dawe and Itai Erdal are known for their storytelling craft. Their previous works are marked by monologues and personal anecdotes that ask the audience to go with them on an uninterrupted journey. In Hyperlink, they attempt to reconcile their storytelling traditions with the interruptive and disjointed experiences we face in digital spaces.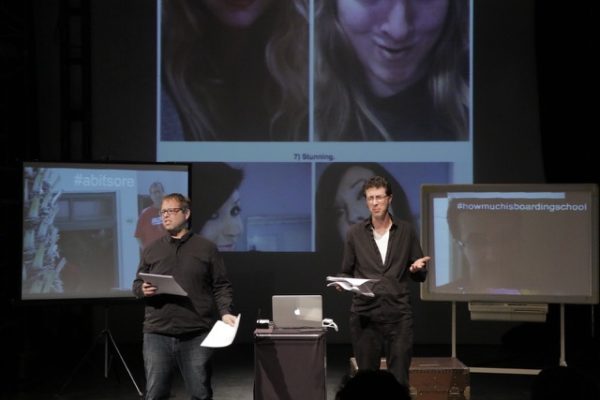 October 4-14 | Firehall Arts Centre | 280 E. Cordova
Opening Night: October 5 at 8pm
Performance Times: Tues, 7pm | Wed-Fri, 8pm | Sat, 4pm & 8pm | Sun, 3pm | Wed, 1pm PWYC
Tickets: From $25 at firehallartscentre.ca | 604.689.0926
Post Show Talkback: October 5 & 12 
Written & Performed by: TJ Dawe & Itai Erdal
Directed & Dramaturgy by: Rachel Peake
Projection Design by: Cande Andrade
Composer/Musician: Mark Haney
Stage Manager: Melissa McCowell
Choreographer: Kayla Dunbar
For more information on the Firehall Arts Centre, please visit the following platforms:
Website: www.firehallartscentre.ca
Facebook: www.facebook.com/firehallartscentre
Twitter: www.twitter.com/FirehallArtsCte
About the Firehall Arts Centre:
Located in a heritage fire station built in 1906, the Firehall Arts Centre produces a season of eclectic theatre, dance and interdisciplinary performances, and acts as a host to visual arts exhibitions in its intimate gallery/lounge. Each year, FAC hosts over two hundred performances bringing audiences into the heart of the city to enjoy artistic works, view art works in the gallery and sip a beverage in the enclosed courtyard.
The building that is now home to the Firehall Arts Centre served as a fire hall – the first motorized fire hall in North America – until 1975. Minor renovations to turn the building into a theatre were undertaken at that time but it was not until February 25, 1982, that the building opened as the Firehall Theatre. Later the decision was taken to change the name to the Firehall Arts Centre to better reflect all of the different arts activities that are housed in the bustling centre that we are today. www.firehallartscentre.ca