Latest Addition to Gooseneck Hospitality's Expanding Restaurant Roster Features 150 Seats, Wrap-Around Patio, Casual Fare and Local Craft Beer, Wine and Cocktails Exclusively On Tap
Vancouver's Gooseneck Hospitality — the team behind such award-winning restaurants as Wildebeest, Bufala and Lucky Taco — is set to unveil a brand-new casual dining and beer hall concept when it opens the doors on Bells and Whistles at 3296 Fraser Street in the burgeoning Fraserhood district this September.
Open for lunch, dinner and late-night drinks seven days a week with seating for 150 guests in its 3,000-sq.-ft. dining room and wrap-around heated outdoor patio, Bells and Whistles is the latest venture for Gooseneck, which includes respected restaurateurs James Iranzad and Josh Pape as well as new Bells and Whistles co-partner and longtime Gooseneck employee Nick Miller.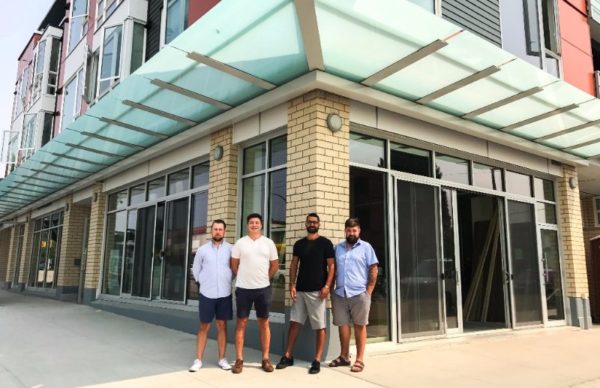 With a menu comprising homespun, locally and ethically sourced dishes designed by Wildebeest Executive Chef Alessandro Vianello, Bells and Whistles will serve up burgers, tacos and fresh salads, ballpark-inspired fare like chili and garlic fries, as well as a selection of soft-serve ice cream flavours.
Boasting a full bar that offers a rotating selection of notable craft and import beers in addition to ciders, cocktails and wine all available exclusively on tap, Bells and Whistles brings together the best of the local brewery scene as well as one-of-a-kind creations like imperial stout floats and citrus-forward IPA soft-serve beer pairings and slushie concoctions such as frozen radlers.
Designed by Milltown Contracting and Ricky Alvarez of Tinto Creative, Bells and Whistles also features an interactive games room that offers Skee-Ball, hoops and foosball tables with complimentary Happy-Hour plays, floor-to-ceiling windows with plenty of natural light and big screens showing live local and international big-league sports action.
"Our mission is to bring a restaurant that is anything but ordinary to the Fraserhood," says Miller. "We've gone to great lengths to design an out-of-the-box, approachable space and we're excited to introduce a whole new concept not only to the area but to Vancouver as a whole."
Further details regarding Bells and Whistles will be revealed in the coming weeks. For more information on Bells and Whistles or to stay up to date on its latest developments, go to www.bellsandwhistlesyvr.ca, become a fan of /bellsandwhistlesyvr on Facebook or follow @bellsandwhistlesyvr on Instagram.
ABOUT BELLS AND WHISTLES | Located in the heart of the burgeoning Fraserhood district of Vancouver, Bells and Whistles is a casual dining and beer hall concept that offers up 3,000-sq.-ft. of space with seating for 150 in its dining quarters, heated wrap-around outdoor patio, interactive games room and big screens showing the best local and international big-league sports action in the city. The latest project from the team behind Gooseneck Hospitality, which has also opened such award-winning restaurants as Wildebeest, Bufala and Lucky Taco, Bells and Whistles brings together the best of the local brewery scene as well as import beers, craft ciders, cocktails and wine exclusively on tap and a menu of homespun, locally and ethically sourced dishes such as burgers, tacos, salads and ballpark-friendly fare like chili, garlic fries and hot dogs. | www.bellsandwhistlesyvr.ca
3296 Fraser Street, Vancouver, BC | www.bellsandwhistlesyvr.ca