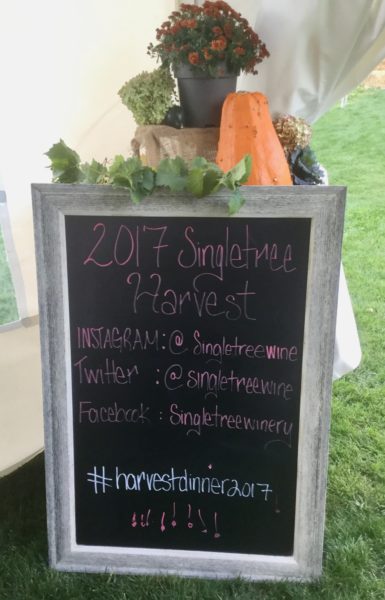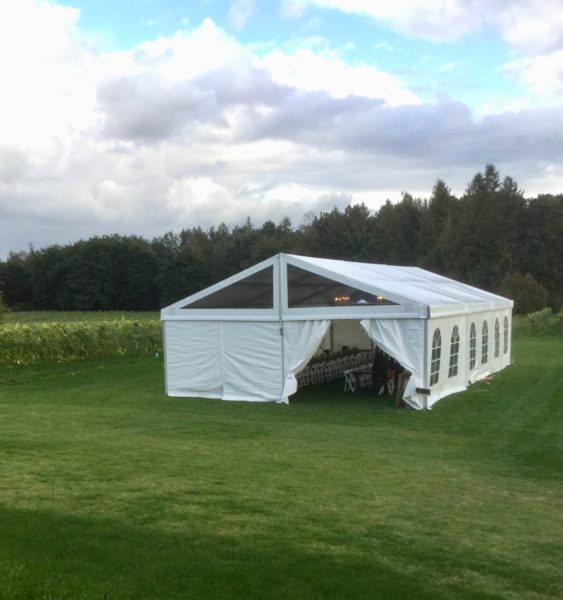 It was a sunny Sunday at the beginning of October and as the warmth of the afternoon gave way to the crispness of the evening, we made our way down the hill behind Singletree Winery to a large white tent at the end of a block of vines.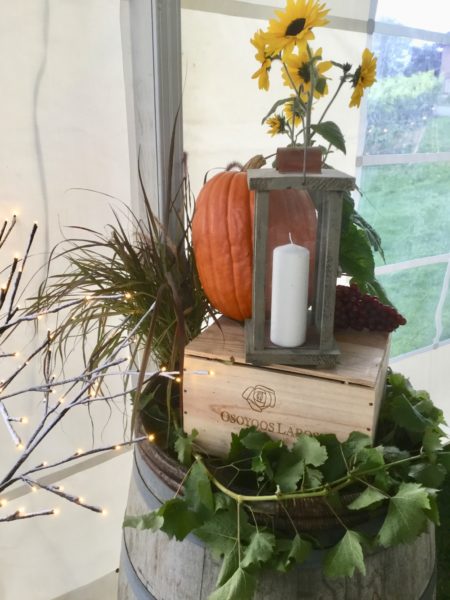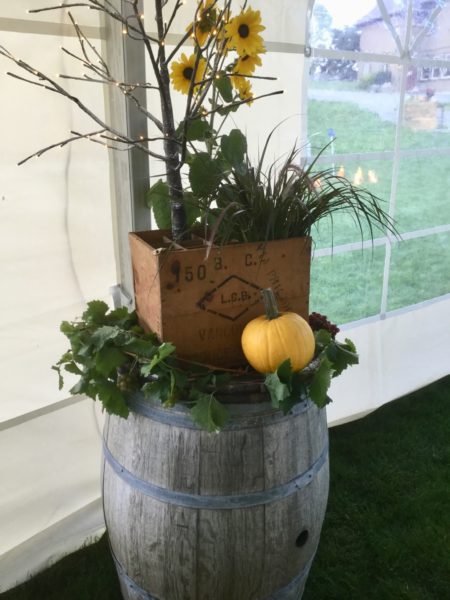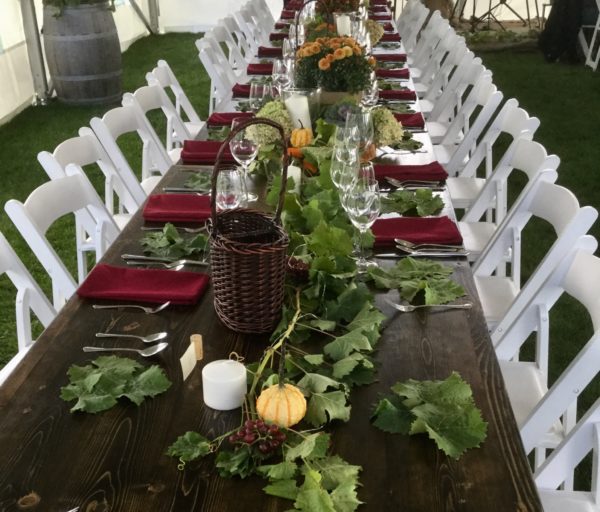 It was an intimate dinner for just under seventy people beneath the tent at the Mount Lehman winery. The decorations were impressive with candles, real grapes, vines and leaves adorning the tables, all thanks to the talents of Debbie Etsell. Two chandeliers hung from the ceiling.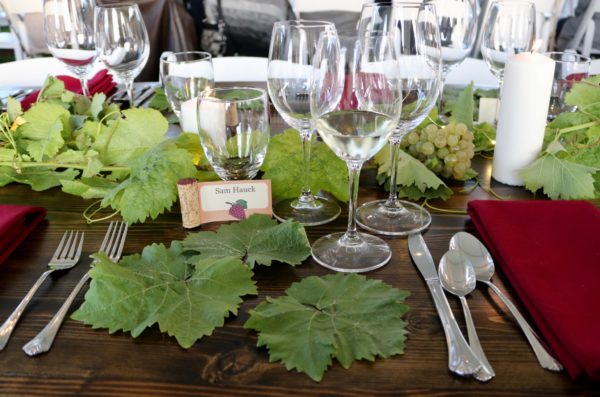 We were welcomed with a thirst quenching glass of estate grown Grüner Veltliner.   It was a light, crisp palate cleanser.   Elyssa Perkins, a violin soloist and the Etsell's niece, played classical pieces as the guests arrived.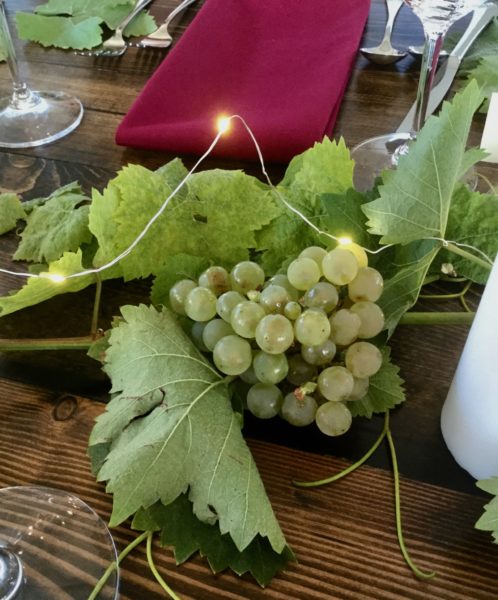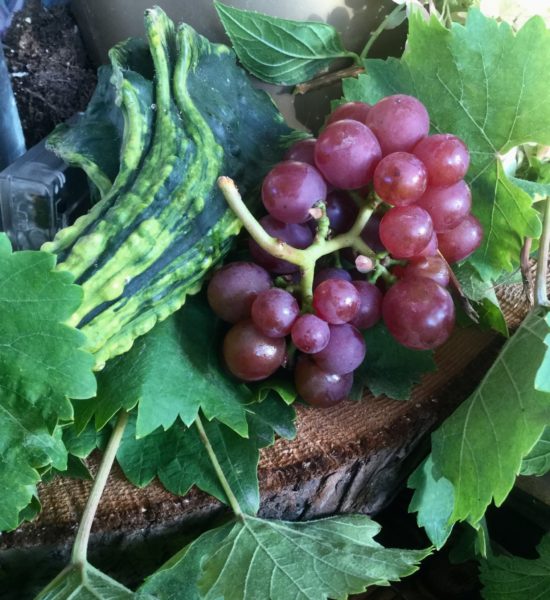 As mentioned, real grape clusters formed part of the table decorations. I tried one of the green grapes. It had a delicate, slightly floral character.   Later I found out it was Madeleine Angevine. The red skinned grapes were delicious and packed with flavour. Siegerrebe, of course.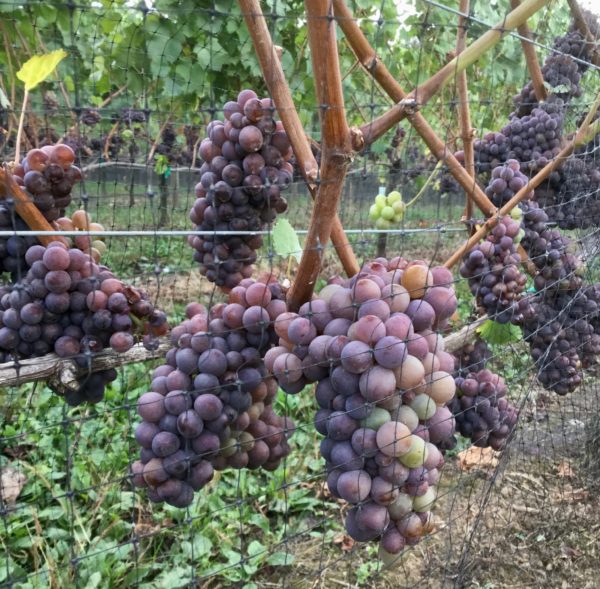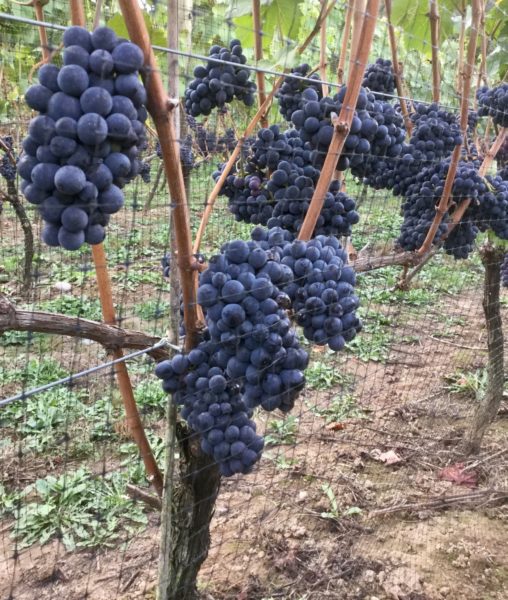 Owner, Garnet Etsell greeted the guests and welcomed them to the first annual Singletree Harvest Dinner. It was aptly named as they had just finished picking half of their crop including all of the siegerrebe. He then teased the audience with the announcement of the release of a sparkling siegerrebe next spring, the first of its kind to my knowledge. Everyone was quite excited by that prospect.   Then he turned the microphone over to his winemaker son Andrew, who spoke about the welcoming wine, the 2016 Grüner Veltliner. He mentioned that the vines for their one-acre block had been very hard to source and that only a few other wineries in BC grow them.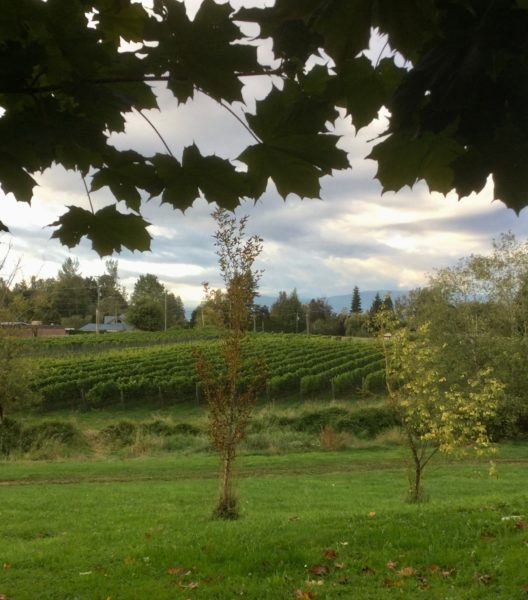 Grüner Veltliner is the mainstay white wine in Austria where the Etsells often vacation. They had been very impressed with it over there and believed it would do well in the Fraser Valley as well. Andrew said that he felt their wine was a little like a sauvignon blanc in style with some additional honey notes. At just 11% ABV, this is a perfect afternoon or aperitif wine to serve guests.   Only 150 cases were made. This wine will go fast.
Throughout the evening, Andrew spoke about the wine that was served with each dish.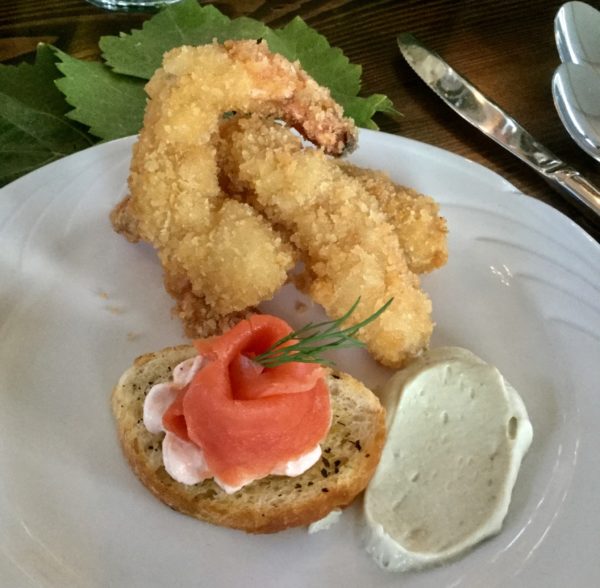 Our first course soon arrived. Our Harvest Menu began with a Seafood Duo, which featured, a smoked sockeye salmon rosette on a herbed crostini with huge citrus panko prawns served on an avocado lime-infused cream cheese. This was paired with Singletree's 2016 Sauvignon Blanc. This wine was partially fermented in new and neutral French oak and showed the character of a Fumé Blanc. An excellent accompaniment to any seafood dish.
Next, was a roasted butternut squash soup garnished with a dollop of chive crème fraîche. The 2016 Wild Siggy proved to be a surprisingly good match for this dish.   While I am not usually a fan of 'natural' wines, this one was impressive and even better than Singletree's previous release. It displayed a big nose with aromas of rose petals, lychees and white floral notes.   Very limited production.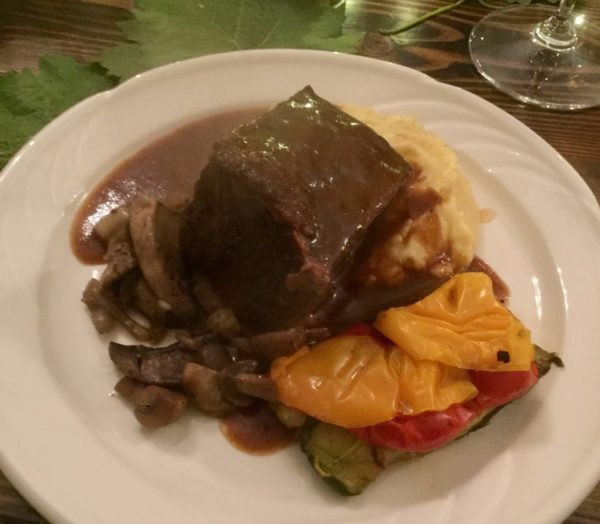 There were two choices for the entrée, braised short rib with bourbon peppercorn juice or pan-seared sablefish with citrus trio cream sauce. Both were accompanied by Boursin whipped Yukon potatoes, grilled seasonal vegetables (peppers and zucchini) and mushroom ragout. It was a tough choice for me, but I opted for the short rib, which turned out to be amazing, especially when served with the delicious 2015 Pinot Noir, clearly, the best Singletree has ever made.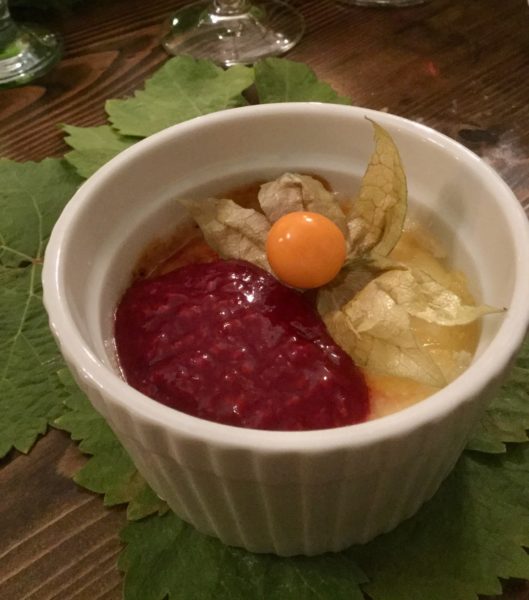 After a suitable interval to rest and digest, dessert was served, the piece de resistance, a Crème Brulée with raspberry compote. Everyone raved that it was the best they had had. Singletree's 2015 Late Harvest Kerner was just right with the dessert, with its aromas of peach, melon and floral notes. Flavours included crisp apple and pear with hints of mango and honey on the finish. Almost dessert in a glass all by itself.
Chef Pieter, a local legend and owner of Gourmet Artisan Dips, was responsible for this amazing dinner, which was far better than I have had at some very high-end restaurants.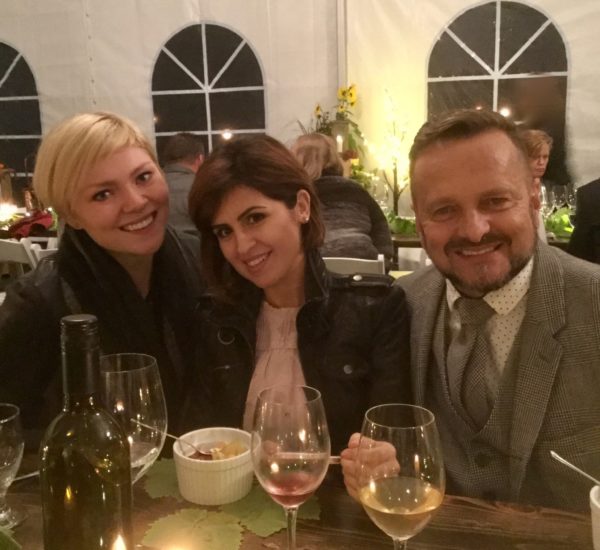 Another highlight of the evening were the lovely people from Langley's Salon Chez Pierre, we shared our table with. It was a delight meeting Pierre, Razma and Karlie.
What a wonderful way to celebrate the end of summer, the harvest and the beginning of fall.
Fall hours are now in effect at Singletree. You can visit the winery Wednesday thru Sunday from 12:00 to 5:30. Besides tasting their impressive line up, you can also talk to staff about their wine club, picnics or wedding and other event planning.