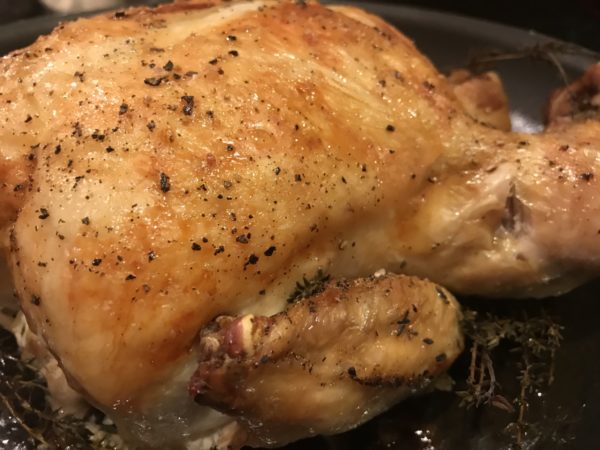 It's one of our favorite times of the week; the Sunday roast. This past weekend we were fortunate enough to enjoy a delicious local free-range chicken with two superlative wines from the McWatters family of wines: the McWatters 2016 Chardonnay ($25) and the Evolve Cellars "Pink Effervescence" ($20).
It's a luxury in this busy life of ours; being able to devote an entire afternoon to cooking dinner, but a couple of years ago my wife and I decided that it was something that we needed to do as a family. Between school and work, intermixed with the karate practices and choir rehearsals, dinners in our house are quite literally sandwiched (pardon the pun) into something most often far too rushed to be convivial much less a Martha Stewart inspired respite from spaghetti Tuesdays.
And we remembered, as parents are want to do, our own childhoods when everyone had gathered on Sundays… afternoons with cousins chasing, playing, getting into mischief and those original longtable dinners that were crafted from several small tables being wedged together and dreading getting seated where those tables didn't ever quite join.
So we started with our own family; having very little in the way of relatives within a few hours of the house. We started with what we had seen at our grandparents tables; a roast, potatoes, gravy and steamed veggies and it struck me, as I sat down to this article, that this simplicity must be at the heart of how Harry McWatters started making wine in the Okanagan 50 years ago.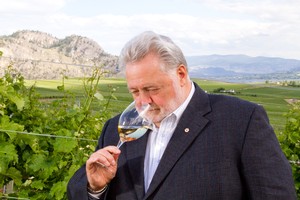 I'm lucky enough to be able to say that I've known Harry for over 15 years; he's a prince of a fellow – always with a ready smile and glad to help a friend. When Harry came into the Canadian wine business in the 1960's there was no industry per-se. Sure, there were a few wineries scattered across the map, but few of them had much to do with each other and outside of Canadian borders no one had the foggiest that we were making anything.
Until Harry came along with that winning smile.
Harry had a vision: that Canadian wines could compete with the finest in the world. This was bold talk in an era when the enjoyment of wine was still reserved to the upper class or sold in 4 L glass jugs to the riff-raff. The former group were enamoured with the prestige wine-growing regions of Bordeaux and Burgundy for the most part and the latter group cared only that the wine was cheap. Canada couldn't compete on either – or could it?
I believe that winemaking and grape-growing is, relatively, simple. Quality in any pursuit is simple – it just isn't easy.
"Demand the best from yourself. Accept nothing less."
Harry has always struck me as they type of person who is a disciple of this mentality and the stunning list of accolades he has earned speaks volumes to his determination. And it is because of this determination, this "stubbornness" as he's referred to it (both his own and his colleagues) that British Columbian wine, Canadian wine, has become prestigious and affordable. Bravo Harry!
And so my family and I sat to Sunday Roast with two bottles of wine that would do justice to any table and, to my great joy, the chicken turned out perfectly. Cooking a perfect roast is also quite simple and follows a couple of steps no matter what protein you might be roasting be it lamb, poultry, beef or pork.
Sear high temperature (425F minimum)
Cook low temperature (300F maximum)
An engineering grad in the US did a paper on the yield in roast beef cooked at 300F and 350F. The difference was, on average, between 8 and 11% less yield at the higher temperature! Cooking at below 300F really does result in a much more tender, juicy roast… it's my little trick that has stood me in good stead for many years.
******
Classic Sunday Roast Chicken
*(works perfectly with Christmas turkey)
garden thyme, freshly ground black pepper, giblet gravy
SUNDAY ROAST INGREDIENTS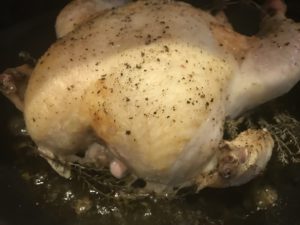 whole roasting chicken, free-range (ethically raised) is preferable
1Tbsp olive oil
1Tbsp fresh thyme, minced
Kosher sea salt and freshly ground black pepper
*****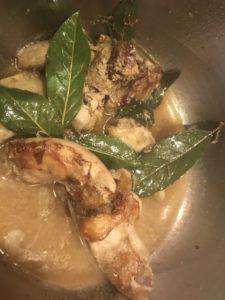 giblets from 1 chicken
1Tbsp canola oil
3          bay leaves
3          cloves garlic
2 cups  water
1 cup   dry white wine (the Elan by Evolve Cellars works beautifully)
drippings from roast chicken
Kosher sea salt and freshly ground black pepper
cornstarch slurry to thicken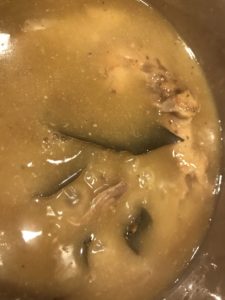 SUNDAY ROAST DIRECTIONS
 warm a saucepan on medium heat
when pan is warm add 1 Tbsp canola oil to the bottom and sauté the giblets with the bay leaves and garlic for 5 minutes+ or until golden brown
deglaze pan with wine
add water and simmer whilst chicken is roasting
when ready to serve strain into another saucepan, bring back to a gentle boil, adjust seasonings and thicken to desired consistency with slurry
*****
2016 McWatters Collection Chardonnay
92 points
$25 CAD, EXCELLENT Value
… the aromas of pear tart, vanilla and quince jelly are so lovingly entwined, so harmonious, that it seems a kind of sin to stop enjoying the bouquet and drink the wine. Until one does! Refreshing medium+ acid is skillfully balanced and, as a mentor has oft said to me: "Tastes like more!" which is the highest form of praise. A young/full concentration of flavors that both mimics and enhances the aromas; from the quince and gold apple to warm pear tart, flecks of sea salt, nuances of flinty minerality. Truly an extraordinary wine for such a modest price and one that will age and develop gracefully for several years. Enjoy immediately through 2024.
N/V "Pink Effervescence" by Evolve Cellars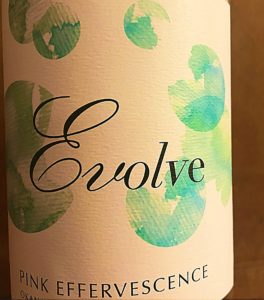 89 points
$20 CAD, Good Value
… such an energetic and fun young wine, this is perfect for get-togethers and social occasions of any type. The mousse is more like a Prosecco than Champagne with medium acid carrying deliciously intense notes of young raspberry and red currant… a dry wine it carries with it a hint of ripeness to the fruit that balances the acid and, once again, makes it drink more like a Prosecco than anything else. One of my new favorite wines to pair with turkey or any poultry dish; with duck this is going to be amazing!
*****
It was a struggle to re-create this old tradition into our modern lives but one that has paid huge dividends… like when my 3-year old asks to sit on the kitchen counter so he can talk with me as I'm cooking. Then the 6-year old needs to be a sous-chef, mortally afraid that she will be out-done by the younger sibling and over to the sink she goes; washing potatoes, scrubbing carrots and reminding me so very much of myself years ago. Perhaps they, too, will create their Sunday roast moments many years from now; a reprieve from a world that seems – sometimes-  too busy for the simple pleasure of sharing a meal with the ones we love.
My thanks to friends at the McWatters family's Encore Vineyards (McWatters Collection and Evolve Cellars) and their agents in the Lower Mainland TheDrinksList.ca for their support in writing this article.  I hope that you enjoy the recipe and make the time to explore these articulate wines from the Okanagan Valley; invite friends/loved ones over, cook some great food, drink some beautiful wine and create a memorable evening!
As always, I look forward to continuing our conversation:
on Twitter @AStudentofWine
on Facebook @The Chef and The Grape
 Sláinte!