Pot roast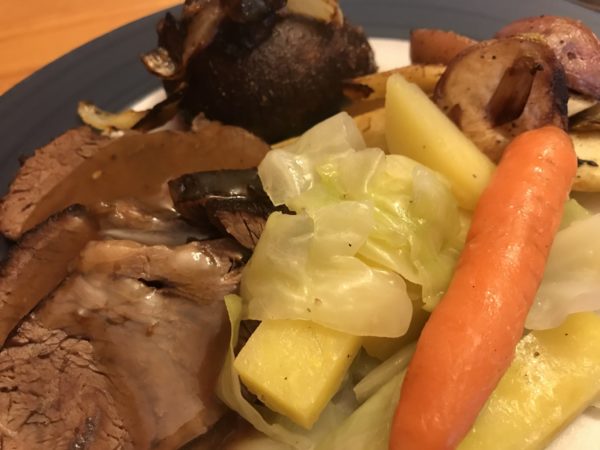 The lowliest cut of beef turned into the most succulent comfort food. I mean what says comfort more than pot-roast? Immediately thoughts turn to Sunday evening meals; family is near, there's good conversation amidst the bickering (it is family after all) and always a decent bottle of wine or two at my house.
Well, as soon as the weather turned cool I started thinking of pot-roast and wanted to share my recipe with you! Now not all red wines can stand-up to the richness, the intense "beefiness" that is great, slow-cooked meat so I've chosen a couple of wines that deliver concentration, balance and value… perfect for your Wintery-type braised dishes.
THE FOOD
Making beautiful food doesn't have to be time consuming! And while I can admire the economy of throwing everything into one pot and turning it on, in our house, we give a bit more time to dishes to create something as visually appealing as it is delicious!
Our timeline to prepare for dinner @ 5:30
STEP 1:   2 pm:      pot-roast on the stove at medium heat (about a 4lb roast)
STEP 2:   4:30:      potato mix in the oven
STEP 3:   5:00:      mushrooms in the oven, add the wine to the pot roast
STEP 4:   5:15       steam the carrots 5 minutes, remove from steamer.Steam turnips 5+ minutes, remove.
Steam cabbage 3-4 minutes, add carrots and turnips to re-heat 2+ minutes
Chef Kristof's Pot Roast Recipe
1 fl oz     canola oil
4 lb         pot roast
6              cloves garlic, finely sliced
½ tsp        each: fresh thyme, fresh Bay leaf and fresh rosemary
2 L           beef stock
1 cup red wine
1 lb each: red jacket potatoes-cut in half, parsnip-peeled & rough chopped
½ lb leeks-cleaned & rough chopped
1 lb         each: small carrots-cleaned, turnip-cut into sticks, green cabbage-rough chopped
1 lb mushrooms; Crimini work well, as do Portobellini, Portobello, Oyster, etc
*salt and pepper to taste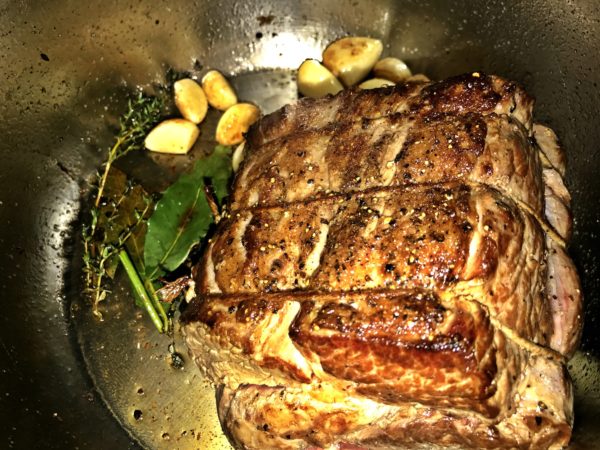 Start by patting your pot roast dry with paper towel and seasoning it to your taste with salt & pepper. Then sear in the oil on medium until it develops a nutty brown "crust"
Add the garlic and fresh herbs and continue cooking for 3+ minutes or until the garlic starts to brown
Add the stock, which should be enough to almost cover the roast. Cover with a lid and simmer on medium- turn over ever 30 minutes
Whilst the beef is simmering we prep our roasted root veggies (potato, parsnip & leeks) – just toss with a little canola oil and season with salt and pepper
Just before serving slice the roast on your cutting board and thicken the juice with cornstarch – excellent gravy! Don't forget to rest the roast for a good 15+ minutes to ensure it stays moist!
*****
So enjoy your pot-roast dinner with great wine and family or friends. Treat yourself, spoil someone else, and above all: savour the moment~!
As always, I look forward to continuing our conversation:
on Twitter @AStudentofWine
on Facebook @The Chef and The Grape
Sláinte!
THE WINE
Jumilla "Las Hermanas" organic Monastrell, Spain
89+ points, EXCELLENT Value
$12.49 www.BCLiquorStores.com
… fresh, fruity, inviting: this is the wine you open as you're cooking and hope that you have a second bottle for dinner! The aromas are plush with red cherries, currants and young plums and the palate have just enough acid to crave a bit of fatty food but, once again, balanced enough to appreciate thoroughly on its own. A solid wine, this is an over-achiever in the under $15 category.
*Monastrell: not familiar with it? I find that this grape is very much like Merlot, which all of us can remember as fresh, fruit-driven flavours. This is a classic to serve at social events, but when well-made can offer concentration and structure to pair with classic Canadian winter dishes like pot-roast, tortierre and Shepard's pie/Cottage pie. As per this particular producer, it's small wonder that the European Portfolio Manager for the BC Liquor Board (one of Canada's three Masters-of-Wine: Barbara Phillip) has named this as an "Insider Pick". This would be a great value even if it wasn't organic!
2013 Desert Hills Cactus Red (BC)
88 points, Very Good Value
$18.49 www.DesertHills.ca
hand-harvested blend of 40% Merlot, 20% Cabernet Sauvignon, 20% Syrah and 20% Gamay
bold structure from the Cab and the Syrah stand-up well to the rich beefiness, plush tannin and gentle acid from the Merlot make is sublimely easy drinking and the rich fruit tones from the Gamay make it enjoyable for even those friends/family who says "But I don't like red wine…" – they won't like this, they'll LOVE it!
only $18+ at the winery, a favourite of many of BC's top restaurants due to its superior value for the money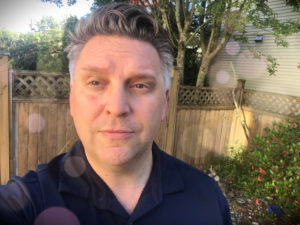 Kristof Gillese: trained chef, certified wine steward, journalist and proud father. In these articles, it is the human story that takes priority: to tell the tale of common people accomplishing uncommon goals. In the world of food and wine, these tales are prolific. It has been Chef Kristof's privilege to have worked with luminaries such as Chef Rob Feenie, Pierre-Henry Gagey of Maison Jadot, Ray Signorello of Signorello Estates and Ezra Cipes of Summerhill Pyramid Winery; leaders in the industry. With almost 3 decades of experience working with the synergy between food and wine, Chef Kristof is proud to share the stories of these amazing stewards of the land.
e-ARTICLES ON WORLD-CLASS FOOD & BEVERAGE PRODUCERS; SYNDICATED CANADA, USA, SWEDEN