Fort Berens Estate Winery meets Coquilles St Jacques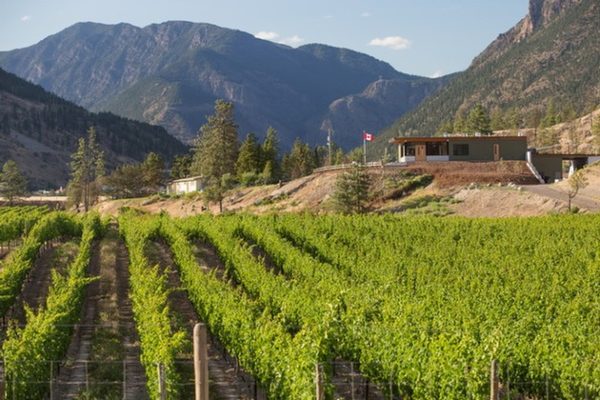 Here in British Columbia we are blessed with, depending on the year, an abundance of two things: Chardonnay and scallops. Cue my colleagues at Fort Berens; producing an absolutely world-class Chardonnay at under $20. But let me give the wine some context…
I recently had the great pleasure of sharing an evening with friends, old and new, who were interested in traditional northern French cuisine; the food of Brittany also known as Breton cooking. It was a delightful trip down memory lane for me, crafting dishes that one rarely sees in restaurants anymore except for those utterly Old School establishments who refuse to give sway to modern trends. To some, like myself, the classics are always trendy.
For those of you who haven't read my previous articles on them; Fort Berens Winery, despite its youth, is already a BC classic to me.
I could extol the virtues of their Cabernet Franc which delights sommeliers and students alike in every vintage; concentrated nuances of bright young raspberry and red currant melding with polished young tannin, well balanced medium+ acid and subdued notes of dark cocoa. A fantastic value of $25 at the winery and scoring 90 points or higher in every vintage that I can remember.
I could tell you about their Pinot Noir; a light thing, really, when one looks at it in the glass… but as the first aromas start to waft upwards and out the concentration becomes apparent. A rich bouquet of brightest red cherries and fully plump raspberries dances with delicate and judicious oaking. The acids bright, full, vibrant yet balanced so well that they have no need of food but do cozy up nicely to traditional Boeuf Bourguignon or Stroganoff. Also $25 at the winery and also scoring 90 points or higher virtually every vintage.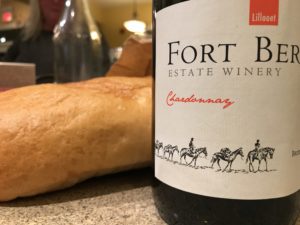 But the wine that captured our hearts the other night is their Chardonnay; tense/steely full acids perfect for balancing with richer foods and (for the price) rich concentrations of lime and grapefruit zest. In short, just the right wine for an evening of classic Breton cuisine; filled as it is with butter, cream, cheese and seafood.
Perhaps the iconic dish of Brittany, Coquilles St Jacques is still served in many restaurants and in virtually every corner of the globe. And as many restaurants, as there are, there are just as many interpretations of the recipe. I don't claim that mine is the recipe but I do claim that it is the correct recipe for me. If you're the type of person who enjoys scallop ceviche or scallop sashimi then you should give this style a go; the scallops cook under the warm cream sauce and bubbling cheese and finish cooking somewhere between medium and medium-well which, to me, is perfect!
******
coquilles St Jacques
poached scallops, cream, Emmental cheese
INGREDIENTS
2 shallots, finely chopped
2 Tbsp (30 ml) butter
2 Tbsp (30 ml) all-purpose flour, unbleached
¼  cup (60 ml) milk
¼ cup (60 ml) heavy cream
¼  cup (60 ml) dry white wine *(Fort Berens Chardonnay)
11 oz (300 g) medium scallops, size 15-25, drained and patted dry
1 cup (250 ml) grated Emmental cheese (I use Golden Ears Cheesecrafters)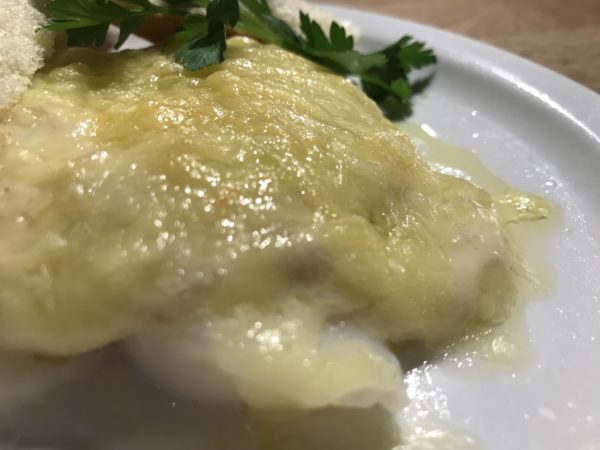 DIRECTIONS
 preheat the oven to 180 °C (350 °F).
In a saucepan, soften the shallots in the butter. Add the flour and cook for 1 minute, stirring constantly. Add the milk and wine and bring to a boil, stirring with a whisk. Cook for 1 minute. Remove from the heat. Season with salt and pepper. Add the scallops and 125 ml (½ cup) of the cheese. Stir to combine.
Spoon the filling into four scallop shells or four small gratin dishes. Garnish the rim with mashed potatoes (if desired). Sprinkle with the remaining cheese. Bake for 10 minutes. Finish under the broiler until the cheese (and potatoes) are golden brown.
*****
And this really is the perfect dish for winter; rich, warm, comforting… delightful for lunch with a light salad, sophisticated as a starter to a romantic dinner. And this is the heart of classic Breton cooking; using local ingredients in simple dishes that showcase their own natural beauty. Fresh scallops, sustainably harvested, cream and cheese from a sustainable, ethical, multi-generational dairy farm and crisp/tense/concentrated Chardonnay… a piece of #foodie #heaven.
My thanks to friends at Fort Berens for their support in writing this article.  I hope that you enjoy the recipe and make the time to explore these articulate wines from Lillooet; invite friends/loved ones over, cook some great food, drink some beautiful wine and create a memorable evening!
As always, I look forward to continuing our conversation:
on Twitter @AStudentofWine
on Facebook @The Chef and The Grape
 Sláinte!