the wines of Il Feuduccio & classic risotto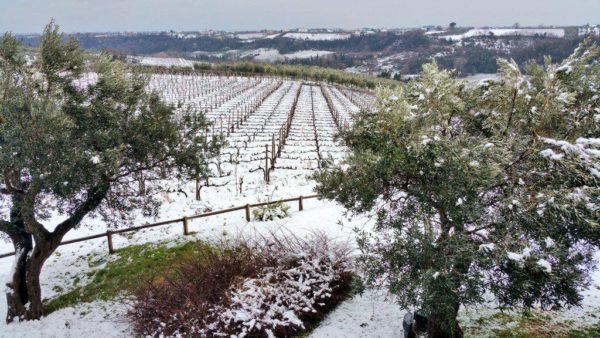 The leaves have turned, the wind blows a bit harder down the mountainside and by 6 pm the street is getting dark; Autumn in here.
And with the turning of the seasons comes the turning of our appetites; from the salads and barbeques of summer to the slow-braised meats and creamier dishes of fall. For those wishing to create a "comfort food" experience but keep things healthy – risotto is a brilliant side dish, appetizer or main course.
Though we enjoy risotto in my home year 'round, it's at this time of year that it becomes an almost weekly staple – and the wine pairings with it more diverse. Though Milano is (arguably) the classic home of risotto, rice has been grown in southern Italy since the 14th century and, as such, is ingrained into the food culture… so the wines of Il Feuduccio  from Abruzzo are a natural pairing.
I was fortunate to share some time with my good friend and wine-buddy Selwyn Rawston of Empson Canada (wine importers)… he had invited me out to taste through this impressive portfolio. The wines are beautiful; full of nuance and expression of the rugged hills of Orsogna and impeccably made – truly world class. But even more beautiful is the story of how Il Feuduccio came to be and the family who risked everything, gave up their beloved Abruzzo, to seek their fortunes in Venezuela.
It was Gaetano Lamaletto, born just 2 kilometres from where the winery now stands, who made this odyssey 40 years ago to South America; his wife Maria at his side. Most of us simply can't imagine taking this kind of risk – to leave everything and everything we know – just for the chance for something better for ourselves and for our families.  Signor Lamaletto made that colossal wager; working in the ceramics industry… and the gamble paid off, enabling the family to return to their native Abruzzo and purchase this majestic piece of land.
It is a place where the slopes are caressed by native forest in the heart of the Annunziata Territorial Park, only 12 kilometres from the Adriatic Sea. Go the same distance in the other direction and you find yourself at Mount Maiella towering over 9,000 feet high. This is Montepulciano d'Abruzzo and the finest appellation in Abruzzo.
Bravo Gaetano; your wines are great ambassadors for your region and your family!
*****
the wines of Il Feuduccio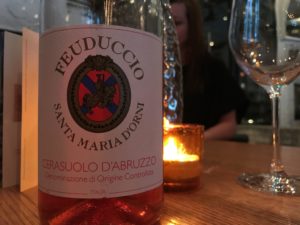 About $25 in BC
90+ points, EXCELLENT Value
… incredibly aromatic; notes of wild summer flowers/garden herbs/briney-sea salt. Tight/tense medium+ acid is very well balanced. A subtle tannin structure shows as one would expect; an absolute delight and pairs brilliantly with mushroom risotto – use much like a light Pinot Noir or a great Gamay Noir~!
$30+ in BC
91 points, EXCELLENT Value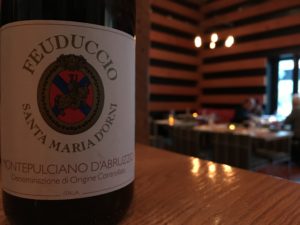 … unfiltered elegance; expect this wine to develop over the years as Montepulciano is known for! Aromas of freshest red raspberries melds with fig & cherry compote/fresh thyme. Bright/vibrant/medium+ acid is superbly balanced and carries young/full concentration of flavors that match and mimic the aromas. Nice heft/chew to the medium++ tannin structure that will appeal to cigar smokers like myself and remind us that great wines like this don't always need meals; sometimes just great conversation is the best pairing of all! Cozies up to beef/venison dishes – osso bucco anyone??
IL FEUDUCCIO MONTEPULCIANO D'ABRUZZO URSONIA DOC
$45++ in BC
93 points, STUNNING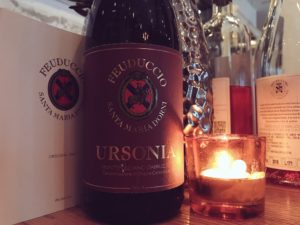 … quite simply some of the finest wine from the region I have ever had for this reasonable price; graceful, elegant, full of depth/nuance/concentration. This is the embodiment of Ursonia and winemaker Romano a'Amario has outdone himself; incredibly textured bouquet of wild mushrooms, fig compote, cigar box and raspberry coulis. Bright/vibrant/full of life with zippy/balanced medium++ acid, medium++ velvety tannin that will continue to evolve for many years. This wine can handle a litany of foods but will make a very welcome addition to anyone's Sunday roast beef… some roast Cipollini onions & Crimini mushrooms, creamed leeks & baby potatoes… divine!
*****
Plain Risotto
INGREDIENTS
2 cups              arborio rice
2 cups              chicken stock, warm
2 oz                 white onion, finely diced
2 oz                 white wine
¼ lb                 butter, diced into cubes – kept cold
2 oz                 Asiago cheese, shredded
Kosher sea-salt and freshly ground black pepper to taste
DIRECTIONS
sauté onion in half of the butter until fully translucent
add arborio rice and continue to sauté until the rice kernels just start to turn light brown. They should be a little crispy as well
add white wine FIRST. This acidity seals the kernel of rice, making it less prone to breakage during cooking – thus making a superior risotto
add chicken stock slowly and continue stirring leisurely. Risotto should only be cooked to about 90% done and a little crunchy or "al-dente" as the Italians say
add remaining butter, cheese & season to taste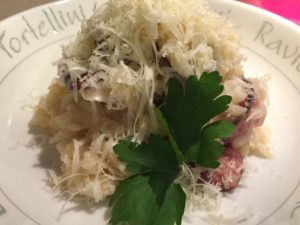 When one has mastered the basics of risotto then creating your own recipes are incredibly easy; wild mushroom, sweet pea & prosciutto, prawn and Asiago… you are limited only by your imagination!
*****
I would like to sincerely once again thank my friend Selwyn @ Empson Canada for introducing me to this incredible winery; truly setting a benchmark for all of Abruzzo.  I hope that you enjoy the recipe and make the time to get a little creative with Italian cuisine; invite friends/loved ones over, cook some great food, drink some beautiful wine and create a memorable evening!
As always, I look forward to continuing our conversation:
on Twitter @AStudentofWine
on Facebook @The Chef and The Grape
 Sláinte!