Domaine Lafage and roast lamb
As a young man Jean Marc Lafage (co-proprietor of Domaine Lafage) always knew what he was going to be when he grew up; he came from a family of 6 generations of grape-growers… there was never a question in his mind.
But when the young Jean met his future wife Eliane I think, perhaps, his course altered somewhat. I say this because 1996 was the year that the family vineyards the Lafages had been dedicating themselves to since 1798 evolved into Jean's, and perhaps Eliane's, dreams of a family estate: Domaine Lafage. More than grape-growers, the family had moved into winemaking.
But there was no great "Hurrah" from the wine community, no buzz, no excitement. Another vineyard become winery in the often-overlooked Roussillon region of France was not celebrated news – and who was this Jean Marc fellow anyways? In 1996 his pedigree was limited but, obviously, his ambition was not.
Jean Marc had cut his teeth working with global winery powerhouses like the Gallo brothers in California and Moët et Chandon in Champagne, but it was here, on family land, that Jean says he felt some of the greatest potential as a winemaker. Eliane was, and is, a formidable winemaker in her own right and together this duo started to put the wines of the Roussillon back on the map of oenophiles everywhere.
International requests for Jean to work as consultant winemaker started to trickle in at first, then within a decade or so Jean had become one of, if not the, most demanded consulting winemakers in Europe… Chile, Australia, South Africa, New Zealand, France, Italy and Spain; Jean consulted on premium wineries in each of these countries and where he went he brought with him his philosophy of:
 "A healthy form of viticulture that respects the environment through a sound culture."
Bravo Jean; the results speak for themselves. Jean Marc Lafage is now the most awarded independent winemaker in the last 10 years at the prestigious Concours General Agricole de Paris. And Domaine Lefage, his project of passion with Eliane? The esteemed Wine Advocate has stated:
"I struggle to think of another portfolio that encompasses anywhere close to this level of value, and the average quality to price of these wines is just hard to believe."
*****
2015 Domaine Lafage Bastide Miraflors
Syrah and "Vielles Vignes" de Grenache
$20+ CAD, $14+ USD
93+ points
STUNNING Value
… an enchanting bouquet that is so very rare to find in Syrah; Arabic spice tones melding with musk/blackberry and currant jelly/hints of cedar and even 80%+ dark cocoa… so many different notes finding cadence together as with a great symphony. Bright/full acid bursting with the energy of youth and yet balanced enough to find enjoyment without any need of food. Full/chewy tannin already integrated far more than would be expected in a young wine and promising a mature wine of superior nature for those with the insight and patience to purchase and not consume immediately. Lamb is my first choice with this bold wine and would happily take my slices of cold lamb between pieces of focaccia with spicy mustard and arugula… #heaven.
"Vielles Vignes" de Grenache Noir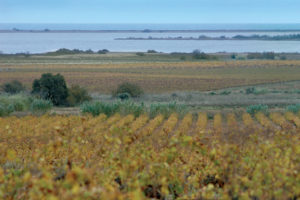 $17+ CAD, $12+ USD
91+ points
SUPERB Value
… this wine drinks so far above it's modest price-point as to boggle the mind. The aromas are full of wild dark berries/a garden of flowers/touches of peppercorn and spice. Brightest/full acids are delightful when sharing nothing more than great company but find their natural place next to richer dishes like pasta Bolognese, lasagna or an ultimate steak: Côte du Boeuf. With the silkiest medium- touch from the tannin it may be wisest to buy 2 bottles of this for your next dinner; the first while you're cooking and greeting guests and then the second for dinner…
2015 "Léa", Cotes du Roussillon Les Aspires
50% Grenache, 30 % Carignan, 20% Syrah
€19.50+, $35++ CAD
94+ points
STUNNING Value
… it would do a poor kind of justice to translate Jean's words about his daughter Léa from French poetry to English drudgery; let it suffice that this wine is a father's great joy at trying to capture something of Lea's essence and share it with the rest of us. The wine is immaculate; intensely wild aromas of garrigue (herbs growing on the hillside, native scrub-brush and grasses), molten darkest chocolate, currant jelly and raspberry tartlette. Fullest/vibrant acid that delights the palate; dancing to its own tune and happily bringing balance to any meal. The lightest whisper of tannin; so silky, so smooth as to pass unnoticed on first inspection. It's only when one truly digs into the wine that the tannin is felt; creating texture, nuance, depth of character. It's my belief that the lighter side of beef dishes will truly find their greatest accompaniment here; consider beef tartare, oven roast beef tenderloin and even beef Wellington.
*****
Herbed Lamb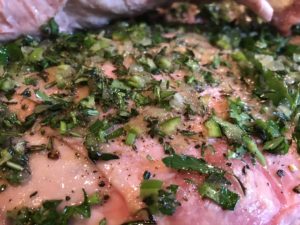 INGREDIENTS
1/2 cup            extra virgin olive oil
1/2 cup            total: fresh rosemary, fresh thyme & fresh Italian parsley; all finely chopped
3 Tbsp              garlic cloves, crushed
2                      small fresh red chillies, halved, deseeded, finely chopped
6 lb                  Easy Carve lamb leg
pan spray, for greasing
Kosher sea-salt and freshly ground black pepper to taste
Combine oil, rosemary, garlic and chilli in a large shallow ceramic dish. Add the legs of lamb and turn to coat well in marinade. Cover well with plastic wrap and place in the fridge overnight to marinate.
Preheat oven to 425°F. Spray a roasting pan with pan-spray to grease. Drain the lamb, reserving the marinade and season both sides of each leg with salt and pepper. Place the lamb in the greased pan.
Sear @ 425F for 25 minutes; a slight crust should appear. Drop the oven temp to 280F and continue to roast, basting with pan juices and reserved marinade every 20 minutes, for 90+ minutes for medium-rare or until cooked to your liking.
Transfer lamb to a plate. Cover loosely with foil and set aside for 30 minutes minimum to rest
While it's resting you even have the time to make a classic risotto which is delicious with roast lamb 🙂
Service!
*****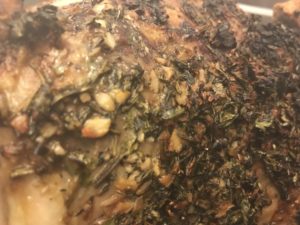 Few foods evoke the feeling of autumn as readily as roast lamb; unctuous, herb-laden, garlic-infused fatty goodness that is a "love it or leave it" protein to be certain. As an Irishman I celebrate barbequing lamb in the summer as much as I do roasting it in the winter and there is nothing finer, to me, than finding just the right beverage to pair beside it. I can now say that I am unabashedly smitten with the wines of Domaine Lafage; as filled with character and nuance as any winelover could ever hope for and as easy on the pocket as few could truly believe.
My thanks to friends at Christopher Stewart wine and spirit importers for their support in writing this article.  I hope that you enjoy the recipe and make the time to explore these articulate wines from the Roussillon; invite friends/loved ones over, cook some great food, drink some beautiful wine and create a memorable evening!
As always, I look forward to continuing our conversation:
on Twitter @AStudentofWine
on Facebook @The Chef and The Grape
 Sláinte!