The California Wine Legacy
Signorello, Stags' Leap, White Rock… some of the most iconic names in the California/American wine industry. Now these wineries and many more are smouldering ruins and in the wake of these fires a piece of our collective history, our living history, has gone too.
We in British Columbia understand too well the powerful devastation that wildfire can cause in a society; 2017 was a devastating year for us or, at least, we thought it had been devastating until we witnessed the Napa Fires. A level of catastrophe that we had not let ourselves believe possible; it has been less than a week and over 5,000 buildings destroyed, over 30 lives extinguished that we know of, hundreds of people missing and countless lives changed forever.
But I know these people. Some of them, like Ray Signorello jr, I've known for years. And I know that this is a group of people who will not bow beneath the weight of this terrible turn of events. It is unfathomable how much they have already lost – and how much more stands in peril – but it's inspiring to see how quickly they have come to each other's aid and how fiercely they defend each other.
This week I dedicate my musings on food and wine to this iconic place and its stalwart people. It is humbling to bear witness to their courage and I'm proud to share a small part of their story with you.
THE FOOD
Cioppino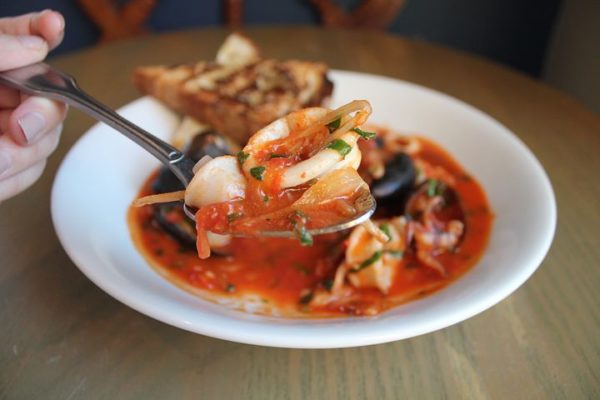 A classic and original dish of San Francisco; there are countless "authentic" recipes for this hearty tomato-based soup and most of them I dare-say are fantastic… use what's fresh, what's local, what's in season… this is the heart of all "peasant" food and when the Italians came to San Francisco this was the style of cooking they brought with them.
INGREDIENTS
2 Tbsp             EACH: canola oil and extra-virgin olive oil
1  cup              onion, sliced
½  cup             fennel, thinly sliced
¼  cup             celery, chopped
1 tsp                dried oregano
3                      bay leaves, fresh
1 cup               dry California white wine (Sauvignon Blanc works well)
2 Litres            seafood or vegetable stock
1 Tbsp             sriracha
1 Tbsp             tomato paste
2 Tbsp             roasted garlic, mashed
1 large tin        plum tomatoes, torn by hand
1 8-ounce bottle clam juice
Kosher sea salt and freshly ground black pepper to taste
fresh Italian parsley for garnish
1 lb                  fresh BC clams, soaked in water for 1 hour
1 lb                  fresh BC spot prawns (when in season) peeled and deveined
1 lb                  fresh BC mussels, scrubbed and de-bearded
1 lb                  fresh BC white fish: halibut, rock cod, dogfish/shark, etc, skinned & cut into 1-inch pieces
PREPARATION
In a large pot over medium heat, heat oil. Add onion, fennel, celery, oregano and bay leaf and sauté lightly, stirring occasionally, until onions start to turn translucent and herbs release their aromas or about 5 minutes.
Reduce heat to medium-low and add wine to deglaze pot. Continue stirring until wine is mostly evaporated
Add stock, tomatoes with juice, clam juice, tomato paste, roasted garlic and Sriracha
Bring to a boil, reduce to a simmer, and cook, covered, 30 minutes. Stir in 1/4 teaspoon each salt and pepper. Taste and adjust seasoning.
When ready to serve, heat the pot to medium and add clams, cover, and cook for 3 minutes. Stir in the shrimp and mussels. Arrange the fish on top of the stew, cover, and simmer until shellfish opens and fish and shrimp are firm and opaque, about 5 minutes more. Garnish with fresh Italian parsley.
THE WINE
2016 Clos Pegase "Mitsuko's Vineyard" Sauvignon Blanc, Carneros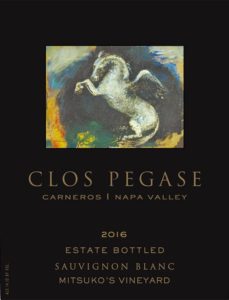 $22 USD at the winery, 91+ points
So beautiful even just to look at; the faintest blush of pink rose blossoms tint the wine and hint at the extravagant bouquet… typical New Zealand grassy notes give sway before layers of ripe apricot, wild summer flowers, exotic fruit tones and a slight green olive tint from the Carneros terroir. Zippy/full young acid springs to life and carries a terrific concentration of flavours that mimic and compliment the aromas. This is a stunning example of an under-appreciated varietal from California, offers superior value and is dynamite with any prawn/crab dishes… try this with your next prawn California roll~!
2016 Emmolo Sauvignon Blanc, Napa Valley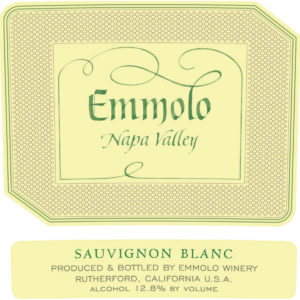 $22 USD at the winery, 91+ points
Bright, brisk, clean, elegant… such a different example of what Sauvignon Blanc can be! This wine revels in aromas of warm hay/straw, gold apple, toasted almonds and more of that briney-green-olive finish. Medium+ youthful acid are bright enough to pair with richer foods and yet balanced consummately to allow enjoyment on its own with need of nothing more than great company and a fine evening. Perfect for white fish; this finds harmony next to halibut, cod and even West Coast shark most commonly known as "dogfish" which is incredibly tasty and very reasonably priced if one can find it… try your local fisherman's dock. Land-locked readers will want to bring a bottle of this the next time you're fishing for trout and fry some up for lunch!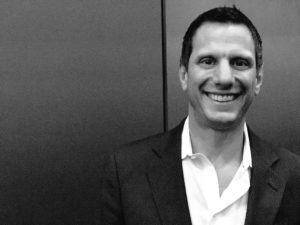 2015 Signorello "Hope's Cuvée" Estate Chardonnay, Napa Valley
98+ points Chef Kristof
Allocation only; consider trying the "Vielles Vignes" which is available in British Columbia at the BCLDB $70+, 94 points RP
To me this is the crux of what Napa Valley is truly about: family. Ray Signorello jr sadly lost both of his parents years ago and about that time he began to coax a small parcel of Chardonnay grapes on the hillside of the estate which had been planted years ago but never really produced the wines that he knew could be made from it… Ray believed he could make some of the finest Chardonnay in California. Several years ago an accountant came to Ray one day and said "Ray – I know you don't want to hear this but we need to rip out the "Hope's Cuvee" vines… they just aren't producing what they should be and we can't as a business afford to keep losing money on such prime real estate!".
Ray looked at the man for a moment and replied "This vineyard is my testament to my mother (Hope). If you ever suggest tearing it out again it will be the last thing you say as an employee of this company." Ray walked away from the man; the idea of tearing out the vineyard was never brought up again.
This year Signorello Estate earned 98 points for this amazing wine, making it the highest rating ever for their Chardonnay, one of the highest rated in the country for the year and well-earned in my humble opinion. Words cannot do justice to it but please read my notes from my 2013 portfolio review if you would like to learn more about their consummate work.
My humblest and profound thanks to all the California winemakers and winery principles I have had the pleasure of coming to know over the past 10 years. I cannot hope to imagine how difficult this past week has been for you individually or as a community but it is my sincere hope that you know how many lives you have made a little brighter with your hard-work, passion and commitment to excellence.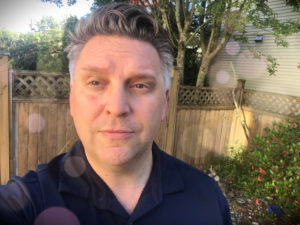 Kristof Gillese: trained chef, certified wine steward, journalist and proud father. In these articles, it is the human story that takes priority: to tell the tale of common people accomplishing uncommon goals. In the world of food and wine, these tales are prolific. It has been Chef Kristof's privilege to have worked with luminaries such as Chef Rob Feenie, Pierre-Henry Gagey of Maison Jadot, Ray Signorello of Signorello Estates and Ezra Cipes of Summerhill Pyramid Winery; leaders in the industry. With almost 3 decades of experience working with the synergy between food and wine, Chef Kristof is proud to share the stories of these amazing stewards of the land.
e-ARTICLES ON WORLD-CLASS FOOD & BEVERAGE PRODUCERS; SYNDICATED CANADA, USA, SWEDEN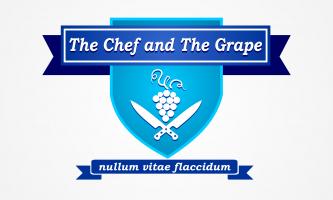 As always, I look forward to continuing our conversation:
on Twitter @AStudentofWine
on Facebook @The Chef and The Grape
Sláinte!