With the cheers of merriment and chimes of sleigh bells echoing around the fireplace, indulge in the warm flavours of luscious chocolate, succulent fruits and Christmas spices in a tantalizing yuletide feast with TWG Tea this December.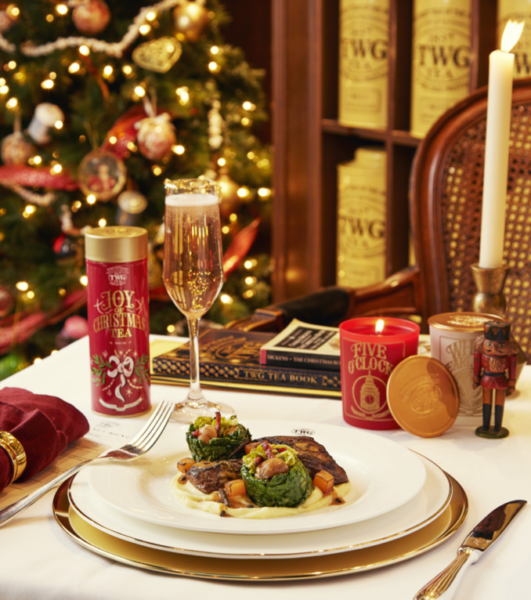 Let the festivities begin with a magical cocktail infused with Joy of Christmas Tea or opt for an eggnog-inspired mocktail infused with tea, almond, cinnamon and a sprinkle of cocoa.
For your main course, tuck into a succulent feast of grilled wagyu beef with black truffle and foie gras beef jus, accompanied by charred pears poached in Red Christmas Tea, served with silky mash potato and cabbage braised with veal bacon and chestnut.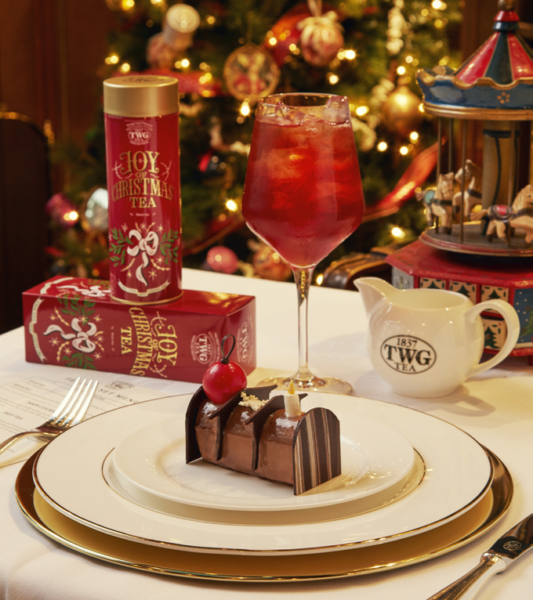 For a sweet nightcap, end the festivities with a Joy of Christmas Tea infused yule log, encasing a chocolate hazelnut sponge cake filled with a luscious Joy of Christmas Tea-infused cream mousse accented with vanilla & orange custard and cinnamon Streudel, coated with a milk chocolate glaze. Adorned in joyous colours of red and gold accented with delicate chocolate snowflake and ornament pieces, this unique creation is the perfect topping for any Christmas dinner.
A smouldering cup of Joy of Christmas Tea is the perfect nightcap. Whether you prefer it hot or iced, sip on the luxurious notes of black tea blended with spiced fruits and velvety chocolate, just in time for the season of giving.
TWG Tea's full Festive Set Menu is priced at $42 for the main course, tea and dessert. Cocktails or mocktails are available for an additional $16 and $12 each respectively. The Joy of Christmas Tea Yule Log is also available in small or large sizes and is priced at $9.50 and $68 respectively.
Available at the TWG Tea Salon & Boutique in Vancouver from 2 November to 31 December 2017.
Limited Edition: Joy of Christmas Tea Macarons
In sparkling shades of snowy white, luscious ruby-red and hints of gold, TWG Tea has transformed its signature macarons into delicious jewels of bite-sized confection. The limited edition Joy of Christmas Tea infused macaron showcases a smooth and crisp white almond shell topped with gold leaf, tenderly filled with a velvety smooth ruby-red ganache infused with exotic notes of pineapple and spiced fruits, the perfect sweet treat to delight your loved ones.
Red Christmas Tea Shortbread Cookies
Treat Father Christmas with a warm glass of milk and a serving of Red Christmas Tea Shortbread Cookies, a marvellous biscuit infused with theine-free red tea and spiced orange flavours to illuminate any cold frosty night.
The Joy of Christmas Tea macarons are available in limited edition gift boxes of 6, 12 or 20 count and priced at $18, $36 and $60 respectively. The Red Christmas Tea Shortbread Cookies are priced at $12 for 12 cookies. Available at the TWG Tea Salon & Boutique in Vancouver from 2 November 2017.
Images courtesy of TWG Tea