Enjoy traditional seasonal treats for the holidays thanks to Metrotown's acclaimed French bakery
Mon Paris Pâtisserie is pleased to celebrate its first Noël with a selection of holiday pastries, cakes and confections born from centuries of France's holiday traditions.
The 1,000 square-foot boutique and café, mere steps from Metrotown, was launched in January of 2017 by Chef Elena Krasnova, a former accountant who followed her passion for pastry to Paris' famed Ecole Ferrandi, where she learned the time-honoured techniques of pastry and chocolate making. In its first year, the patisserie has become a regular stop for the neighbourhood's croissant and canelé lovers and has garnered a reputation as a go-to for on-set celebrity birthday cakes after a glowing Instagram recommendation from X-Files star Gillian Anderson earlier this year.
"Christmas is my favourite time of year and the traditional pastries and chocolates that the French enjoy over the holidays are some of my favourites to make," Krasnova says. "I'm looking forward to sharing these delicious creations for the first time with the public!"
Mon Paris Patisserie is located at 4396 Beresford Street in Burnaby, across from Metrotown. The bakery and coffee shop are open Tuesday to Friday, 8am to 6pm; Saturday, 8am to 5pm; and Sunday, 9am to 4pm. Closed Mondays. Holiday Hours: December 22, 23 & 24: 8am to 7pm.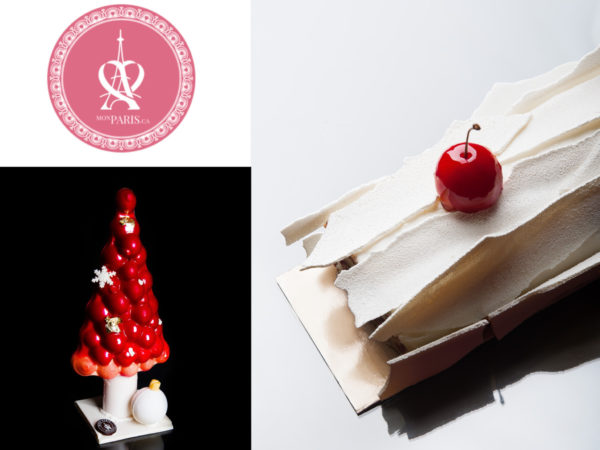 SPECIAL HOLIDAY CREATIONS
BUCHE DE NOEL (Yule Log)
The most typique of French holiday desserts, the bûche de Noël first emerged in the 19th century as a companion to the traditional Yule Log that was burned during the Christmas Eve Réveillon, or dinner party. Mon Paris Pâtisserie offers two versions:
North Pole: A modern twist on a true classique, this 8-inch bûche de Noël is made with a hazelnut génoise sponge cake frosted with a chestnut mousse and candied chestnuts. The cake is then sprinkled with chocolate biscuit, coated in a dark chocolate mousse and finished in a dark mirror glaze. Serves 8-10 people. ($45)
Winter Cherry: A delicate take on the more traditional North Pole, this 8-inch bûche de Noël is made with Japanese biscuit layered with a cherry and kirsche confit and finished in vanilla mousseline cream and white-chocolate bark. Serves 8-10 people ($38)
PETITES BUCHES (Mini Yule Logs)
These individual bûches de Noël are approximately 3" in length and come in three varieties ($5.65 ea.):
Banana and Cognac: Bananas flambéed in Courvoisier, a light banana mousse, milk chocolate and hazelnut crunch
Orange Crème Brûlée: Orange crème brûlée with Cointreau, dark chocolate mousse, sesame seed crunch
North Pole: Hazelnut génoise, chestnut mousse, candied chestnuts finished in dark mirror glaze
SAPIN AU CHOCOLAT (Chocolate Christmas Tree)
Built up croquembouche style, the 10" Christmas tree is made using high-quality milk or dark chocolate and garnished with up to five varieties of handmade assorted chocolates in flavours such as Coconut & Passion Fruit Truffle, Dark Chocolate Earl Grey, and Milk Chocolate & Smooth Caramel. Weight: 270g. ($36)
BOULE DE NOEL (Chocolate Ornament)
Handmade in either milk or white chocolate, this tabletop ornament is exquisitely decorated with a colourful glaze and contains two assorted "surprise" chocolates inside. ($23)
ABOUT ELENA KRASNOVA
Born in Russia, Chef Elena moved to Vancouver in her early twenties where she eventually studied accounting. Realizing that number crunching wasn't for her, she plunged into her true passion, moving to Paris and taking viennoiserie (pastry) classes at Ferrandi l'Ecole de Gastronomie before working at France's oldest and most storied patisserie, Dalloyau. Elena brought her international experience home to BC with the launch of Mon Paris Pâtisserie in January of 2017.
MON PARIS PATISSERIE 

Address: 4396 Beresford Street, Burnaby
Phone: (604) 564-5665
www.monparis.ca
SOCIAL MEDIA

Instagram: /monparis.ca
Facebook: /monparispatisserie