Louisa May Alcott's Heartfelt Tale of Four Sisters Inspires Anew
 in Beloved Musical Adaption for Families of All Ages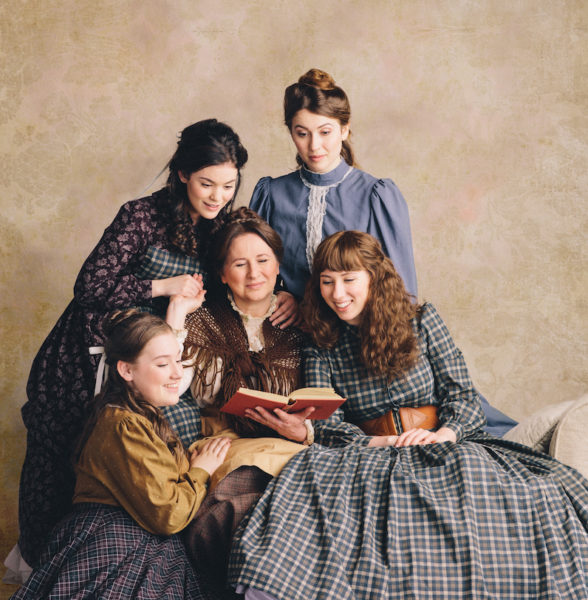 Bring On Tomorrow Co. (BOTCo) and Kay Meek Centre offer a performance as cozy as a hearth fire for the holidays: Little Women, the musical adaption of Louisa May Alcott's tale of four sisters, running Dec. 27 –30 in the Grosvenor Theatre at the Kay Meek Centre. The producers of 2016's Ovation Award-winning FAME and 2017's acclaimed 13: The Musical transport audiences back 150 years to the home of the March family in New England, where the iconic adventures of Meg, Jo, Beth and Amy unfold. Featuring some of the Lower Mainland's best and brightest professional theatre and musical artists, this talent-packed production promises to have audiences falling in love all over again with Little Women.
"While it is a classic of a different era, Little Women the novel cherishes family and celebrates strong, independent women – two ideals that are more important than ever in our current times," says director/choreographer Lalainia Lindbjerg Strelau. "We are thrilled to brighten up the festive season for families of all ages with the joyous music of this Broadway hit and hope to inspire a whole new generation of Little Women fans!"
Originally written in two parts by Louisa May Alcott in 1868 and 1869, Little Women is a semi-autobiographical novel that follows four sisters: Meg, a hopeless romantic; Jo, an aspiring writer; the hard-nosed Amy; and the kind-as-can-be Beth. Under the watchful eyes of their mother, the sisters navigate hilarity, tragedy and romance on their fateful journey to adulthood. Filled with the same love, laughter, heartbreak and wisdom as Alcott's narrative, the 2005 musical adaption with music by Jason Howland and lyrics by Mindi Dickstein brings these characters alive anew on the stage.
Starring as Jo March is Michelle Creber (18 years old), who recently appeared as Lucy in BOTCo's 13: The Musical, and won an Ovation Award for her performance as Lambchops in BOTCo's FAME. Ranae Miller, who last summer starred as Theatre Under the Stars' (TUTS) loveable nanny Mary Poppins plays the eldest sister Meg March. Jennifer Gillis (21 years old) plays Beth March. Gillis was Maria in 2016's West Side Story at TUTS, and more recently appeared in Red, Hot, Cole! at the Roxy Theatre in Victoria. Julia MacLean (15 years old), who starred as Patrice in BOTCo's 13: The Musical, takes on littlest sister Amy March. Playing the role of loving mother Marmee is Monique Creber, a versatile and engaging performer who often appears as a featured guest vocalist with symphony orchestras and on TV series soundtracks.
Additional stars include 22-year-old William Tippery as next-door neighbour Laurie, and local theatre mainstay and two-time Ovation Award-winner Chris Adams as Meg March's romantic interest Mr. Brooke. Adams is also associate producer of Little Women. Erik Gow, who starred as Schlomo in BOTCo's 2016 FAME, plays Professor Bhaer. Vancouver film & theatre veteran Stephen Aberle (Supernatural and The L Word) and Colleen Winton, who has performed at Stratford, Shaw and Charlottetown Festivals, play, respectively, Laurie's grandfather Mr. Laurence and the March sisters' forbidding Aunt.
Little Women is directed and choreographed by Lalainia Lindbjerg Strelau (who also directed and choreographed BOTCo's hit production of FAME), with musical direction by Monique Creber. Creber was the musical director for the BOTC team's production of 13: The Musical (2017) and FAME (2016). Leading the orchestra to perform Little Women's moving score is GRAMMY-nominated and JUNO Award-winning artist Michael Creber.
The creative team boasts set designer Todd Ablett, lighting designer Graham Ockley (a specialist of CDm2 LIGHTWORKS), sound designer Alex Livland (Head of Sound at Orpheum Theatre), and costume designer extraordinaire Christina Sinosich.
About Bring On Tomorrow Co. (bringontomorrowco.com)
Bring On Tomorrow Co. is a collective of artists coming together to produce outstanding and audacious musical theatre in Vancouver. Founded in 2016 by Lalainia Lindbjerg, Melanie Thompson, Monique Creber, and Chris Adams, the group aims to assemble the city's brightest professional theatre talent with award-winning musical artists to mount productions monumental in scale, energy, and sound. Following its 2016 Ovation Award-winning presentation of FAME, and critically-acclaimed production of Jason Robert Brown's Broadway hit 13: The Musical, Bring On Tomorrow Co. will present Little Women for the 2017 holiday season.
About Kay Meek Centre (kaymeek.com)
The Kay Meek Centre offers world-class arts experiences and opportunities for the community of West Vancouver and the North Shore. It took almost 40 years for West Vancouver to have its own performing arts centre. Local groups have long recognized the need, and on several occasions tried to build one. It's fitting that in a community where so many successful entrepreneurs make their home, our performing arts centre is the product of one person's vision, passion and financial generosity: Mrs. Kay Meek. Since its first public performance in 2004, Kay Meek Centre has created a home for great arts experiences, gathering our community in an inspiring and inclusive environment, and providing access to cultural expression in its many forms.