Show Your Love, Usher in the Upcoming 'Year of the Dog' with Chocolatier's Latest Seasonal Collection of Signature Chocolate Confections
There are many reasons to celebrate this February at
Thomas Haas Chocolates & Patisserie
, where the acclaimed chocolatier has revealed his latest lineup of seasonal handcrafted confections commemorating the 2018
Vancouver Hot Chocolate Festival
,
Valentine's Day
and
Chinese New Year
.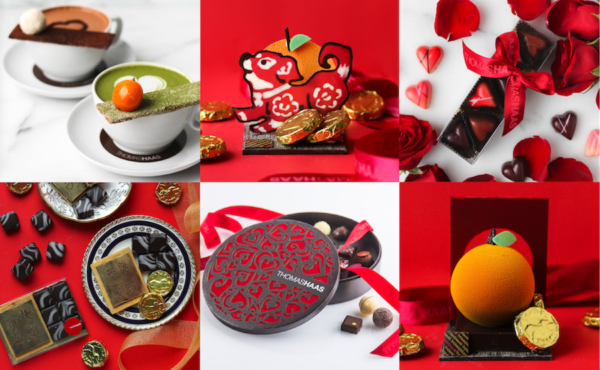 HOT CHOCOLATE FESTIVAL
From Saturday, January 20 through Wednesday, February 14, Thomas Haas will warm up the winter at his two namesake cafés by taking part in the eighth annual Vancouver Hot Chocolate Festival. For 26 days, hot chocolate aficionados can indulge their sweet tooth by sampling one of two custom creations for $6.95 each:
"Snowball Fight in Chamonix": 49% chocolate with chestnut, served with a chestnut and coconut rum snowball truffle and chocolate shortbread;
"In the Land of the Rising Sun": matcha white hot chocolate, served with candied kumquat, and matcha shortbread.
VALENTINE'S DAY
Love is in the air this February thanks to the talented team of chocolatiers at Thomas Haas, who will set hearts afire with new creations such as:
Pink Valentine Box: Designed in Italy, embossed with monochromatic hearts and filled with handmade chocolates and truffles ($5, two pieces; $38, 18 pieces);
Cupid: A handcrafted messenger of love decorated with heart-shaped Valentine's truffles ($19, small; $25, large);
Cupid, Hearts & Love Letters: The traditional Valentine's archer hits the mark courtesy of a chocolate love letter and heart filled with chocolates and truffles ($49);
'High Heel': A fashionable stiletto adorned with chocolates and truffles ($39, small; $49, large);
Truffle Hearts: For 2018, Haas' new signature Truffle Heart flavours are: dark chocolate-lychee and rose; milk chocolate-hazelnut latte; and white chocolate-strawberry and pink peppercorn ($2.20 each; $4 for two pieces; $14.50 for a six-piece box);
Signature Gift Boxes: Filled with Thomas Haas' most popular handmade Valentine's treats, chocolates, truffles and confections and available in eight different sizes ($7, two pieces; $12, four pieces; $21, nine pieces; $35, two-tier, 18 pieces; $52, three-tier, 27 pieces; $67, four-tier, 36 pieces; $82, five-tier, 45 pieces; $99, six-tier, 54 pieces);
Signature Round Gift Boxes: Available in five different sizes and decorated with Thomas Haas' signature filigree flair, each tier is filled with an array of fine handmade chocolates and truffles ($42, one-tier, 17 pieces; $82, two-tier, 34 pieces; $122, three-tier, 51 pieces; $162, four-tier, 68 pieces; $202, five-tier, 85 pieces).
CHINESE NEW YEAR
Thomas Haas will mark the Year of the Dog and help friends and family wish their loved ones a prosperous and healthy year to come this February with a variety of Chinese New Year-themed confections, such as:
'Loyal Dog': A handcrafted 62% dark chocolate puppy that signifies the 11th sign in the Chinese Zodiac, this pooch is decorated with signature chocolates and gold-foil coins in 37% milk and 62% dark chocolate ($48);
Good Fortune Mandarin Orange: A traditional symbol of abundance and good fortune, these hand-casted mandarin oranges are airbrushed with vibrant cocoa butter, filled with cocoa nib crunch and adorned with gold-foil coins in 37% milk and 62% dark chocolate ($18, small; $28, large);
'Lucky Lucy': A uniquely whimsical creation displaying a symbolic young girl handcrafted in 62% dark and white chocolate intended to usher in the new year and spread good fortune ($28).
Gift cards are also available in a variety of denominations, starting at $20, for in-store purchases only.
All 2018 Valentine's and Chinese New Year confections will be available at the two Thomas Haas cafes in North Vancouver and Kitsilano, with a limited selection also available at high-end retailers such as Whole Foods and Urban Fare. A variety of items may also be ordered online at thomashaas.com and shipped across Canada.
---
ABOUT THOMAS HAAS CHOCOLATES & PÂTISSERIE | An internationally acclaimed, fourth-generation pâtissier, Thomas Haas gained experience in Michelin-starred restaurants in Europe and North America before settling in Vancouver and opening his own namesake chocolaterie, patisserie and café in 2005. Haas — Vancouver Magazine's Pastry Chef of the Year in 2011 and 2013 through '16 — uses only the finest raw ingredients sourced both locally and from around the globe and, in keeping with family custom, eschews the notion of assembly lines and mass-production techniques, instead trusting in a talented team of pastry chefs and chocolatiers whose finesse and sensitivity is lovingly expressed in every hand-spun confection.
Thomas Haas products are exclusively available at both his Kitsilano and North Vancouver cafés as well as select leading hotels, retailers and restaurants across North America. www.thomashaas.com
North Shore | 128 – 998 Harbourside Dr. | North Vancouver, BC  V7P 3T2 | 604-924-1847
Kitsilano | 2539 West Broadway | Vancouver, BC  V6K 2E9 | 604-736-1848
Twitter: @thaaschocolates |  Instagram: @thaaschocolates  |  Facebook: /thaaschocolates