Taking inspiration from a tragic 2008 hate crime, this powerful and celebrated one-man tour-de-force explores a community in mourning
In honour of its 10th anniversary, Zee Zee Theatre proudly presents the remount of its heartrending masterwork My Funny Valentine, February 7 – 18, 2018 at The Dance Centre. Hailed as "exceptionally beautiful" (Vancouver Courier), this three-time Jessie-nominated one-man show was created in response to the tragic 2008 murder of Lawrence King, a 15-year-old shot by his male classmate after asking him to be his valentine. In a series of profoundly moving monologues, Vancouver actor Conor Wylie will take audiences through the minds of those caught in the aftermath of an unspeakable hate crime.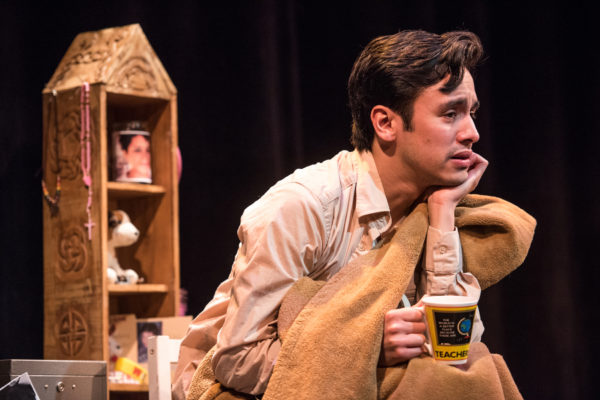 "It has been a decade since the murder of Lawrence King and eight years since we premiered My Funny Valentine. Painfully, it is a work that has only gained relevance," says Zee Zee Theatre Managing Artistic Director Cameron Mackenzie, who also directs the work. "We are living in an increasingly divisive world; where returns to populism and tribalism attempt to separate us by our politics, beliefs, gender, and income. This is a work that acknowledges and gives equal weight to a diversity of perspectives and opinions. Ultimately, it is a call to action reminding us that the only path to healing lies in a community coming together – not pulling apart."
The murder of Lawrence King is widely acknowledged as one of the most prominent gay hate crimes since the 1998 killing of Matthew Shepard. Brandon McInerney was just 14 years old when he shot and killed King in their Oxnard, California junior high school on February 12, 2008. King reportedly asked McInerney to be his Valentine in the days leading up to the incident. King passed away two days later – on Valentine's Day.
Penned by award-winning Vancouver playwright Dave Deveau, My Funny Valentine was written in the form of several monologues to be heard in the voices of teachers, students, parents, and community members who find themselves caught in the orbit of King's death. Each one offers poignant and probing reflections on the hate crime, collectively forming a nuanced and diverse tapestry of a community in mourning.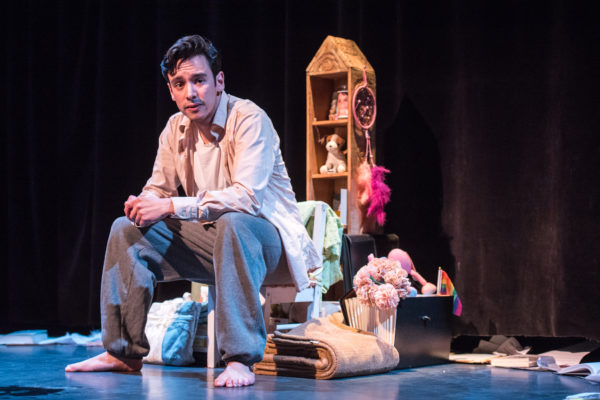 Embodying the work's seven diverse characters – ranging in age from an 11 year-old girl to 67 year-old man – will be Vancouver theatre artist Conor Wylie (previous artist-in-residence for Theatre Replacement). The Jessie-nominated actor, who has been seen on stages at The Arts Club, Theatre Calgary, and Citadel Theatre, promises to bring tremendous technical skill and heartfelt authenticity to this kaleidoscopic ensemble. As a self-professed, "flag-waving artist of colour with socialist politics in his guts", the message of My Funny Valentine aligns deeply with Wylie's own values and politicized theatre practice.
Following its 2011 premiere, My Funny Valentine was honoured with the Sydney Risk Prize for Outstanding Original Script by an Emerging Playwright. Its European debut garnered it a nomination for Ireland's prestigious Oscar Wilde Award for 'Best Writing.' In celebration of Zee Zee Theatre's 10th anniversary, My Funny Valentine will enjoy a run at Toronto's Buddies in Bad Times Theatre, the largest queer theatre in North America, from January 10 to 21, before coming home for its Vancouver run.
The production features set and costume design by Marina Szijarto, lighting design by Jerguš Opršal, and sound design by Shawn Sorensen.
Tickets are $27 – $32 (Two-for-One Preview on Feb. 7) at: theatrewire.com
About Zee Zee Theatre (zeezeetheatre.ca)
Zee Zee Theatre was founded in 2008 as a company devoted to telling small stories in the lives of the marginalized. Its name embodies that very notion, its namesake being founding Artistic Director Cameron Mackenzie's godmother, Zee. Though not a rich woman, Zee brought a generosity of spirit and heart that placed value in building community and giving voice to those who had none. Similarly, the company explores intimate moments through which limitless humanity and depth of character can be revealed.
Through signature productions like Elbow Room Café: The Musical, Human Library, and My Funny Valentine, the company has established itself as having unique and provocative conversations with diverse audiences. It offers recognizable situations with poignancy and builds a connection with our surrounding community in order to inspire unity in the shared human experience.
LISTING INFORMATION Zee Zee Theatre presents My Funny Valentine
Dates: February 7 to 18, 2018
Two-for-One Preview: February 7 at 8pm
Opening Night: February 8 at 8pm
Ticket Prices: Arts Workers/Seniors/Under 30: $27
Regular Admission: $32
Address: The Dance Centre
677 Davie Street, Vancouver, BC
Box Office: theatrewire.com
Website: zeezeetheatre.com