The Dance Centre presents the Global Dance Connections series
WEE/Francesco Scavetta (Norway/Italy)
Hardly Ever
Thursday-Saturday April 5-7, 2018 at 8pm
Post-show talkback April 6
Scotiabank Dance Centre, 677 Davie Street, Vancouver
Tickets: $32/$24 students and seniors: Tickets Tonight: 604.684.2787 www.ticketstonight.ca Info www.thedancecentre.ca
Presented with the support of Il Centro Italian Cultural Centre
The innovative Norwegian dance company WEE and its maverick Italian choreographer Francesco Scavetta take an original and entertaining look at truth and falsehood in Hardly Ever. Four performers use dance, text and music, along with a quirky retro stage set, to test the gap between expectations and the unexpected. Verbal statements provoke physical responses and strange mismatches: the body becomes a fiction, on which an endless array of other fictions can be articulated in movement. Offbeat, funny, poetic and timely, Hardly Ever negotiates questions of reality, untruths, and who we can trust.
Scavetta has developed a reputation on the international dance scene for his wildly inventive work, playful humour and subversive intelligence: his work is at the forefront of the Nordic dance scene and has toured all over the world. Hardly Ever premiered in 2015 and has toured around Europe and to Japan; it was most recently featured at ICE HOT in Denmark, and at Norway Now in New York City.
Francesco Scavetta was born in Salerno, Italy and studied at National Academy of Dance of Rome. He co-founded WEE with Gry Kipperberg in Oslo, Norway in 1999. The company immediately made its mark with its original style, and has produced 20 performances including: Daddy always wanted me to grow a pair of wings, live* (commissioned by the Venice Biennale), And I just stood there, watching the sky and the people below, Sincerely Yours, and On the moon and the day after.  The company has toured to 36 countries in Europe, the Middle East, Asia, North and South America, and has received several awards including Best Dance Performance forThe Surprised Body Project in Croatia.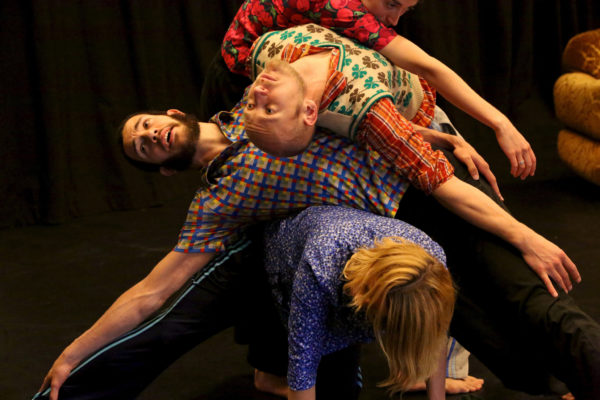 Hardly Ever
Concept/choreography: Francesco Scavetta.
Original version created in collaboration with: Gry Kipperberg, Erikk McKenzie, Orfee Schuijt, Thomas Vantuycom.
Touring version performed by: Gry Kipperberg, Erikk McKenzie, Sigrid Marie Kittelsaa Vesaas, Luke Divall
Dramaturge: Sasa Bozic.
Costume design: Gjøril Bjercke Sæther.
Stage: Francesco Scavetta, Gjøril Bjercke Sæther and Per-Anders Karlsson.
Light design: Stefano Stacchini.
Light technician: Gunnva Meinseth
Sound design: Tormod Friis Pettersen, Kevin Sandman, Gianluca Mastronardi
Production: Wee.
Co-production: Dansens Hus/Oslo.
In collaboration with: Vitlycke-Centre for Performing Arts, Göteborg Dans & Teater Festival and WASP/4Culture Bucharest. Supported by: Arts Council Norway, Norwegian Foreign Affairs UD/DTS and Fond for lyd og bilde
Global Dance Connections Contemporary dance series 2017-2018
September 20-23 Joshua Beamish/MOVETHECOMPANY
October 12-14 Compañia Sharon Fridman
January 17-19 Nicola Gunn
February 1-3 Daina Ashbee
April 5-7 WEE/Francesco Scavetta
May 24-26 Aeriosa
The Dance Centre was established in 1986 as a resource centre for dance professionals and the public in British Columbia, and has evolved into a multifaceted organization offering a range of activities unparalleled in Canadian dance. Its goal is to support the development of dance and to develop an environment where it can thrive. The Dance Centre offers programs and resources supporting the professional development of artists, presents public performances and events, manages Scotiabank Dance Centre, Canada's flagship dance facility, and works to promote BC dance.
Facebook.com/thedancecentre | Twitter.com/dancecentre | Instagram.com/thedancecentrebc