SOMETHING'S FISHY AT PROVENCE IN APRIL
From April 1

st

through 30

th

, join

Provence Marinaside 

as it celebrates the 10

th

annual

Poisson d'Avril

. In France, 'Poisson d'Avril' (April's Fish) is a one day affair, corresponding to our April Fool's Day, filled with whimsical pranks and games. "Poisson d'Avril is an opportunity to welcome spring with a bit of fun. Our regular guests look forward to it every year. It's become our spring tradition," says Provence's Executive Chef and Owner,

Jean Francis Quaglia

. "When you have a holiday as fun as this one, why limit it to only one day?"

As a result of its popularity Provence has turned Poisson D'Avril into a month-long celebration of all things fishy with an a-'luring' three-course, prix fix Poisson d'Avril Menu ($56) with two optional wine pairings – Canadian Wine Pairing for $25 ($15 for petite pour) and Old World Pairing for $30 ($20 for petite pour).

The special menu offers a 'school' of choices. Which starter will be the bait that tempts your taste buds? Canneloni Façon Bouillabaisse (fish, clams, scallops, mussels, prawns, Gruyère and rouille) or Provence's popular Albacore Tuna Carpaccio (dried cherry tomatoes, crispy capers, olive essence, sorrel greens) ? Or perhaps Provence's Fish Croquette (garlic and mustard vinaigrette, frisée and tarragon salad) will be the dish that 'hooks' you.
Your next major decision comes with which Main Course to reel in. The choices are difficult – how do you choose between an array of five tasty temptations including: Niçoise Salad Provençal (rare Albacore tuna, anchovy vinaigrette, green beans, grape tomatoes, Niçoise olives, red and yellow bell peppers, pickled quail egg, red new potatoes), Grilled Line-Caught BC Halibut (shaved zucchini, rainbow carrots, asparagus and shallot salad, fingerling potatoes, tomato and black garlic vinaigrette), Provence's signature Fennel-Infused Baked Whole Mediterranean Fish (brown butter and garlic sautéed vegetables, seven grain rice), Saffron-Poached Ling Cod (yellow zucchini, Padrón peppers, shallots, house-made gnocchi, saffron fish broth), or Panko-Breaded Local Trout Filets (wilted spinach salad, sun-dried tomato, feta cheese, Mediterranean olives, walnuts, fresh herbs) ? At this point, you might want to do some negotiating with your table mates and agree on 'sharezies.'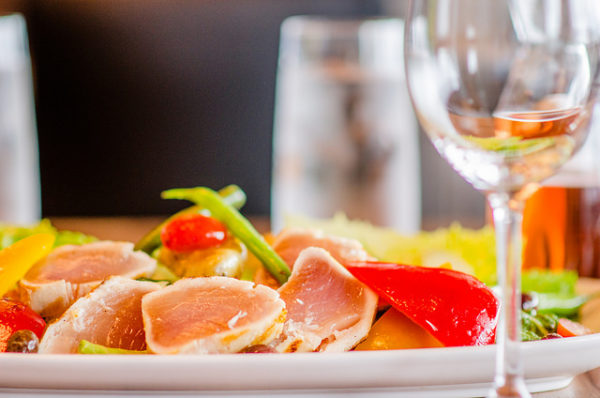 Having enjoyed your first and second courses, sit back and imagine yourself on the Côte d'Azur as you enjoy Provence's seawall and marina view. Sip your wine and peruse the dessert menu for your choice sweet ending. Provence's legendary Lemon Tarte and silky Crème Caramel are perfect dénouements to any finny feast. Or you may prefer an Artisan Cheese Plate or palate-cleansing Sorbet.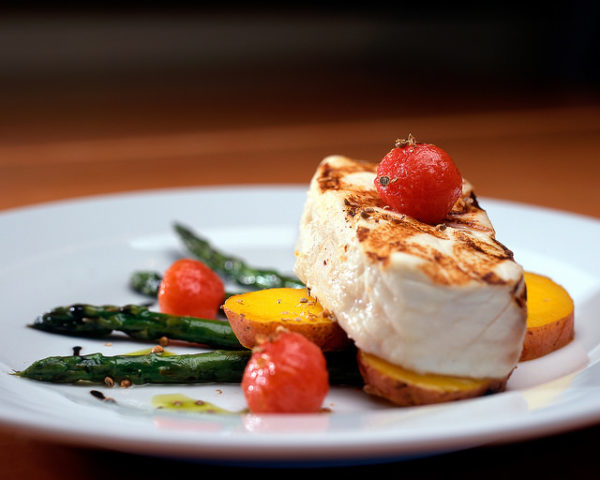 Someone in your party not a fish lover? Not to worry – there are plenty of non-fish choices available on Provence Marinaside's regular menu.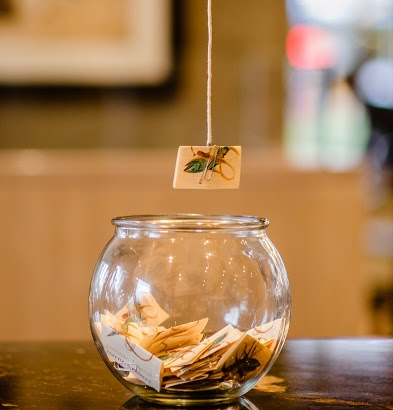 In keeping with the prankish spirit of Poisson d'Avril, Provence invites patrons to try their luck with the childhood game 'Go Fish.' Everyone who dines at Provence Marinaside and orders the Poisson d'Avril Menu has the chance to 'cast' for prizes from the fishbowl. Every 'fish' contains a unique prize – some serious (free meals, discounts, cookbooks etc.) and others whimsical (sing for your supper, you do the dishes) so get ready to demonstrate your angling skills and join in the fun.
Regardless of your fishing ability, you'll find plenty of great catches on Provence Marinaside's Poisson d'Avril Menu available this April.
All images: Emrys Horton