The Holy Crab launches lunch service on April 14
The Holy Crab(1588 Robson Street) is bringing Louisiana-meets-West Coast lunch service to Vancouver's West End this month. Starting April 14, 2018, guests can enjoy a variety of southern-inspired dishes alongside its popular seafood boil offerings.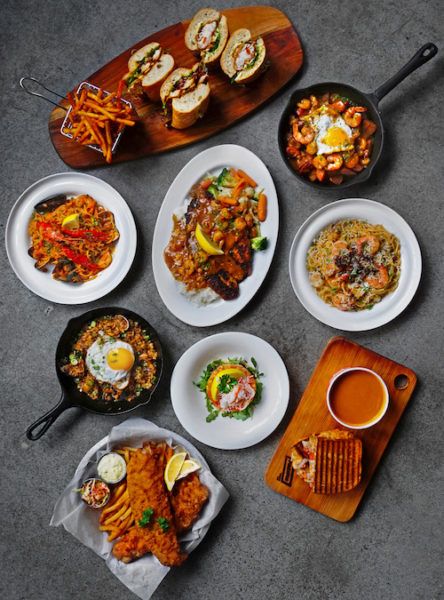 "We recently reached our one-year mark and truly thank Vancouverites for their warm welcome," says Henri William, owner of The Holy Crab. "People have really embraced our version of the traditional seafood boil. The next step was launching lunch with a different menu. We've been working on our lunch menu for a while now, and I'm proud to finally launch it. The menu stays true to our Southern-style and hospitality with our usual West Coast flare."
New dishes, starting from $12, include a Lobster Grilled Cheese packed full of fresh lobster meat, mozzarella, dill and cheddar Bechamel sauce, and lobster butter; Dirty Ricefeaturing clams, mussels, prawns, calamari, and catfish; crispy battered catfish Fish and Chips with house made tartar sauce, Cajun fries, and coleslaw; Garlic Shrimp Pastawith prawns, shrimp, house made garlic pepper sauce, and a 63-degree poached egg; Blackened Catfish with Étouffée on Rice; Seafood and Avocado Salad; and a Creamy Cajun Seafood Pasta.
In addition, lunch-goers can still order from the seafood boil menu, such as a whole Dungeness crab, mussels, shrimp, and lobster. The Holy Crab continues to partner with suppliers to bring the best selection of local and premium sustainable seafood to its tables, with many of them Ocean Wise.
Starting April 14, 2018, The Holy Crab is open from 11 a.m. to 10 p.m. seven days a week. Lunch service is offered from 11 a.m. to 4 p.m. Reservations accepted. For more information, please visit www.theholycrab.ca.
About The Holy Crab
Ersons Foods brings Louisiana-style seafood restaurant The Holy Crab to Canada for the first time in Vancouver, British Columbia. With a focus on utilizing some of the West Coast's freshest sustainable seafood, The Holy Crab aims to create a warm and inviting environment for dining guests to enjoy a variety of fish, shellfish, and hot sides. Sharing is encouraged.
Address: 1588 Robson Street
Facebook: The Holy Crab Canada
Instagram: @TheHolyCrabCA | Website: www.theholycrab.ca
Phone: 604-661-8533