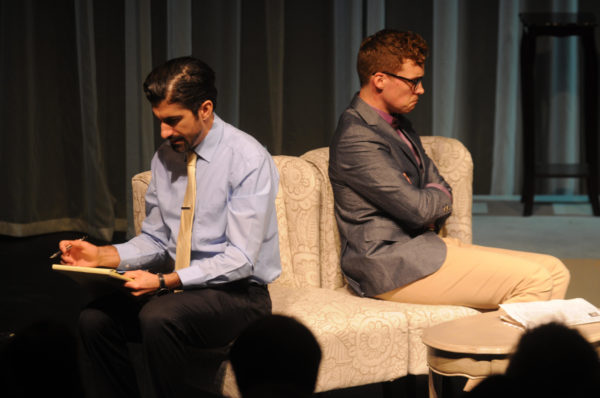 When brothers Kyle and Hamilton Best lose their mother, the victim of a freak accident involving the wrong end of a drag queen, the stage is set for a sibling showdown. Long nursed hurts, and deep-buried grievances claw their way to the surface, as brothers and rivals for their mother's affection sort out the funeral arrangements, their mother's estate, and what to do with her beloved dog Enzo.
Hamilton, straight, married and settled, is a stark contrast to his younger brother Kyle, who is gay, and leading a decidedly less conventional life. Their dead mother Bunny occasionally pops in to add commentary to the proceedings, but the real star of the show is Enzo, a roguish mutt with a taste for chaos and near-pathological amounts of charm.
Canadian playwright Daniel MacIvor's morbidly hilarious examination of sibling dynamics and mortality takes on an unexpectedly emotional depth as the two men must face each other, as well as their own familial dysfunction.
"Nova Scotian national treasure Daniel MacIvor's latest, perhaps his most heartwarming and potentially crowd-pleasing comedy to date, concerns three brothers: serious Hamilton, who builds condos; flaky Kyle, who sells condos; and Enzo, who will tear a condo or any other dwelling to shreds with his teeth if you leave him unattended." – The Globe and Mail
"The Best Brothers may be the playwright's best play." – The National Post
Best Brothers is a Kay Meek + Western Canada Theatre presentation.
 "The Best Brothers"
Dates: Tuesdays through Saturdays, May 8th  – 19th, 2018 Time: 7:30 pm
Preview: Tues., May 8 @ 7:30pm / Opening: Wed., May 9 @ 7:30pm
Matinees: Saturdays, May 12th and 19th, Wednesday May 16th,
Sunday May 13th, Time: 2 pm
Venue: Kay Meek Studio Theatre / 1700 Mathers Ave., West Vancouver
Admission: $29 – $45 Tickets: On Sale Now https://kaymeek.com/tickets/
By: Daniel MacIvor
Director and Sound Designer: Sharon Bajer
Set and Lighting Designer: Ross Nichol
Costume Designer: Suzannah Marriott
Stage Manager: Christine Leroux
Featuring: Aidan deSalaiz and Ryan James Miller
Playwright Daniel MacIvor is originally from Cape Breton, Nova Scotia and currently lives in Toronto and Avondale, Nova Scotia. From 1987 to 2007, with Sherrie Johnson, he ran da da kamera, a respected international touring company that brought his work to Australia, Israel, Europe, the UK, and extensively throughout Canada and the United States. He has written numerous award-winning theatre productions, including See Bob Run, The Soldier Dreams, You Are Here, Arigato, Tokyo, and The Best Brothers, and his work has been translated into Portuguese, Spanish, Czech, German and Japanese.
Sharon Bajer grew up on the West Coast and attended Studio 58 before settling in Winnipeg, MB. She has worked across Canada and in Europe and Israel as an actor, playwright, and director. Directing highlights include Little Thing, Big Thing at Prairie Theatre Exchange, Outside Mullingar and Run for Your Wife at Festival Antigonish in Nova Scotia and assisting on Richard III and Two Gentlemen of Verona at the Stratford Festival.
Aidan deSalaiz is thrilled to be working on this beautiful play. His favourite theatre roles include: Ken in Red, Emmett in Legally Blonde (Theatre Aquarius), Michel in Having Hope At Home (Neptune), Juan in Altar Boyz (Angelwalk, Toronto premiere), Robbie in Wedding Singer (Stage West, Critter nomination), and Abdul in Pentecost (Stratford).
Ryan James Miller is thrilled to be making his Western Canada Theatre debut in The Best Brothers. Ryan has been making a name for himself working for some of the top theatre companies in Canada.
The Kay Meek Centre offers world-class arts experiences and opportunities for the communities of the North Shore, and is central to its vibrant cultural fabric. Presenting more than 300 performance, to over 60,000 people every year the venue provides a space for artistic excellence for professional artists, youth and community groups. The 2017/18 Arts Season marks Kay Meek's most extensive and diverse program lineup yet, including more music and theatre as part of four compelling new series featuring performances by local and internationally renowned artists.
Perhaps it's fitting that in a community where so many successful entrepreneurs make their home, this performing arts centre is very much the product of one person's vision, passion and financial generosity. Mrs. Kay Meek made this building come alive. 
Born in England, Kay spent most of her life in West Vancouver. A long time supporter of Lower Mainland arts organizations, Kay had a goal to see a learning-based, performing arts centre built in the community she loved. She wanted to do it, as she said many times, "for the children." 
In 1998, a trust was established and funded by Kay Meek with an initial donation of $1 million to search for a possible location. Things began to move ahead in 2000 when the West Vancouver School District proposed that the new arts centre be built beside West Vancouver Secondary School. In 2002, a Joint Use Agreement was signed between the West Vancouver School District and the West Vancouver Arts Centre Trust, which oversees the Centre's operations. 
Meek often commented that the construction of the theatre was what kept her going. Kay Meek died in 2004 on the day of the first public performance at the Centre that now bears her name.
She was 98.
Press release and images: theartsbiz