Campaign gives fans the chance to win a Deadpool-themed trip to Vancouver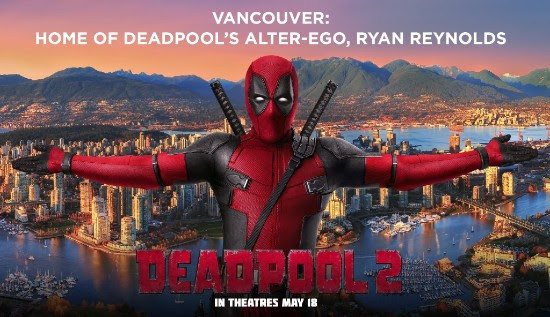 Deadpool brings "Pool season back to the Great White North"¹ with two times the splash, as Vancouver's beautiful backdrops and dynamic downtown districts reprise their Academy Award-neglected "Best Supporting Location" role in the upcoming film Deadpool 2.
¹Fun fact: Vancouver is home to one of the world's longest pools (137 meters).
As the unsung hero of Canada's Scarred Superhero's Silver Screen Sequel (try saying that three times fast), Vancouver's historic, hip and happening ambiance provides all the thrills of "real" Hollywood, only with four times the politeness and 1/16th the pollution.²
²Fun fact: Vancouver is the third most livable city in the world.
To celebrate the anti-hero's return to the big screen, Tourism Vancouver – with support from 20th Century Fox and the Vancouver Film Commission – is launching a campaign that welcomes fans to explore the world of Deadpool 2 by visiting the city that's featured so prominently in the film.
The "Vancouver: Home of Deadpool's Alter-ego, Ryan Reynolds" campaign sweepstakes offers the public a chance to win a grand prize trip for two to Vancouver inspired by Deadpool 2.
The prize includes:³
• Round-trip flights to Vancouver, B.C.
• Three nights' accommodation at JW Marriott Parq Vancouver – a sleek new hotel that's almost as sexy as Deadpool himself
• Exotic driving excursion with Scenic Rush (because what's Deadpool without sexy cars?)
• Two Ultimate Passes to Science World at TELUS World of Science (includes admission and OMNIMAX film), where you can expand your mind while soaking in views of the Georgia Viaduct where the aforementioned car chase went down
• Fans of Vancouver walking tour that passes key sites seen in Deadpool and other hot films and TV shows shot in Vancouver
• A decadent culinary tour in Railtown, courtesy of Off the Eaten Track (but don't tell Deadpool – with his sense of taste gone, he might be murderously jealous)
• Theatrical walking tour in Gastown and Chinatown – where the bulk of the Deadpool movies were filmed – led by Forbidden Vancouver
• Dinner for two at trendy The Union in Chinatown
• Dinner for two at ultra-elegant Gotham Steakhouse & Cocktail Bar in central downtown
³Restrictions apply – Contest open to residents of U.S. (excluding Florida) and Canada (excluding Quebec). See Rules & Regulations for full details.
Fans can visit www.tourismvancouver.com/deadpool for more details and to enter. Those keen to follow in the foul-mouthed rebel's footsteps can view Tourism Vancouver's self-guided Deadpool itinerary.
"We are extremely excited about this campaign, particularly as it follows on the heels of our successful initiatives for War for the Planet of the Apes and Fifty Shades Freed," said Stephen Pearce, Vice President of Marketing, Tourism Vancouver. "As we share with potential visitors worldwide the extent of incredible productions that are filmed or digitally finished in Vancouver, we are thankful for the continued support of key partners like 20th Century Fox and the Vancouver Film Commission. Film tourism is becoming more prolific every year, and our goal is to ensure visitors recognize that Vancouver is the stunning destination they see on so many big and small screen productions."
About Tourism Vancouver
Tourism Vancouver is the official destination marketing organization for Vancouver, British Columbia, Canada. The not-for-profit, member-based organization represents over 1,000 tourism businesses in Metro Vancouver and beyond. Tourism Vancouver markets Vancouver as a premier leisure, business, meetings and group travel destination in strategic markets around the world. www.tourismvancouver.com
About the Vancouver Film Commission
The Vancouver Film Commission (VFC) is the key organization for marketing the city. It focuses on business and infrastructure development and investment attraction for the 3rd largest film & TV production centre in North America. As part of VFC's long-term plan for growing the innovation and sustainability of the industry, the VFC delivers long-term initiatives designed to improve the resilience of the sector, especially around local IP creation, investment into creative talent, company development, and export opportunities. The VFC is an entity of the Vancouver Economic Commission.
About Deadpool 2
After surviving a near fatal bovine attack, a disfigured cafeteria chef (Wade Wilson) struggles to fulfill his dream of becoming Miami's hottest bartender, while also learning to cope with his lost sense of taste. Searching to regain his spice for life, as well as a flux capacitor, Wade must battle ninjas, the yakuza, and a pack of sexually aggressive canines, as he journeys around the world to discover the importance of family, friendship, and flavor – finding a new taste for adventure and earning the coveted coffee mug title of World's Best Lover.
About Twentieth Century Fox Film
One of the world's largest producers and distributors of motion pictures, Twentieth Century Fox Film produces, acquires and distributes motion pictures throughout the world. These motion pictures are produced or acquired by the following units of Twentieth Century Fox Film: Twentieth Century Fox, Fox 2000 Pictures, Fox Searchlight Pictures, Twentieth Century Fox Animation and Fox Family.
Press release: Tourism Vancouver