Celebrate The Artistry And Science Of Mixology On February 8, 2018, Science World will transform into Vancouver's largest cocktail laboratory. At Science of Cocktails, the city's most talented bartenders and chefs will showcase the chemistry, biology and physics behind preparing modern cocktails and cuisine. Each ticket to this fundraising event includes open bar from 25+ bar stations curated by award-winning bartenders paired along with 12 food stations featuring molecular gastronomy from local talent. You will also enjoy a variety of special cocktail science activities, hands on demos, and classic Science World programming. Ticket proceeds to raise funds for Science World's Class Field Trip Bursary Program for underserved schools.
We thought it would be fun to share with you some of what you may expect at the Science of Cocktails event on February 8, 2018. A select number of media folk were treated to a preview recently and we'd like to share this glimpse. (all photos courtesy of Cathy Browne, except as noted) and a few recipes to try at home.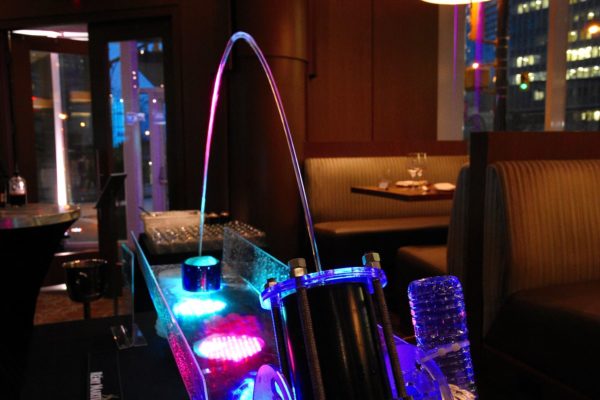 Ticket to Science of Cocktails are available here before they're SOLD OUT
$159 GENERAL
For information of group tickets of 10+ or more please email giving@nullscienceworld.ca or call 604.443.7483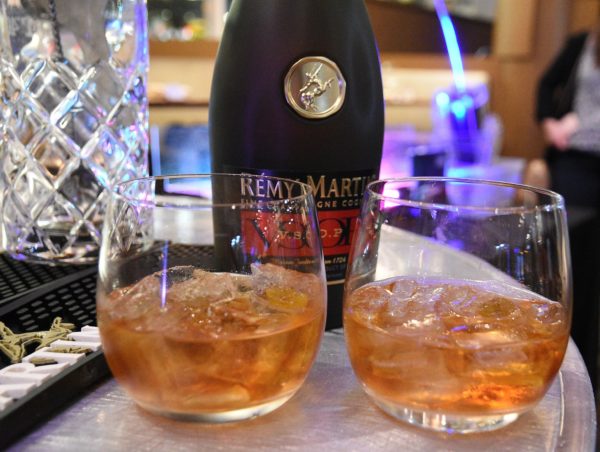 GENERAL TICKETS – $159
You will receive:
Open bar with 25+ bar stations serving unique cocktails crafted by award-winning bartenders
Access to a variety of special cocktail science activities, hands-on demos and Science World programming
Enjoy ample hors d'oeuvres prepared by locally renowned chefs
A tax receipt for the maximum allowable amount of $50.00
VIP TICKETS – $289  SOLD OUT
ADDITIONAL TICKET INFO
Group discount: guests purchasing 10 or more regular priced tickets will receive a special group rate. Tickets must be purchased all at once to receive discount.
Tickets will be sold at the door based on availabilitiy.
Tickets must be purchased online (except for group tickets).
Tickets are non-refundable.
This is a 19+ event.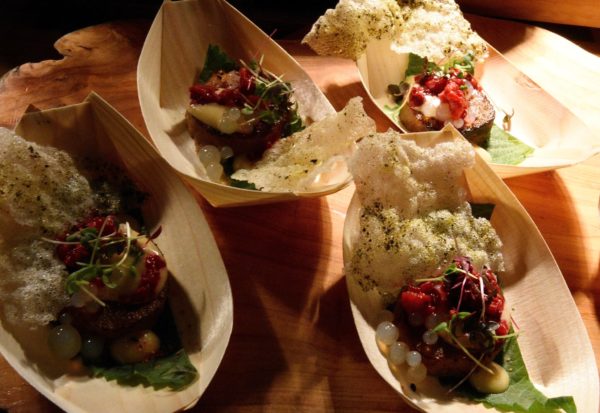 1.  'Char Sui' pork rillettes, yuzu pearls, miso sesame emulsion, rice cracker, togarashi, perilla leaf.
Char Sui BBQ flavoured pork rillettes, yuzu juice thickened with agar agar to appear like pearls or row.
Miso and sesame emulsion, fried rice cracker, togarashi spice blend and wild sesame leaf (also known as perilla leaf) which is quick frozen and mulled with liquid nitrogen.
Chef: Jesse Hochhausen
Presented by Showcase Restaurant & Bar
Recipe
Char Sui Pork Rillette

Ingredients:

15kg Pork Belly

15kg Pork Shoulder

8litres olive oil

3 cinnamon sticks

6 bay leaves

9 cloves

9 star anise

90gr Fennel Seed

120gr black peppercorn

Method (Rillette):

Divide pork and ingredients evenly into 3 deep stainless steel roasting pans. Cook in Oven at 150C for 2.5-4 Hours. Pork Belly will finish much faster than Shoulder. Check every 30min once 2.5 hours is reached.

Marinade:

2litres honey

250ml sesame oil

1litre Hoisin Sauce

1.5 Litres Sweet Soy

1 cup Ginger

1 cup Garlic

1 tablespoon white pepper

2 cups Sambal

Method (Marinade):

Blend all Marinade ingredients together and bring to a simmer, then cool.

Final Method:

Separate pork and fat/oil from roasting pans. Pull the pork. Add the pork into a Large Electrical Mixer and mix pork meat, marinade and some fat until flavor is a little salty. Then roll pork into long tubes with plastic wrap OR Press in metals pans overnight.

Miso Mayo

Ingredients:

1500gr. Mayo

300gr. Miso

180gr. Brown sugar

45 grams ginger

6 cloves of garlic

Method:

Blend all ingredients.

Rice Cracker Seasoned with Nori Powder

A. Rice Cracker

Ingredients:

Rice Paper Wrappers 22cm

Canola Oil

Nori Sesame Powder

Method:

Deep Fry Rice paper wraps in 375F Oil. Flip halfway through deer frying. Sprinkle with Nori Sesame powder and let dry on paper towel.

B.Nori Sesame Powder

Ingredients:

200gr Black sesame seeds

3 Nori Sheets

20gr Togarashi seasoning

20gr salt

30gr white sugar

Method:

Toast sesame seeds

Toast nori, cut into small strips. Blend everything until it's a powder.

Yuzu Pearls

Ingredients:

750ml Yuzu Juice

250ml water

80gr sugar

20gr. Agar Agar

4litres canola oil (ICE COLD)

Method:

Bring Yuzu, water, and sugar to a boil. Whisk in agar agar. With a squeeze bottle drip mixture into the ice cold oil. Strain Pearls out of oil and use.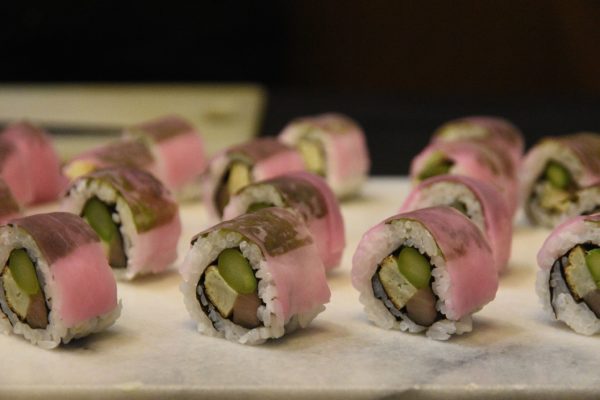 2. Pink Flower Roll
Sushi rice, asparagus, Albacore Tuna, fried egg, topped with beet juice dye, white radish & shiso leaves
Chef: Takayuki Sato
Presented by Hapa IzakayaRecipe
Ingredients:
Sushi rice
Sushi grade dried seaweed
Asparagus
Fried egg
Sugar
Sashimi grade Albacore tuna
Japanese white radish
Shiso leaves
Beet juice
Method:
Make the sushi rice and set aside to cool. Flash boil asparagus and set aside.  Mix a small amount of sugar into the eggs and mix well. Fry into thin sheets and set aside and julienne once cooled to match the length of the roll. Dye thinly cut disks of Japanese white radish with beet juice (the longer you dye it the pinker it will be) and choose desired pink colour and set aside (you may want to do this first as it may take a while to turn pink.
Lay sushi rice thinly onto dried seaweed and place the fried egg, Albacore tuna and asparagus on top. Ensure the ingredients are closer to you. Carefully roll it away from your body, creating a nice even roll. Place the dyed radish and Shiso leaves on top. Cut into 6 or 8 pieces. Enjoy with a little bit of soy sauce.
COCKTAILS
Cocktail Photo credits: Christopher Guy / IG: @picturelisten
1. Concept: Soluble Ingredients Oils & Alcohol
Using fats / oils to make a cocktail
Cocktail: Guatemala Colada | Liquor: Ron Zacapa
50 ml Ron Zacapa rum with coconut oil
22 ml Maillard Pineapple Cordial
22 ml citric acid and lactic acid solution
Stirred, served neat
Bartender: Grant Sceney
Presented by Diageo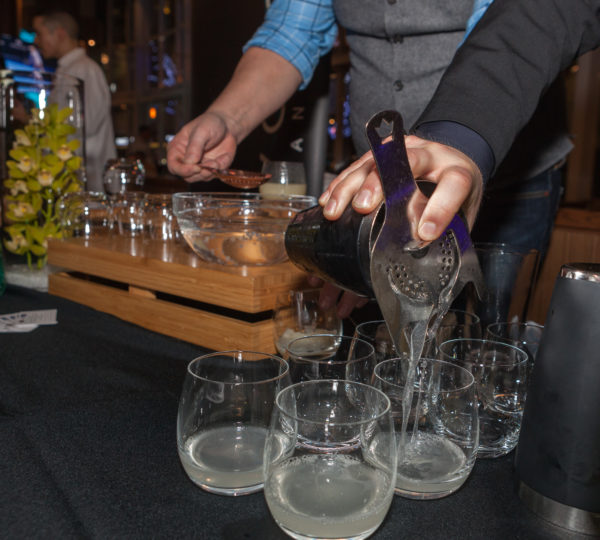 2. Concept: Molecular Caviar Pearls
Edible caviar flavor using Calcium Bath & Molecular Mixology
Cocktail: Yuzu Sake-Tini | Brand: Prime Vodka
1oz Prime vodka

1oz Sake

1/2oz simple syrup

1g citric acid

Yuzu + sodium alginate pearls (in calcium bath)
Bartender: Diana Claxton (Showcase Restaurant & Bar) with JS Dupuis (Tableau)
Presented by Showcase Restaurant & Bar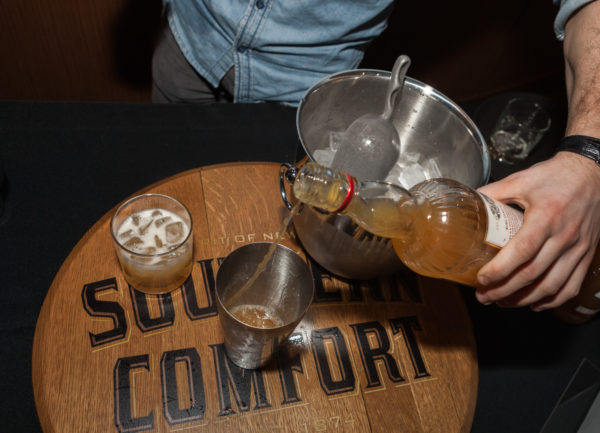 3. Concept: Shake it til you make it!
Cocktail: Southern Ginger Belle | Brand: Southern Comfort
60ml Southern Comfort

30ml Lemon juice

5ml ginger juice

5ml simple syrup

1 spoon Orange Marmalade
Bartender: Brice Peressini (The Victor, Parq Vancouver) & Andrea Civettini (Clough Club)
Presented by Charton Hobbs: Top Shelf Bar Club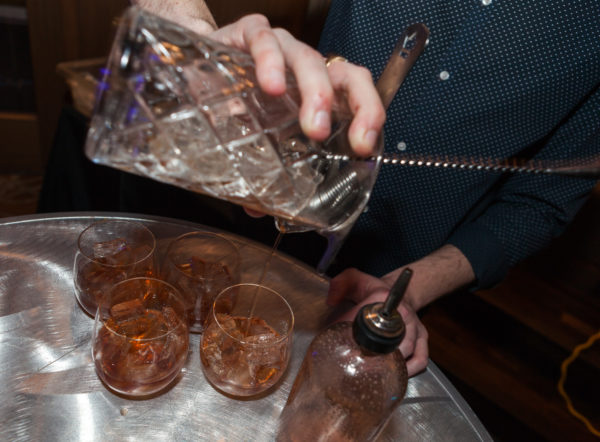 4. Concept: Laminar Jet Streamed Cocktail
Cocktail will be served using a Laminar Jet
Cocktail: Old Fashioned | Brand: Remy Martin
2oz Remy Martin

1 Sugar cube

2 Dash bitters

Water

Raisin garnish
Bartender: Gez McAlpine (Bruichladdich) & Cam Brown (Clough Club)
Presented by Makerlabs
Through science and nature, we ignite wonder and empower dreams.
Science World at TELUS World of Science
1455 Quebec Street
Vancouver, BC
Canada  V6A 3Z7