Homer Street Café "The Duchess and the Queen"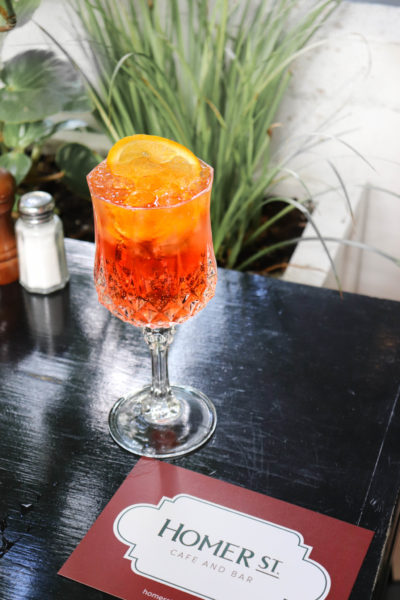 Negroni Week runs this week from June 4 to 10. There are more than 60 venues participating in Vancouver this year and we've teamed up with seven of the hottest, trendiest bars, restaurants, cafés and bistros to collect some recipes from local bartenders who will be slinging their own unique Negroni creations throughout the event.
THE DUCHESS AND THE QUEEN 
Recipe by JS Dupuis, Beverage Director
A cheeky reference to the royal wedding and inspired by the Americano cocktail benefitting Slow Food International. $10 & Happy Hour $8.
Glassware: Wine glass
Ice: Cubed
Ingredients:
0.75 oz Queensborough Gin
1 oz Campari
1 oz Noilly Prat Ambré
0.30 oz Grand Marnier
3 oz Soda
Method: 
Mix all the ingredients, minus the soda, into a wine glass, stir for 3 seconds
Add the soda and mix it with the spirits
Add ice and garnish
Garnish: Half orange wheel
Created by Beverage Director JS Dupuis, 'The Duchess and The Queen' is a cheeky reference to the recent Royal wedding and is inspired by the classic Americano cocktail. Offered for $10 ($8 at Happy Hour), the limited-edition drink will benefit Slow Food International.
HOMER STREET CAFE AND BAR
898 Homer Street, Vancouver, BC
Instagram: @homerstcafebar
Twitter: @homerstcafebar
Facebook: /homerstcafebar
Website: www.homerstreetcafebar.com