As we sat down to the table, all we knew was that it was a Bordeaux style flight.  We were told that the wines were from 2010 to 2015 and ranged in price from $20 to $50.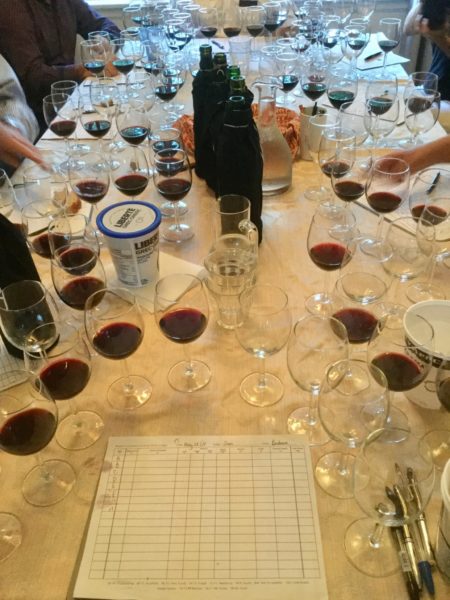 From my perspective, after tasting a few, I thought it might be a comparison of cool climates to warm climates, but then it became a little more complicated.  There was a lot of variation in the aroma and bouquet of each wine, though most showed some varietal character – red and black berries, bramble, plum, cassis, earth, spice, bell pepper, menthol and violets, to name just a few. One wine I guessed was from California, as it showed classic rich, almost over-ripe jammy fruit.  I was proven wrong.  It was from BC.
As it turned out, it was a comparison of wines from BC and France.   At first blush, it seemed that it would be no contest.  France is the iconic home of Bordeaux and certainly the best examples of this style come from the southwestern part of France.   However, the best wines tend to be terribly expensive and require years to show their best.
The rise in quality of BC wines has been nothing if not meteoric, but can they compete with this wine's native land?  Well the answer, based on this tasting, is yes and no.   I think it is fair to say that good or very good quality French wine tends to be more expensive than similar quality BC wines, so dollar for dollar, BC came out ahead with this tasting.
In both BC and France vintages matter.  2011 was a challenging year for BC red wines and this was evidenced in the greeting wine we began with, a 2011 Volcanic Hills Cabernet Franc.  In challenging years, it is a true test of a winemaker's skill to produce the best wine from the grapes he or she is given.  In good years, with good grapes, sometimes all that is necessary is to take care of the grapes and let them do what they will.
Tom, the designer of this flight came up with the idea while on a cycling tour with friends, in and around Kelowna.  A fan of BC Meritage (Bordeaux style) wines, he sought out examples at the wineries they toured and bought examples he was impressed with after tasting them.  Upon his return home, he shopped for French examples at similar price points.  The day of our meeting, he opened all the wines ahead of time, anywhere from an hour and a half to four hours prior to the tasting, depending on their age, hoping that it would allow them to show their best.
Here was our flight:
Pretasting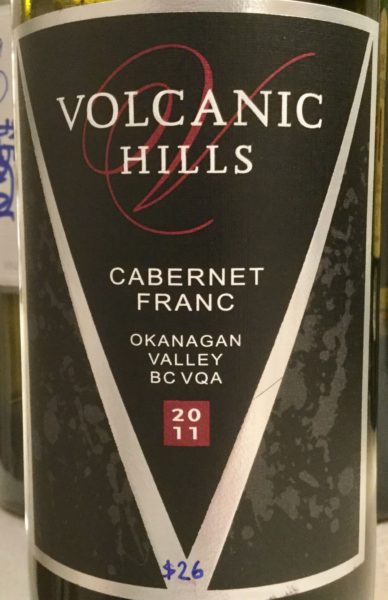 Volcanic Hills Cabernet Franc 2011    $26.00            5:30     West Kelowna             14.5%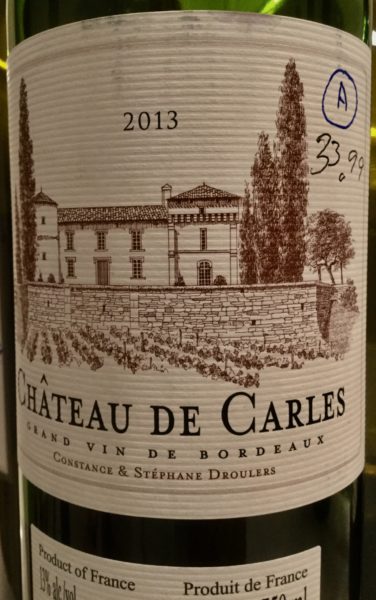 A Chateau De Carles 2013                     $33.99          6:00     Fronsac                       13.0%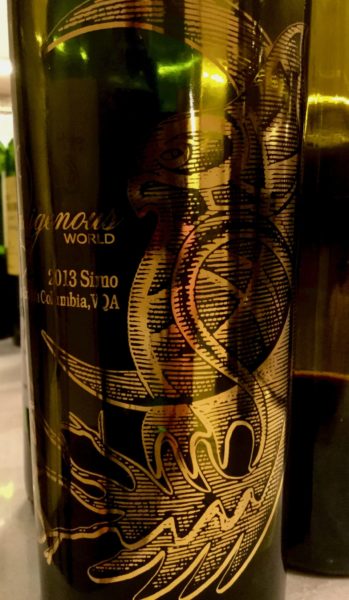 B Indigenous World Simo 2013              $39.99           6:00     Okanagan                   13.7%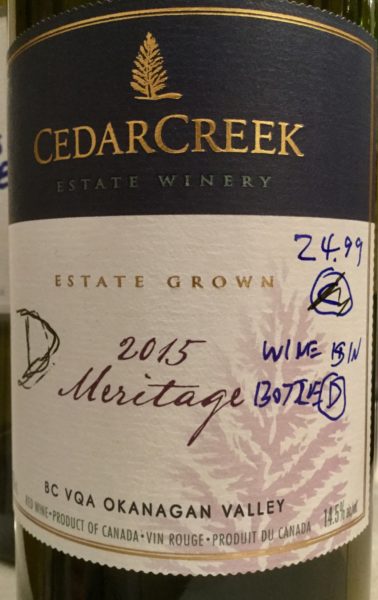 C Cedar Creek Meritage 2015                $24.99          4:00     Osoyoos                      14.5%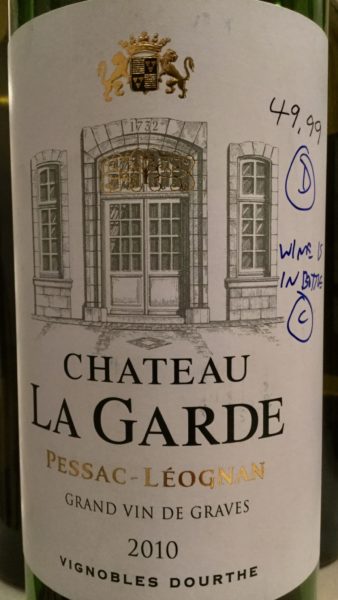 D Chateau La Garde Pessac-Leo. 2010 $49.99         6:30     Graves                         14.0%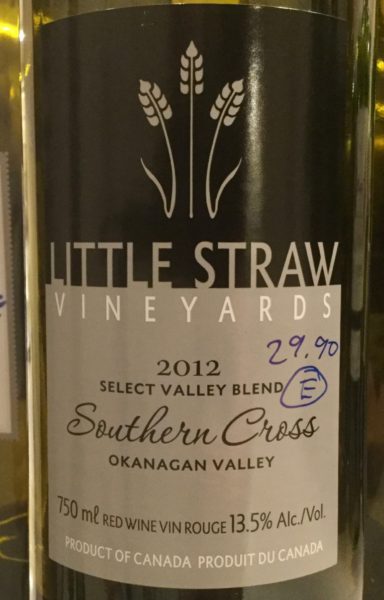 E Little Straw Southern Cross 2012       $29.90            6:00     Oliver                          13.5%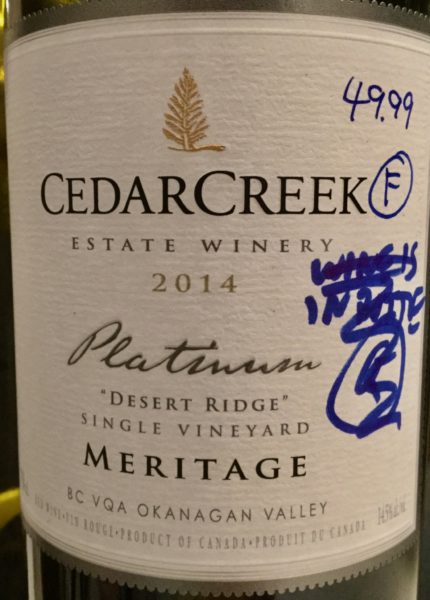 F Cedar Creek Platinum Meritage 2014 $49.99           5:00     Desert Ridge               14.5%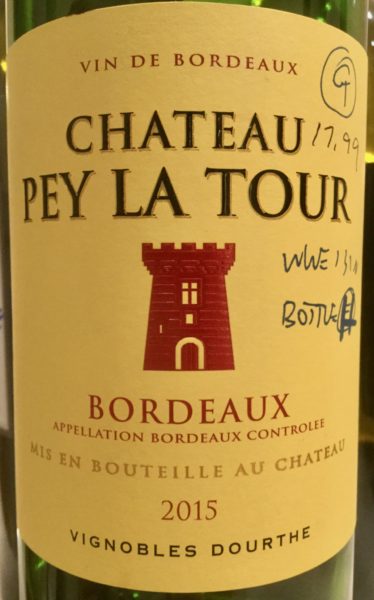 G Chateau Pey La Tour 2015               $17.99            4:00     "Bordeaux"                  14.5%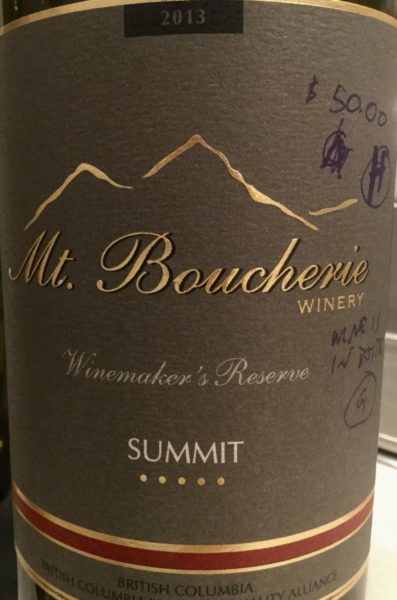 H Mt. Boucherie Summit 2013              $50.00             6:00     various                        14.6%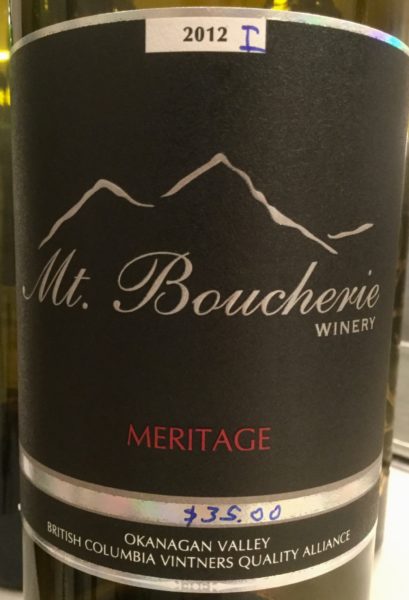 I  Mt. Boucherie Meritage 2012            $35.00             6:00     West Kelowna             14.8%
The results were somewhat varied, but there was also considerable agreement amongst the group. My favourite, by a slight margin, was wine 'F' the Cedar Creek Platinum Meritage 2014 at $49.99.  The group average rated this wine #2 preferring wines 'I' and 'D'.
My #2 wine was 'C' Cedar Creek's Meritage 2015 at $24.99.  The group average for this one was slightly lower.
The group and I were in agreement with the #3 wine 'B', Indigenous World Simo "See-moo" 2013 at $39.99.  This was the wine I initially suspected was from California.
The group and I were also in agreement on wine #4, 'H' Mt. Boucherie Summit 2013. I do need to say that my scoring of the top four wines was very close indeed.
The other wine that everyone was in agreement with was wine 'A' Chateau De Carles 2013 which everyone rated as their lowest.  Perhaps more aging would have helped it somewhat.  Interestingly, price-wise, it was in the middle of the pack.
Once again, it is blind tastings such as this that are so educational.  When you taste wines side by side without knowing the producer, country or price, there are always surprises.