I've been living in Vancouver for nine years now, and I love this city with all my heart. But let's face it, there's a lot about this city that is irksome, and just plain silly. Think bike lanes, unaffordable housing, renovictions, car sharing (but still no Uber!), and yoga pants. And it's easy to poke fun at the things we love the most, right?
That's exactly what the talented troupe at Vancouver TheatreSports™ League does in its newest production, Avocado Toast – Vancouver Grown, Organic Free-Range Comedy, with hysterical results. And it all starts with a fabulous set that evokes everything Vancouver – from TransLink bus stops, to a Car2Go, to rezoning notices and of course, a bike lane running right through it.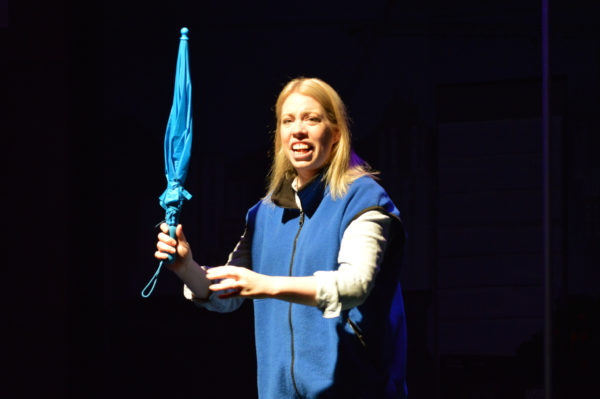 The brainchild of long-time VTSL cast member Lauren McGibbon (who also was our umbrella-toting tour guide for the evening), Avocado Toast introduced us to scenarios familiar to the capacity crowd, beginning with a pair of developers threatening to tear down the theatre to make way for condos unless the cast can make them laugh. Throw in trips up the Grouse Grind by people from neighbourhoods as diverse as Main St., Yaletown and Kits, a Shakespeare-inspired look at George Vancouver's arrival on our shores, an irreverent jab at Vancouver as Hollywood North, and frequent fitness breaks that had us all on our feet looking awkward – and a great time was had by all.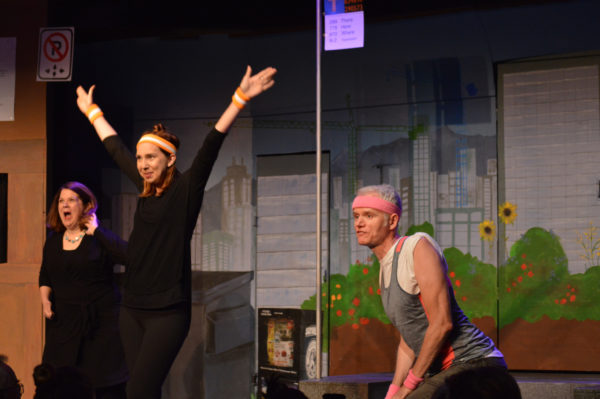 I'm been on the Improv Theatre stage myself, and I can tell you first-hand that improv isn't easy. There's no rehearsal, no prep – just instantaneous reactions to scenarios provided by an audience that challenges and changes with every performance. That's what I love about improv, and why I love this brilliant ensemble that makes magic happen, night after night.
It's why I go back, and often. It's why you need to go!
Avocado Toast runs Thursday through Saturday at 7:30 pm till September 1 at the Improv Centre on Granville Island. Get your tickets at www.vtsl.com now – and be prepared to laugh yourself silly.
Namaste, Vancouver!