37th Vancouver International Film Festival
September 27 – October 12, 2018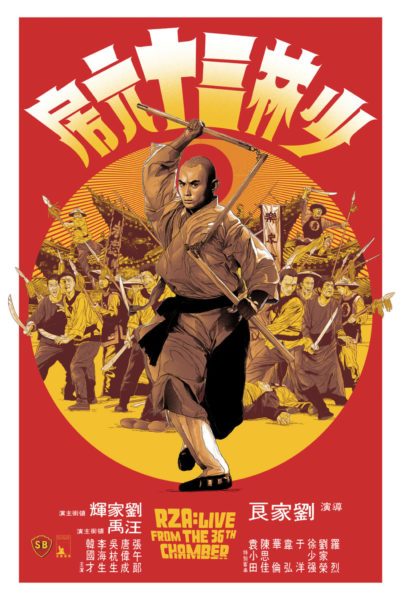 As part of the Vancouver International Film Festival's VIFF Live! program, RZA, the award-winning musician, film director and leader of rap group Wu-Tang Clan, will live-score the Shaw Brothers' Kung Fu classic The 36th Chamber of Shaolin on October 9, 2018 at the Orpheum Theatre (601 Smithe Street). The film was a huge inspiration for the artist and his fellow Wu-Tang members, and prior to the show RZA will be at the Rio Theatre (1660 E. Broadway; 19+ only) to discuss his love of martial arts movies, as well as his creative process and experiences as a film director and composer. Tickets for these events, as well as Kid Koala Presents: Satellite – Turntable Orchestra–a part of VIFF's previously announced M/A/D stream–are also on sale. Tickets for all VIFF Live! events are available at viff.org.
A film that redefined its genre, The 36th Chamber of Shaolin contains the same level of boundary-breaking creativity that defines VIFF's ALT stream. Brought to new life with RZA's performance, the film fits perfectly within the ALT lineup.
VIFF's Altered States genre film series once again offers a place for the strange ones to come out and play. This year's selection features the Canadian Premiere of Danishka Esterhazy's dystopian thriller Level 16, Lars von Trier's characteristically controversial The House That Jack Built and a Vancouver bow for Timur Bekmambetov's festival standout Profile (Audience Awards at both the Berlinale and SXSW). Meanwhile, a newly launched animation series will showcase inventive works such as Nina Paley's irreverent Seder-Masochism and Joaquín Cociña and Cristóbal León's much-decorated The Wolf House.
A large selection of Canadian shorts will also be presented as part of ALT. Five programs will showcase the nation's best in short-form cinema, including the latest efforts from local talents Nathan Douglas and Jessica Johnson. Johnson's Hazel Isle, a VIFF World Premiere, is a mesmeric look at the Scottish countryside; Douglas' La Cartographe gives his native Burnaby a similar treatment in its story of alienation and memory. The festival is also proud to screen Sophy Romvari's Pumpkin Movie, a funny feminist take on male misbehaviour.
Prominent in the ALT stream is the second edition of MODES, a selection of short- and mid-length films which act as gestures of resistance and disrupt political and artistic conventions. Most of these works are North American premieres. Featured are The Rare Event, the latest collaboration between Ben Russell and Ben Rivers; LHB by video artist Charlotte Prodger, who will represent Scotland at the 2019 Venice Biennale; and Dimitri Venkov's The Hymns of Muscovy, the FIPRESCI winner at Oberhausen.
This is a strong year for the International Shorts program, which features the Sundance Grand Prize winner Matria and a handful of World Premieres, four of which are in the Teen Perspectives program. A Picnic Table, At Dusk is the story of a distressed teen girl who finds help from a stranger through a unique communication method; the suspenseful Seen From Above turns a boy-girl romance into a one-way conversation with a drone; Hard Rubbish details a night of adventure and affirmation for a group of teen boys; Bodies immerses the viewer in a world of two adolescent BFF's; Open House is the intense character study of a marginalized high school janitor; and The Light Refracts into the Shadows takes an aging man on a hallucinatory journey. VIFF is also proud to bring back the Reel Youth Film Festival, reaffirming a partnership that has lasted more than a decade.
Films+:

Facility fees and online service charge apply to all ticket prices. Tickets will be available on August 21 at 3:00 pm PST.
VIFF Live! Kid Koala Presents: Satellite – Turntable Orchestra | October 5 – 6
VIFF Live! RZA: Live From The 36th Chamber of Shaolin | October 9
Creator Talk: RZA | October 9
---
About Films+
Launched in 2016, the Films+ program features live interdisciplinary performances, industry talks, workshops, VR and other unique experiences, all celebrating the achievements and innovations of screen-based storytelling. Each VIFF programming stream offers a Films+ program.
Founded in 1982, the Greater Vancouver International Film Festival Society is a not-for-profit cultural society and federally registered charitable organization that operates the internationally acclaimed Vancouver International Film Festival (VIFF) and the year-round programming of the Vancity Theatre at the Vancouver International Film Centre. VIFF produces screenings, talks and events that act as a catalyst for the community to discover the creativity and craft of screen storytelling. For its 37th year, VIFF welcomes the world to Vancouver from September 27 – October 12, 2018 as it showcases the top international, Canadian and BC films and plays host to industry professionals from around the globe.
Programming Announcements: Released weekly throughout August and September. See previous media releases here.
Press Conference: September 5, 2018 at the Vancouver International Film Centre (1181 Seymour St)
Tickets: Passes and ticket packs are available online at noon on August 23, 2018. Single ticket prices range from $13 – $22 and can be purchased online starting at noon on September 6, 2018 and in-person at the Vancity Theatre Box Office starting September 13, 2018. Visit viff.org for more information
Volunteer Registration: Each year VIFF relies on the hard work of more than 1,000 volunteers to assist in running the festival. Volunteer registration is now open at goviff.org/volunteer.
---
Stay connected with VIFF for updates and announcements by following us on:

Discover more viff.org