As fall approaches and we enter the season of all things pumpkin spiced, Smoke's Poutinerie is kick-starting the season of giving. Throw aside the pumpkin spice flavored goodies and dive right into the Thanksgiving Poutine instead!
The return of this fan favourite poutine will only be for a limited time. Smoke has made this GASTRONOMICAL CREATION available to all Plaid Nation Fans in Canada from September 10 – October 8, 2018, and this year customers can even get their Thanksgiving dinner in a WOW-Size Plaid box. The dish is LOADED with Roasted Butterball Turkey (the turkey mom makes a mad dash for when she hits up the grocery store over the holidays), Homemade Savory Stuffing, Baby Green Peas and of course Cranberry Sauce, all on top of fresh-cut fries, squeaky cheese curds and Smoke's piping hot Signature gravy.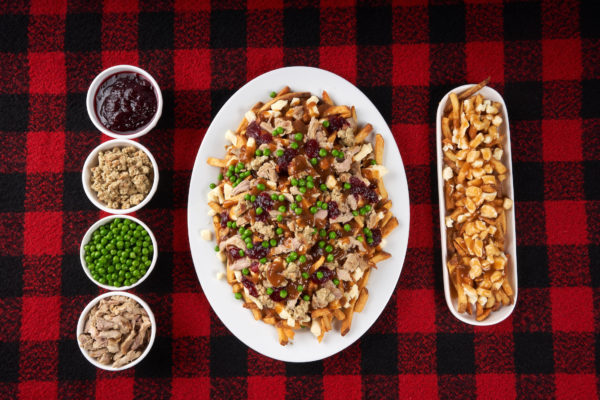 This year, Plaid Nation Fans can feel extra good about their favourite Thanksgiving indulgence by making it a combo. When pairing the Thanksgiving Poutine with a Canada Dry Cranberry Ginger Ale, $1.00 will be donated to Friends of We Care, the national charity partner of Smoke's Poutinerie. Friends of We Care is an organization that raises funds to send children with disabilities to fully accessible summer camps where they can focus on their abilities.
"We're stoked to give our Plaid Nation Fans the opportunity to join us in supporting Friends of We Care over the holiday season," says Ryan Smolkin, CEO (Chief Entertainment Officer) of Smoke's Poutinerie. "This is all about the kids, and giving them an awesome summer experience and memories that they'll never forget!"
For all the pumpkin spice haters… get the Thanksgiving Poutine today!
About Smoke's Poutinerie
Founded in 2009 by creative genius Ryan Smolkin, Smoke's Poutinerie is the World's Largest and Original Poutinerie. Representing 80's Canadiana culture, known for the signature lumberjack plaid, and glam rock music, Smoke's Poutinerie serves over 30 varieties of its famous poutine. With 150-plus locations in Canada, and 50 more open and in development in the United States, the brand is on course for "GLOBAL DOMINATION!"
For more information about available franchise opportunities, contact Mike Graham, Vice President of Franchise Development, at [email protected] or call (905) 427-4444, ext. 205.