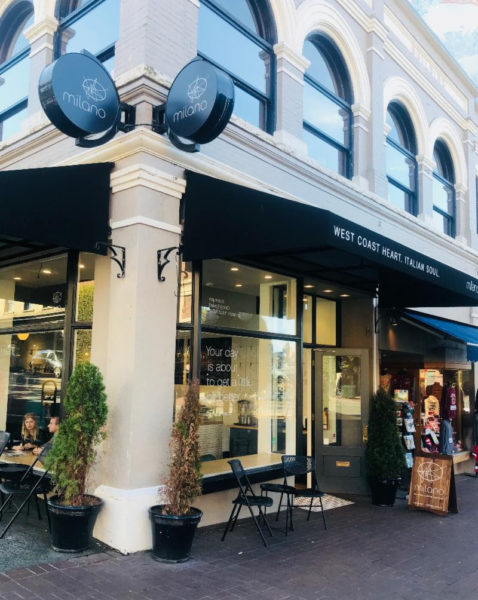 Vancouver-based 
Milano Roasters
 bring their award-winning coffee innovation to the province's capital with the opening of Milano Roasters on Government Street. This bright and beautifully designed corner cafe boasts comfortable seating and a spacious outdoor patio for sunny Victoria days. Milano's Victoria cafe also offers daily sandwiches and serves baked goods from local artisan suppliers. The opening marks the second locale on Vancouver Island, with a sister store up island in Comox.
Lucky Victorians now have access to Milano's internationally acclaimed blends.  Experts around the world celebrate Milano for their coffee blending skills and recognize that there are very few roasters with the intellectual property to continuously create such complex and balanced espresso blends. This type of blending technology is unique to a handful of artists who understand coffee gastronomy. Milano's top twelve gold awarded blends to discover are Sauve Rico, New Italian, Franks, Silk Lili and Concept #9, La Futura, Butter, Velvet, Miscela Royale, Nuovo, and Lucky 13.
"We are thrilled to open a second location on Vancouver Island and bring Milano to our province's capital city," says owner Linda Turko. "The warm reception from locals and tourists has been wonderful since opening our doors, we are looking forward to building relationships with the community."
Milano's Mount Pleasant roasting facility on West 8th Ave, in Vancouver, B.C., is where Espresso Master Brian Turko's commitment to discovery, excellence and flat out mad professor of coffee invention takes place. Increasing the separation from the current coffee shop tide of serving single origin coffees, Milano is dedicated to developing their blends by combining anywhere from seven to thirteen different single origin beans of the highest quality. Brian is an intentional alchemist and often spends years perfecting each blend.
About Milano Coffee:
The legacy of Vancouver based Milano's artisan tradition dates back three generations of Italian Coffee Heritage blended with over thirty years of West Coast Culture. The Turkos have been at the helm since 2003 and in that time have also opened six Milano Coffee Bars – where they began a trend of offering more than one espresso blend – now offering up to eight different and distinct espressos. Milano is dedicated to sourcing noteworthy, high-end micro-lot single origins from around the globe, going direct trade whenever possible. The small batch hand roasting and blending of each of their espressos is done by owners Brian Turko and Barry Henry. Milano has locations in Vancouver, Calgary, Comox and Victoria. Milano Coffee blends can be purchased in-store and 
online
.