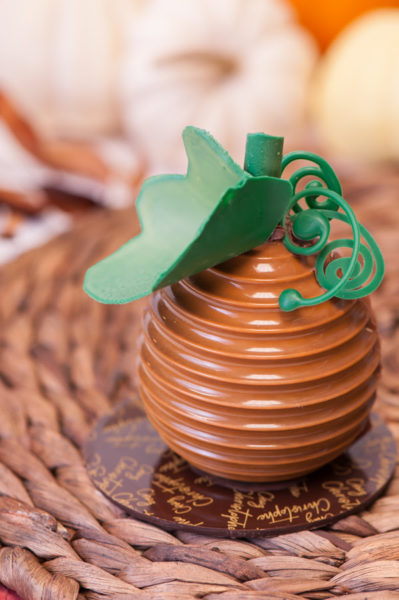 Burnaby Heights' Chez Christophe Chocolaterie Patisserie (4717 Hastings Street) has unveiled its line-up of autumn treats, just in time for Thanksgiving next month. Starting Friday, September 28, customers can enjoy an apple pie bark, hazelnut pumpkin spice dragée, pumpkin croissant, limited edition pumpkin tart, and sip on a pumpkin tonka latte.
"The flavours of fall remind me of warmth and comfort," says Christophe Bonzon, pastry chef and owner of Chez Christophe. "This year, we wanted to include classic spices in our creations but with a unique take. For example, our chocolate bark is inspired by an apple pie, our hazelnut pumpkin spice dragée features caramelized white chocolate, and the pumpkin tart has a maple namaleka."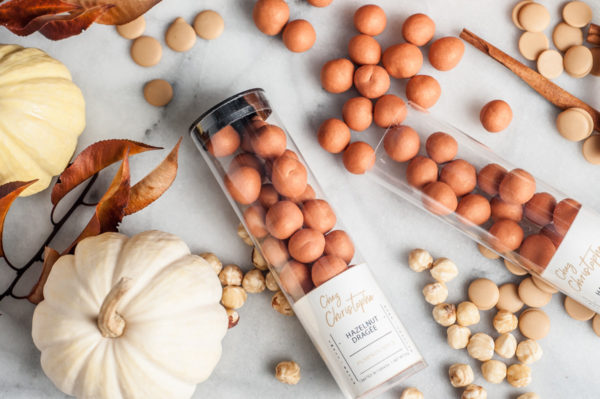 From the talented chocolate team is an apple pie bark (from $6) made from a single origin 42 percent milk chocolate from Ecuador, apples, spice, and finished with a caramelized hazelnut crunch. Bonzon has also created a hazelnut pumpkin spice dragée ($9.95) composed of toasted hazelnuts that are tossed in warm fall spices, pumpkin, and caramelized white chocolate. Dragée is the artisan technique of coating fruit and nuts in chocolate. The pumpkin chocolate sculpture ($14.95) is perfect as a hostess gift.
This year, Bonzon has prepared a modern take of the pumpkin tart ($6.20 individual; from $24.95 for multiple servings) by creating beautiful clouds of white chocolate caramel cream on top of roasted pumpkin and maple namaleka, all sitting on a bed of gingerbread crumble.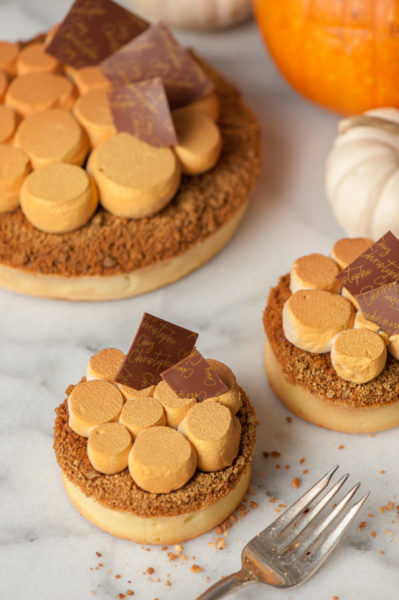 For viennoiserie, Chez Christophe is utilizing fresh fruits such as plums and other in-season ingredients. The pumpkin croissant ($3.95) is filled with roasted pumpkin pie filling and includes a gingerbread crunch.
Head barista Lailla Ahmed's pumpkin tonka latte ($5.95) uses authentic house made pumpkin sauce infused with tonka bean and naturally sweetened with caramelized white chocolate.
All of fall's new additions are available starting September 28, 2018. Customers are welcome to pre-order for pick-up any time through the new website at www.chez-christophe.ca.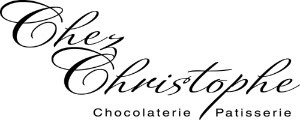 About Chez Christophe
In 2013, award-winning pastry chef, chocolatier, and newly minted Cacao Barry Ambassador Christophe Bonzon opened Chez Christophe Chocolaterie and Patisserie with his wife Jess Bonzon in the bustling Burnaby Heights neighbourhood. Bringing a bit of Swiss flair to Canada, their collection of fine handmade chocolates ranges from artistic chocolate sculptures, creative truffle flavours to signature chocolate bars, and seasonal favourites. Customers can also find an array of macarons, viennoiserie, desserts, and cakes at Chez Christophe. Due to overwhelming support, the pair moved to a larger location in 2016 with more seating, an outdoor patio, and an expanded menu with sandwiches.
Chez Christophe is located at 4717 Hastings Street, Burnaby, British Columbia. For more information, visit  www.chez-christophe.ca.
Chez Christophe 4717 Hastings Street, Burnaby, BC | Twitter: @Chez_Christophe | Instagram: @ChezChristophe | Facebook: /Chez-Christophe-Chocolaterie-Patisserie