Enjoy an evening at one of two local restaurants or a soirée this New Year's Eve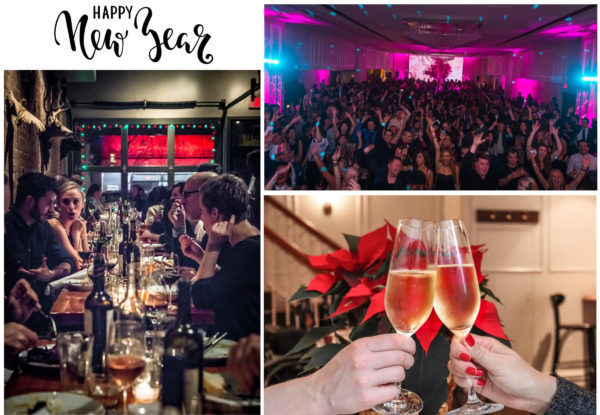 With the busy holiday season upon us, it's time for Vancouverites to book their New Year's Eve plans! On Monday, December 31, guests can toast to the new year while enjoying either a special three-course set menu from Homer Street Cafe & Bar and Mamie Taylor's or at the 5th annual 'Draped in Style' NYE event, Midnight in Paris.
NYE EDITION
$70 per person
STARTERS
black pepper & rosemary foie gras parfait
chilled pacific oyster in stoney paradise farm grape gelée,
sourdough fig toast, pickled mustard seeds & shallots
or
shaved roots salad
beets, carrots, turnips, celery, radicchio, endive and radish,
pumpkin seeds, nigella labneh, ras el hanout, red lentil & mint dressing
or
nicola valley venison tartare
bone marrow, black garlic, horseradish gremolata
MAINS
kabocha squash & celeriac ravioli
green olive & hazelnut brown butter, caramelized chèvre & sage
or
chestnut stuffed HSCB rotisserie porchetta
dried plums & leeks, rotisserie potatoes, carrots & squash
or
granville island sake lees marinated steelhead trout
rotisserie portobello mushrooms, potatoes & parsnips
DESSERT
basque cheesecake
chartreuse apricots, pistachios & honey
or
chocolate glazed peanut butter pie
cinnamon crème fraîche
or
oyama charcuterie and benton brothers cheese plate
please ask your server about our selection
FEATURED WINES
Pascal Jolivet 'Attitude' Sauvignon Blanc15 Loire FR $15
Georges Duboeuf 'Beaujolais Rosé' Gamay17 Beaujolais FR $12
Kitten Swish 'Pleasure Button' Cabernet Franc16 Penticton BC $19
La Stella 'Espressivo' Cabernet Blend15 Osoyoos BC $19
Executive chef Jonathan Chovancek and chef de cuisine Jean-Romain Bertin's three-course NYE menu highlights the restaurant's elevated comfort fare with quality seasonal ingredients such as a Shaved Root Salad with red lentil & mint dressing, Chestnut Stuffed HSCB Rotisserie Prochetta and Chocolate Glazed Peanut Butter Pie to name a few. A complimentary glass of bubbles will be given to all guests at Midnight. $70 per person with custom wine pairings available.
For reservations, please call (604) 428-4299 or book online at opentable.ca/homer-street-cafe-and-bar
Mamie Taylor's
251 E Georgia Street | (604) 620-8818 | mamietaylors.ca
Go whole hog in 2019 as Mamie's hosts its legendary New Year's Eve bash with an all-you-can-eat family-style pig roast and open bar. Start off with a family-style spread of Deviled Eggs, Mamie's famous Ham Grenades (AKA: homemade ham hock 'tater tots), and Buttermilk Chicken Wings in spicy honey. For the main course, Chef Jonas Hamre will carve and serve Whole Roast Suckling Pig, alongside House BBQ Sauce, Slow-cooked Pit Beans, Braised Collards and Kale, Green Salad and his signature, light-as-air Buttermilk Biscuits. Finally, finish off with a sweet biscuit-topped Peach Cobbler served with ice cream. Tickets are $120 per person (plus tax) and include an open bar of featured well drinks, beer and wine.
For reservations, please call (604) 620-8818
Midnight in Paris NYE 2019
Pinnacle Hotel Harbourfront | 1133 West Hastings Street | showpass.com/paris
Presented by Moët & Chandon, Midnight in Paris NYE 2019 will take stage at the newly renovated Pinnacle Hotel Harbourfront Vancouver in the Ballroom. The annual 'Draped in Style' NYE series returns for its 5th consecutive year boasting elaborate design, art installations and live performances amplifying the romance of the City of Lights and the vibrant energy of French flair. GA tickets are $80 and includes a complimentary premium welcome cocktail and midnight snack bar. VIP packages are also available.
For more information or to purchase tickets, please visit showpass.com/paris
Media release and images provided by Amanda Harris, Camber Communications.