A FRESH PALETTE OF SPRINGTIME FLAVOURS TO SAVOUR
– Thierry Cafe Offers Artisanal Creations to Dazzle and Delight –
With springtime blossoms well on their way, Maitre Chocolatier and Patissier Chef Thierry Busset presents his seasonal cakes to brighten your dessert table, offer as a hostess gift or celebrate a special occasion or two.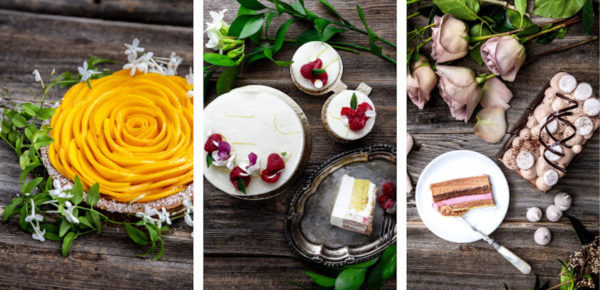 Choose from his trio of beautifully crafted cakes that include his Mango Tart, Fromage Blanc, and Gateaux Cassis. Fresh mango and lime sabayon dressed on a coconut sable layer are beautifully presented in the fruit tart while flavours of a tangy mousse and lemon curd are sandwiched on a raspberry linzer cake for the Fromage Blanc creation.  The Gateau Cassis is a layered creation of chocolate mousse, cassis cremeux, and chocolate sponge masterfully topped on an almond sable. Available in individual, small, medium and some large formats, these creations range from $8.15 to $58.00.
Chocolate lovers need not despair as Chef Thierry's eponymous collection will feed their inner soul. Try flavours like his pistachio, passion fruit, palet framboise, and more. It takes perseverance to just try one so take away an assorted gift box to share and savour. Priced individually from $1.99 to $35.95 for a large gift box.
Springtime macarons span the colours in a rainbow with a pot of gold boasting intense flavours from jasmine, coconut/lime, raspberry, and blackberry. Pick your favourites from $2.50 per piece as the season unfolds and experience a true taste of France.
Just for those dedicated creme brulee lovers, Chef Thierry adds a tropical spin to a seasonal passion fruit offering of sunkissed flavours. $7.75 (individual).
Thierry Cafe is located at 1059 Alberni Street and is open from 7 am to midnight on weekdays and 8 am to midnight on weekends.

Media release and images provided by Jody Ahola, Toptable Group.

[wdi_feed id="2″]