Blackbird Vineyards announces the arrival of  the 2016 Blackbird Vineyards Illustration, Paramour and Contrarian Wines, a stellar vintage from Napa Valley.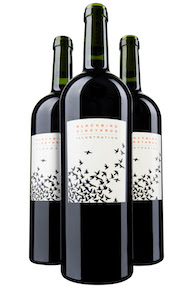 "The stars aligned in 2016 to produce wines of wonderful concentration and balance. The wines have depth and will age beautifully. These wines are crafted with finesse, all the while showing incredible complexity. As providence would have it we have been blessed with a string of wonderful vintages from 2012 to 2018, surely 2016 will be remembered as one of the best."
-Winemaker, Aaron Pott
FEATURED RELEASES
2016 Blackbird Vineyards Illustration
78% Merlot, 21% Cabernet Franc, and 1% Cabernet Sauvignon
94 Points
2016 Blackbird Vineyards Paramour
82% Cabernet Franc, 15% Merlot and 3% Cabernet Sauvignon
94 Points 
2016 Blackbird Vineyards Contrarian
64% Cabernet Sauvignon, 29% Cabernet Franc and 7% Merlot
93+ Points 
BlackMail Membership
BlackMail is Blackbird Vineyards' Wine Membership Program that allows members to take control of their wine collection. Curation allows customers to select their preferred Napa Valley wines, frequency and quantity, no strings attached. BlackMail is Napa Membership Uncompromised.
Pricing in Perpetuity – Guaranteed price for life
Bespoke Benefits – Our gift of one-of-a-kind Bespoke experiences
BlackMail Wines – Access to limited edition, members only wines
Premium Access – Acquire the entire portfolio of Blackbird Vineyard wines
Complimentary Tastings – Private tasting experiences at RiverHouse in downtown Napa
About Blackbird Vineyards
Founded in 2003 by Michael Polenske, Blackbird Vineyards is an artisanal producer of Right-bank-inspired wines from the Napa Valley. Planted in 1997, the estate vineyard is located in the heart of the Oak Knoll District—a region appreciated for its moderate climate and deep, gravelly soils. The vineyard's valley floor topography presents optimum growing conditions for winemaker, Aaron Pott, to produce elegantly-styled, appropriately-balanced red wines that offer short and long-term cellaring potential.