8th Annual Osoyoos Oyster Festival returns, April 24 – 28
Annual celebration of sustainable seafood offers five days of culinary experiences, including wine and cocktail pairings, dinner, dancing, and an outdoor food truck market
One of the signature happenings of the South Okanagan's springtime calendar, the Osoyoos Oyster Festival, returns for its eighth annual edition, from April 24 to 28. No other event in the region offers so many opportunities to indulge in premium oysters from around the world, paired with the award-winning wines, beers, ciders and spirits for which the Okanagan is internationally renowned.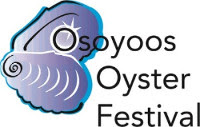 This year's festival is additionally noteworthy for being the first to fall under the direction of Jon and Anne-Marie Crofts, owners of Kelowna's beloved Codfather's Seafood Market. The Crofts have been newly entrusted with the festival by Destination Osoyoos, which produced it in previous years. The Crofts have been deeply involved with the Osoyoos Oyster Festival from the beginning, sourcing all of its oysters from Codfather's roster of esteemed global suppliers.
"Anne-Marie and I are delighted to be collaborating with some of the South Okanagan's most talented food, drink and hospitality professionals to bring an exciting celebration of oysters, seafood and beverages to Osoyoos and Oliver," says Jon. "When these treasures of the sea are paired with the amazing wines, ciders, beers and spirits of the South Okanagan, the reason this event exists becomes clear. We look forward to welcoming guests from the region and beyond — as well as some of the best ethical- and sustainable-seafood harvesters on the West Coast — to our wonderful valley."
A wine pairing competition will also take place during the festival with a team of expert judges determining which South Okanagan wines pair best with oysters. Results of the Oyster Wine Competition will be announced during the Seafood Soiree at Watermark Beach Resort on April 27.
In addition to the events listed below, an oyster-inspired Happy Hour will be taking place at Terrafina at Hester Creek by RauDZ from 3 to 5pm on April 24-27, and Convivia Bistro in Osoyoos will be offering a special oyster-inspired lunch on April 27. For more information regarding the full Oyster Festival line-up, along with accommodation offers from local resorts, Spirit Ridge and Watermark Beach Resort, please visit osoyoosoysterfestival.com.
Wednesday, April 24, 6:30pm
Oyster Long Table Dinner at Miradoro Restaurant
Oyster reception with a three-course, family-style menu.
Tickets: $47 plus tax. Optional wine pairings extra.
Call 250.498.3742 for tickets.
Thursday, April 25, 6:30pm
Sauvignon, Sparkling & Oyster Fare at Black Hills Winery
A reception featuring oysters, paired with sparkling wines from members of the Oliver Osoyoos Winery Association.
Tickets: $59 plus tax, available online, HERE.
Friday, April 26, 6:30pm
Journey of the Four Food Chiefs at Spirit Ridge Resort
A reception, taking place on the resort's vineyard patio, will feature Indigenous-inspired cuisine of the land and the sea, plus live entertainment, wine stations, and signature cocktails.
Tickets: $89 plus tax, available online, HERE.
Saturday, April 27, 6:30pm
Seafood Soiree at Watermark Beach Resort
Indulge in a multi-course menu of sustainable seafood prepared by five guest chefs, alongside samples from local wineries' latest releases. Afterward, hit the dance floor with live music by local band, Falcon Suite.
Tickets: $85 plus tax, available online, HERE.
Sunday, April 28, 10am – 2pm
Oliver Eats Ltd. Artisan Food & Oyster Market – Station Street, Oliver
A carnival atmosphere takes over an entire block of downtown Oliver for this all-ages fete. Enjoy live music while exploring a wide variety of food trucks; seafood merchants and oyster shuckers; craft brewers, cideries and wineries; fresh bread and baked goods; and locally made crafts. Rain or shine.
Media release and images provided by Laura Serena PR.
[wdi_feed id="2″]