This Spring, Winter Is Coming To Granville Island 
Vancouver TheatreSports™ Presents 
Throne and Games – The Last Laugh
A lonely Queen sits atop the Iron Throne, but her kingdom is under threat from all sides. The final fight between the Lannisters, Starks, and Targaryens is about to go down and everyone will probably die…laughing.
This marks the last 'season' in VTS' comedy trilogy, which began in 2015 with Throne and Games – Laughter is Coming and continued with Throne and Games – A Chance of Snow in 2016. Ticket prices start at $10.75 and are on sale now at www.vtsl.com.
The satirical parody, loosely based on HBO's popular TV series, will feature some familiar characters along with a myriad of unexpected plot twists as suggested by the audience. Because of this key element, no two performances can be the same. As in its TV inspiration, the audience has no idea what to expect next…and neither do the improvisers.
VTS improvisers are master actors – creating the plot line, and developing the characters and dialogue on the spot based on audience involvement and suggestions. It's this unpredictability that adds to the humour of every performance and has audiences returning to see different performances of the same show again and again.
With a new scenario mapped out by popular ensemble members Graeme Duffy and Denise Jones, a murderous cast of characters, an innovative set by Mo Sherwood and more plot twists than the original TV show, this all-new VTS production comes with a severe hilarity warning: attendance could lead to sore sides from laughing.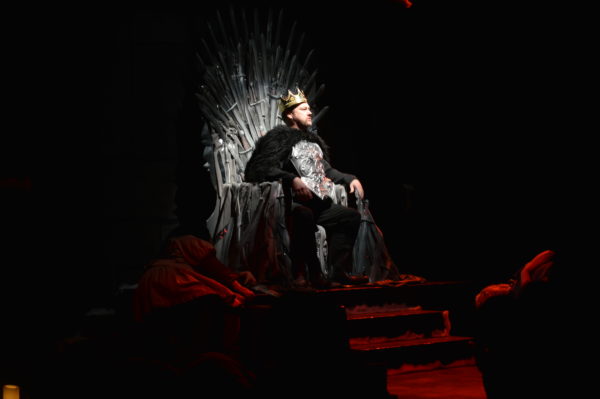 Which of the characters will have the last laugh and sit triumphant on the Iron Throne? Who knows? You'll have to come and see for yourself to find out. 
April 26-June 15 at The Improv Centre 
Tickets at www.vtsl.com
About Vancouver TheatreSports™ (VTS):
Founded in 1980, VTS has grown to become a well-respected international leader in the improv art form. Voted the '#1 Improv Comedy Company' for the third year in a row at the prestigious '2018 Best of Vancouver Awards', VTS entertains more than 65,000 people per year with 10 shows per week, 52 weeks per year at its own theatre, The Improv Centre. An intimate space located on Granville Island, The Improv Centre is a fully-licensed facility with its own Neil Macrae Bar & Lounge, which overlooks False Creek Marina.
In addition, VTS owns and operates The Improv Comedy Institute – an improv school which offers classes from beginner through professional level, conducts province-wide school tours, and operates Improv for Business – a corporate training division with a diverse portfolio of blue-chip clients.
VTS appreciates the on-going support of season sponsors: City of Vancouver, CMHC Granville Island, The Georgia Straight, and The Granville Island Hotel. www.vtsl.com
LISTING INFORMATION:
Vancouver TheatreSports™ Presents Throne and Games – The Last Laugh
April 26 – June 15 | The Improv Centre | 1502 Duranleau Street (Granville Island)
Performance Times:  Thursday-Saturday, 7:30pm
Media Reception Night:  May 2, 7:30pm (reception takes place pre-show from 6:30pm-7:20pm)
Preview:  April 26, 7:30pm
Tickets:  From $10.75 at www.vtsl.com
Media release and images provided by Teresa Trovato, Teresa Trovato PR.
[wdi_feed id="2″]