Treat Dad to a Belly Full of Laughs at
The SuperDad Show
Join Vancouver TheatreSports™ on Sunday, June 16 at 2:00pm for The SuperDad Show – a special matinee performance in celebration of an often unsung hero – dear ol' Dad.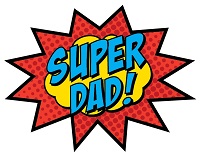 The SuperDad Show pokes fun at the foibles and challenges of what it means to be a modern Dad. Based on audience suggestions, VTS' quick-witted improvisers could explore such timeless themes as 'two-Dad families', 'Dads and their love affair with the barbecue', 'hockey Dads', 'Dad, can I have the keys to the car?' or 'Dads and daughters' in belly laugh-inducing scenarios. Audience members can bask in familiar phrases or 'Dadisms' such as "Do you think I'm made of money?", "When I was your age…", "You're not going out in that, are you?", and the classic "You'll understand when you're older."
This special family-friendly show takes place at 2:00pm so there's plenty of time afterward to take Dad out for dinner or to fire up the barbecue. Tickets are value-priced at only $25 and include the show PLUS either a glass of house wine, beer on tap, or non-alcoholic beverage. Tickets are on sale now at vtsl.com.
The Neil Macrae Bar & Lounge at The Improv Centre will open that day at 1:00pm for pre-show beverages and, weather permitting, the patio deck overlooking the picturesque marina will also be open to patrons. Don't forget, because The Improv Centre is a fully-licensed facility, VTS patrons have the option of taking their beverages into the theatre to enjoy during the show.
Give your 'super Dad' some belly laughs instead of headaches and bring him down to The Improv Centre for an afternoon of improv comedy. Besides, he needs something to take his mind off the fact that the Canucks didn't make the playoffs (ahem…again).
Sunday, June 16 at 2:00pm at The Improv Centre
Tickets Available at www.vtsl.com
For more information on Vancouver TheatreSports™ and The SuperDad Show, please visit the following platforms:
Website: www.vtsl.com
Facebook: www.facebook.com/VanTheatreSports
Twitter: www.twitter.com/VanTheatreSport
Instagram: www.instagram.com/vantheatresports
YouTube: www.youtube.com/user/vantheatresports/featured
Media release and images provided by Teresa Trovato, Teresa Travato PR.
Something is wrong.


Instagram token error.