Feast is this weekend…
Do you have your tickets? Tonight (May 3rd, 2019) is the kickoff for Feast Tofino 2019 and there is a seafood smackdown about to happen! There are still tickets available for the Bite of the Nite, seafood competition featuring local legends:
Tomorrow (May 4th, 2019) take a hike through the wood on the Tonquin trail and connector … get a ticket and enjoy live music and a walking lunch at chef stations spaced along the trail. Taste these visiting chefs take on our ingredients:
Right now there are only 5 tickets remaining for the Long Table Dinner at Ocean Village.. if you want to attend act soon!!
The last event is the dock Fest – hosted at Jamie's Whaling Station Sunday from 11 – 3. Expect a great afternoon of live music, face painting, great food and a skills competition. Parking is limited to plan on taking the free shuttle offered by the district!
Bite of the Nite $85
7-10 pm  May 3, 2019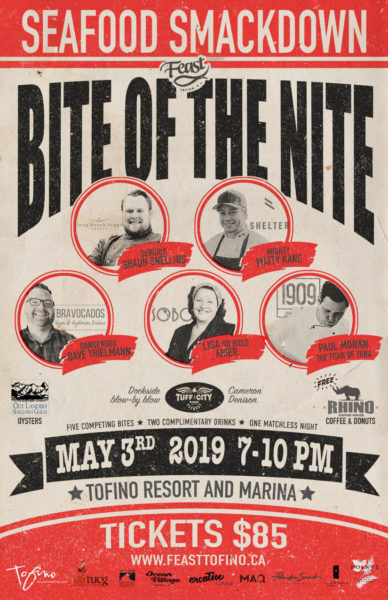 5 Tofino chefs each present a sustainably delicious seafood creation to win bragging rights and a return trip to anywhere Harbour Air flies.  Coffee and donuts by Rhino.  Oysters by Out Landish.
Taste of Tonquin Trail $65
11am – 2pm May 4, 2019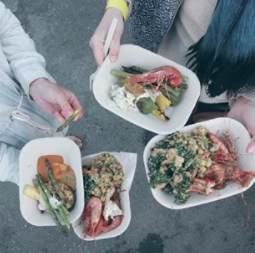 6 Chef stations spread along 2.5 kms from the beach through mossy rainforest. Help us make this a "Zero-Waste" event by bringing reusable utensils, plates and cups from home or from your hotel.
Shuttle service provided from the Community Centre.
Dock Festival – Free
11am – 3pm May 5
Jamie's Whaling Station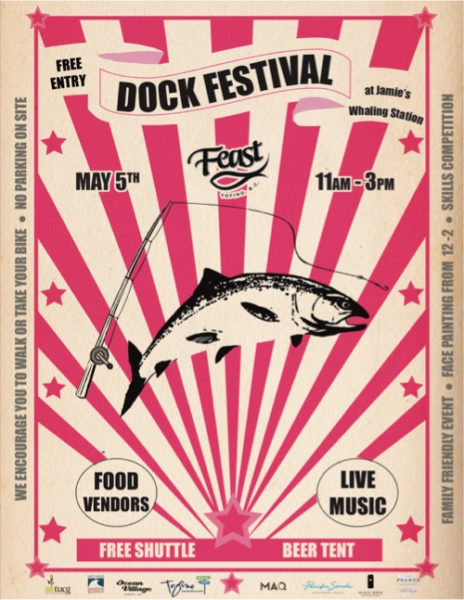 A free to attend event with token sales for food / drinks. Local artisans, live music, face painting and family fun.
Free Shuttle into town!

Information and images provided by Feast Tofino.
[wdi_feed id="2″]