Canada's first pod hotel takes home top prize in Whistler
Pangea Pod Hotel named Innovative Business of the Year
The Pangea Pod Hotel has been named Innovative Business of the Year by the Whistler Excellence Awards, an event that celebrates Whistler's innovators, trailblazers, and community cultivators.
The award ceremony — held last Tuesday, April 30th at the Fairmont Chateau Whistler — was hosted by the Whistler Chamber of Commerce in partnership with the Community Foundation of Whistler, Arts Whistler and the Association of Whistler Area Residents for the Environment (AWARE), and presented by BlueShore Financial. The awards honour excellence in the areas of service, innovation, sustainability, and outstanding leadership in business, the arts, and community service.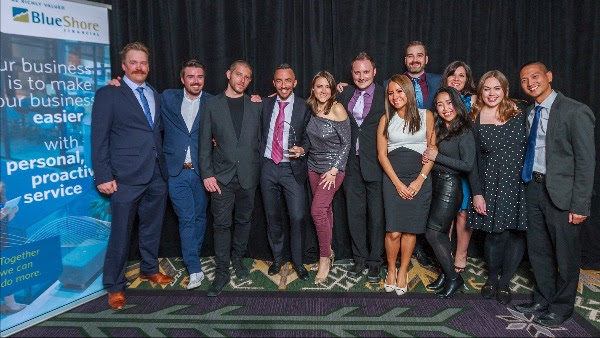 "We are thrilled to be recognized in this way," says Pangea co-founder, Russell Kling. "Pangea is not a hotel, nor a hostel. It's a unique, boutique yet affordable capsule concept. We spent several years designing every cubic inch of the space to ensure that it was modern, functional and yes, innovative. It was our goal to change the face of accommodation in Whistler."
Russell and his wife and business partner Jelena spent three years working with designers and architects to develop the space. Pangea opened its doors in August 2018 and quickly rose to the top spot on TripAdvisor for Speciality Lodging in Whistler. The pod hotel is known for its thoughtfully designed pods, modular bathroom components, and chic shared spaces, including its cafe/bar areas, The Living Room and The Rooftop Patio, and its custom designed equipment storage area, The Toy Box.
"It's not just the pod concept – the first of its kind in Canada – that we consider to be innovative," says Kling. "We have an automated check-in where guests receive wristbands that function as both keys and a payment method for anything around the property. We have bespoke storage areas like The Toy Box that have been custom designed to securely accommodate every item that our guests could possibly bring with them. And we have individually accessed bathroom components that provide privacy and limit line-ups, which is unheard of in most shared accommodation options. An innovative approach was needed at every step of the design process to ensure our guests would have everything they need at a cost they could afford."
"Rare are the entrepreneurial ventures that can claim to have introduced an entirely unprecedented business model to a market, but this is what Pangea has done," says Melissa Pace, CEO of The Whistler Chamber of Commerce. "Pangea has made hotel accommodation in Whistler Village accessible to a demographic that previously would not have considered it within reach, and has thereby made tourism here in Whistler that much more inclusive. We congratulate the team at Pangea for their vision and tenacity, which will benefit both visitors and local residents for years to come."
ABOUT PANGEA POD HOTEL – CHIC. SHARED. CENTRAL.
Proximity and privacy without the price tag. Pangea was born out of a need for a new kind of accommodation in Whistler – a place where people with a shared passion for mountain sports, travel or just life, in general, could meet, relax and share stories but still have their personal space at the end of the day. Pangea was created with this in mind – an affordable yet boutique property offering private pods within a chic, laid-back setting. Pangea is not a hotel and it is not a hostel; it is the best of both worlds, providing guests the privacy and comfort of a hotel and the affordability and social vibe of a hostel.
Keep up to date on special events, food-and-drink deals, locals' and games night, and more at pangeapod.com/promos.
Media release and images provided by Laura Serena, Serena PR.
[wdi_feed id="2″]