SIP AND CELEBRATE CAESAR'S 50TH BIRTHDAY
Toast the Caesar on Thursday, May 16 at Fairmont Hotels in BC
The Caesar – the drink that became so popular that the Canadian parliament declared it the country's office cocktail in 2009 – turns 50 this year. To celebrate, mixologists at Fairmont Hotels throughout British Columbia have rolled up their sleeves to create one of kind signature drinks for National Caesar Day on Thursday, May 16, 2019.
In Victoria:
In honor of the special day,
Fairmont Empress
held a contest to name their concoction and the
Seashuck
was created.  An Aquavit based cocktail, it's served with a side of garlic and dill infused Aquavit and a freshly shucked oyster. Get it while you can – it's only on the menu for National Caesar Day and is $25 in
Q Bar.
In Vancouver: 
Jetside Bar
at
Fairmont Vancouver Airport
is featuring a
Lemon Beer Caesar
with local lemon pale ale from Four Winds Brewing in Delta, BC, Absolute vodka, Grand Marnier, lemon juice and Mott's Caesar mix. And the garnish?  Pacific Northwest seafood is renowned among locals and travelers from around the world, and the airport is often the first (or last) place to savor it so fresh dill and smoked salmon crown the cocktail.  Offered only for National Caesar Day at $16 each, it can also be made at home for a perfect patio sipper.
Lemon Beer Caesar
1.5oz Absolute Citron
.5oz  Grand Marnier
.5oz Lemon Juice
Tabasco
Worcester Sauce
Motts Caesar Mix
Lemon Pale Ale
Garnished with Dill & Smoked Salmon

Notch8 at Fairmont Hotel Vancouver: The Anniversary Caesar, a mammoth and mouthwatering concoction that's a drink AND a meal for two was inspired by Walter Chell who (as the story goes) created the drink at Marcos, a restaurant in Calgary.  The Notch8 drink includes a chorizo and roast garlic calzone as a nod to its Italian lineage, and a deep-fried clam "po'boy" smothered in tomato sauce to reflect Chell's love of spaghetti vongole. The mixologists took inspiration from the cowboys and cattle of the Rockies and included two smokey BBQ pork sliders, two Alberta Beef prime rib-stuffed Yorkshire puddings and two fried chicken skewers to the cocktail. And to reflect the west coast and provide local flavor, two BC grilled prawn skewers were added.  Garnishes provide crunch with a skewer of pickled vegetables and celery sticks to illustrate the evolution of the Caesar over the decades. The three ounces of vodka is mixed with Mott's Clamato juice and topped with lime wedges.  Only offered on National Caesar Day in Notch8, the cocktail is $99.
Anniversary Caesar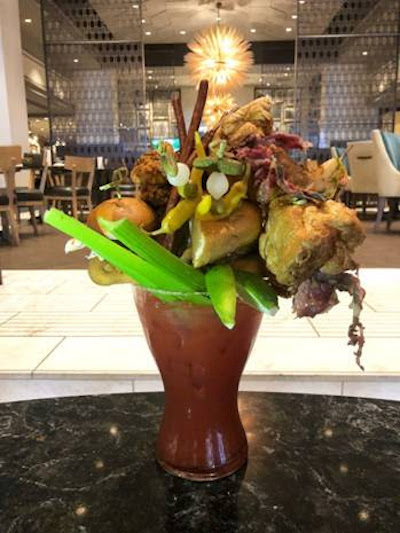 At Fairmont Pacific Rim, a perfect recipe for the home mixologist, the Coastline Caesar was created by Botanist head bartender, Jeff Savage who was inspired by Canada's vast 265,523 kilometers of coastline.  Using local ingredients and suppliers, the recipe profiles scents and flavours specific to the Pacific Northwest.
Coastline Caesar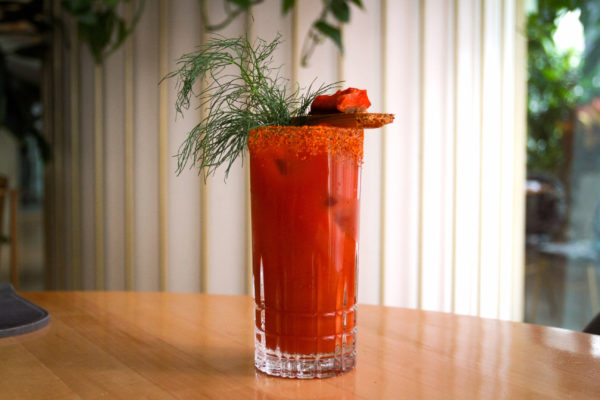 Ingredients
1 oz Sheringham Vodka
½ oz Sheringham Aquavit
¾ oz Smoked Cedar Tisane
3 oz Walter's Caesar Mix
1 Dash Bittered Sling Cascade Celery Bitters
Method:  Rim glass with Old Bay Seasoning.  Garnish with a dill front and small piece of smoked salmon and serve on a small cedar plank.

In Whistler:  The Mallard Bar's 5 DECADE CAESAR at Fairmont Chateau Whistler. Down and dirty but oh-so drinkable, this cocktail celebrates five decades with each of the five flavour profiles. House-made Thai Chili and Orange Percolated Gin comes courtesy of a cold drip system and a ten-hour timespan. Then combining the gin with vodka, traditional Clamato juice is added for some saltiness while vine ripened BC tomatoes balance with bitterness. A dash of both balsamic vinaigrette and miso add sour and umami respectively, and a splash of Burrowing Owl's Coruja hits the sweet spot. Muddled in the glass with a five spice mix ensures all the flavours remain intact. Available for $24 throughout 2019 in the Mallard Bar.
DECADE CAESAR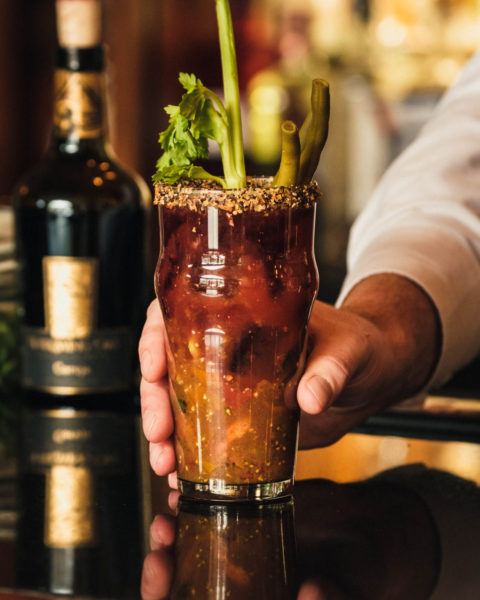 About Fairmont
Fairmont Hotels & Resorts is where occasions are celebrated and history is made. Landmark hotels with unrivalled presence, authentic experiences and unforgettable moments have attracted visitors to Fairmont and its destinations since 1907. The Plaza in New York City, The Savoy in London, Fairmont San Francisco, Fairmont Banff Springs and Fairmont Peace Hotel in Shanghai are but a few of these iconic luxury hotels, forever linked to the special places where they reside. Famous for its engaging service, grand public spaces, locally inspired cuisine and celebrated bars and lounges, Fairmont promises a special brand of thoughtful luxury that will be remembered long after any visit. With a worldwide portfolio of more than 75 hotels, Fairmont also takes great pride in its deep community roots and leadership in sustainability. Fairmont is part of Accor, a world-leading travel and lifestyle group which invites travelers to feel welcome in almost 4,800 hotels, resorts and residences, along with some 10,000 of the finest private homes around the globe.
Media release and images provided by Nancie Hall, Fairmont Hotels & Resorts, Pacific Northwest. Feature image: Seashuck, Q Bar, Fairmont Empress.
[wdi_feed id="2″]