Are you looking for great ideas for family fun on Father's Day? Plan on having a seafood adventure with the entire family at this year's BC Seafood Festival in the beautiful Comox Valley on Vancouver Island. Discover how delicious and healthy seafood can be during the 2019 BC Seafood Festival Signature Weekend from June 14 – 16, 2019. 
Cheer on celebrity chefs, mixologists and oyster shuckers as they fight their way to win prizes including the coveted $5,000 top prize from the BC Seafood Festival Chef Challenge, presented by Garland Canada and FortisBC. 
Signature Weekend ticketholders sample, savour and slurp the freshest BC seafood while enjoying featured BC wines, ciders and live music performances. Tickets for kids under 12 are free with the purchase of Signature Weekend passes!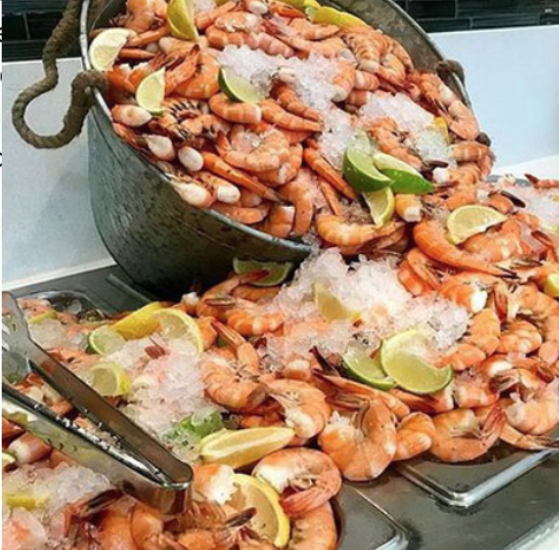 Treat Dad on June 16th to Bounty! A Brunch Seafood Cookout! Dads and seafood lovers get schooled by top seafood chefs to cook brunch during this hands-on intimate VIP cooking experience creating AND eating a delicious seafood dish. Mixologists will prepare cocktails to set-off this brag-worthy seafood brunch in style. Looking for lighter bites? Have Dad taste the weekend away at all the Tasting and Beverage stations featuring kelp and sea asparagus ice cream, artisan smoked oysters, wild BC halibut ceviche tacos and more! 
Family fun in the Kids Interactive Zone returns with touch tanks and interactive displays. Learn about wildlife rescue, sustainable seafood and aquaculture.  Kids can visit the Storytime tent, play games and enjoy all things seafood! Get your little ones cooking in our Kids Seafood Cooking Classes for 5-12 years and 10-15 year olds! New for this year, "Learn to Shuck" classes for 12-18 year olds with sessions available during the Signature Weekend.  Classes are FREE

Kids Zone Touch Tanks                                                   Kids Cooking Classes – FREE!
Sign-up for the new Junior Chef Competition for a chance to compete to win an amazing $1,000 RESP contribution provided by Mindset Wealth and bragging rights! Four junior chefs aged 8-15 will be selected to compete. Just like in the big leagues, there will be a twist ingredient the junior chefs must incorporate into their dishes. And what's a competition without a race against the clock? The junior chefs will have just 45 short minutes to prepare a seafood masterpiece and win the judges over with their creativity, plate presentation and, of course, delicious flavours.  
Baked n'Boiled Kitchen Party is a must-attend event for the entire family! Break out the fiddles where East coast meets West at a good old fashioned seafood boil! Simmering pots that are chock-full of local shellfish along with tasty sides are part of the fun along with music from The Whiskeydicks!
BC Seafood Festival 2019 Signature Weekend pass tickets are now on sale at BCSeafoodFestival.com. Weekend Pass with 50 food vouchers $70, Weekend Pass (no food) $25, Saturday or Sunday Day Pass $15. Enter now to win the Shuck-It! Let's Go!Geataway contest. This culinary adventure prize getaway for two includes: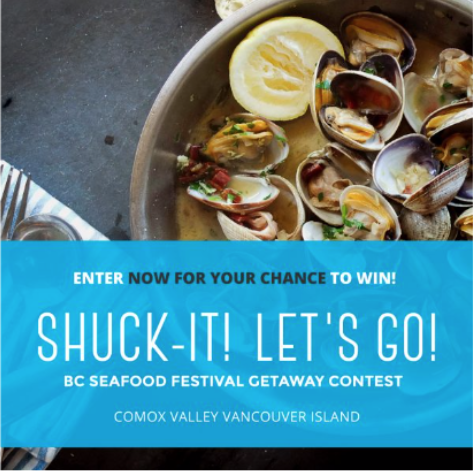 (Shuck It let's go is only available til June 2nd)
For more information about the Comox Valley, accommodation, tickets and all the incredible events, go to BCSeafoodFestival.com or call the Vancouver Island Visitors Center 1-855-400-2882.

Seafood tastings throughout the Signature Weekend!
Signature Event Sponsors for this year's festival include: Air Canada, Garland Canada, Fortis BC, Buy BC, Nespresso, Sobeys, FFAF Cargo and Coast Capital Savings.
Other Sponsors for the 2019 BC Seafood Festival include:
Discover Comox Valley
Coast Fresh Salmon Raised in BC
Fanny Bay Oysters
Comox Valley Airport
BC Shellfish Growers Association
40 Knots Vineyard & Estate Winery
Mac's Oysters
Old House Hotel & Spa
Travelodge
The Anco Motel
Comox Valley Inn
River Heights Motel
Cona Hostel
Holiday Inn Express
Best Western
Crown Isle Resort & Golf Community
About BC Seafood on Your Plate – June is BC Seafood Month
As June is BC Seafood Month, we've designed a campaign for seafood fans, participating restaurants will once again come together for BC Seafood on Your Plate highlighting favorite seafood experiences for diners from June 1-30, 2019. Top participating British Columbia restaurants will be showcasing their favorite seafood dishes to celebrate BC's bounty and compete for a $1,000 prize by earning the most votes. Seafood options range from appetizers, entrees, three-course meals and wine pairings. A complete list of participating restaurants can be viewed at https://bcseafoodfestival.com/bc-seafood-on-your-plate/
About Buy BC
Funding support for the 2019 BC Seafood Festival is provided, in part, by the BC Government's Buy BC Partnership Program; delivered by the investment Agriculture Foundation of BC with funding from the Government of British Columbia.
The 2019 BC Seafood Festival is working to promote reaching for BC seafood as part of a healthy diet. Canada's new Food Guide recognizes the health benefits of eating fish and seafood.
About the BC Shellfish Growers Association (BCSGA)
The BC Shellfish Growers Association originally founded the BC Shellfish Festival which has evolved to what we know today as the BC Seafood Festival – a collaboration between BCSGA and the Comox Valley Economic Development Society. The BCSGA is a non-profit society that represents the farmed shellfish industry which include farmers, processors and hatcheries as well as industry service providers and stakeholders http://bcsga.ca/ .
About the BC Seafood Expo
Held from June 12-13, 2019. In its fifth year, this is the largest seafood industry trade event in the Pacific Northwest attracting suppliers, buyers, distributors, producers, industry leaders and government representative to network, meet and grow the seafood sector #BCSeafoodExpo
Tickets: For a limited time, the "Limited Release" Signature Weekend Passes for the BC Seafood Festival are available for purchase. Tickets prices are $15.00 per Day Pass, $25 for the Weekend Pass, and the Weekend Pass with food vouchers is $70. For information, Signature Weekend or other event tickets, and accommodations, go to www.BCSeafoodFestival.com or call the Vancouver Island Visitors Center 1-855-400-2882.  Inquire about a Free Signature Weekend Pass with Stays at participating hotels while supplies last.
About the Comox Valley
Located midway on the east coast of Vancouver Island, the Comox Valley is well known for its culinary bounty from the farms and sea to table. Rich with festivals and sporting events, stunning alpine to ocean resorts and spas, this region is a place of super natural beauty that offers lush culinary, cultural and outdoor experiences. It is comprised of the communities of Comox, Courtenay and surrounding rural areas in the Comox Valley Regional District. Visit https://discovercomoxvalley.com/
Media release and images provided by Suzanne Girard, Suzanne Girard Travel & Communications.
[wdi_feed id="2″]