Cruise into Summer with Cycle City Vancouver's
New Sunset and City Lights Night Bike Tour
Evening excursion highlights Vancouver's after-dark assets
As summer approaches and long, sunny days stretch into warm, sultry nights, locals and visitors to Vancouver can look forward to a brand-new outdoor adventure.
Cycle City Vancouver
has launched the
Sunset and City Lights Night Bike Tour
, an evening excursion that shines a spotlight on the city's twinkling lights, neon signs and stunning sunsets.
The Sunset and City Lights Night Bike Tour leads groups of up to 15 people on a three- to four-hour journey through Vancouver's distinctive neighbourhoods, with 95 percent of the route centred along car-less trails and bike lanes. Participants cruise through the city's myriad of settings, ranging from the wildlife-rich forests of Stanley Park to the ocean-hugging seawall backdropped by glittering city skyline. Photo opps are plentiful at scenic stops like Stanley Park's Beaver Lake, where guests might catch a glimpse of active beavers and other wildlife; Granville Street's dazzling neon signs (in the '50s, Vancouver had more than 19,000 neon signs – one of the biggest collections in the world); and placid False Creek reflecting the sparkling lights adorning TELUS World of Science. As golden twilight turns to dusk, riders head for the sandy beaches of English Bay, where sunset casts pastel hues over the Pacific Ocean. The tour also includes a pit stop at Sunset Beach, where guests will take in the full beauty of a Vancouver sunset while enjoying gourmet ice cream sandwiches.
Throughout the Sunset and City Lights Night Bike Tour, guides share fascinating stories about the city's history, culture and evolution. Optional electric-assist bikes are available, which transform steep inclines into easy breezes so riders can focus on the dramatic personalities of each neighbourhood. The tour runs daily, starting at 7pm, between June and August; admission costs $75 per person, plus tax.
Cycling enthusiasts who wish to see the city at their own pace are invited to drop by Cycle City Vancouver's newly opened
bike rental and retail shop
, an expansive 4,000-square-foot space situated along a major downtown bike lane on Hornby Street. Cycle City Bike Shop is perfect for visitors and commuters alike, boasting a curated collection of city, adventure and commuter bikes, as well as tune-up services and loaner options for customers whose bikes require extended repairs. The shop is open between 8am and 9pm throughout summer, the longest hours of any bike shop in Vancouver.
"We are really excited to launch the Sunset and City Lights Night Bike Tour, which shows off a completely different perspective of the city," said Josh Bloomfield, owner of Cycle City Vancouver. "Vancouver has earned global acclaim as a premiere bike destination, and we hope to support and strengthen that reputation with the variety of our tours, as well as the quality of our bikes and the knowledgeable and personalized service offered by our dedicated staff."
For more information about the Sunset and City Lights Night Bike Tour and Cycle City Bike Shop, visit
www.cyclevancouver.com
.
About Cycle City Bike Shop:
Cycle City Bike Shop supports the city's growing number of cyclist commuters and leisure bikers with extended hours, urban-friendly accessories and speedy servicing. Conveniently situated along a major downtown bike lane on Hornby Street, the 4,000-square-foot space features a retail section selling practical commuter and stylish city bikes; adventure bikes; accessories like helmets, locks and lights; and enhancements like bike racks, bags and fenders. Seasoned bike mechanics offer convenient, all-day servicing, giving commuters the opportunity to drop off bikes in need of a tune-up en route to work and retrieve them on the way home.  
www.cyclevancouver.com/shop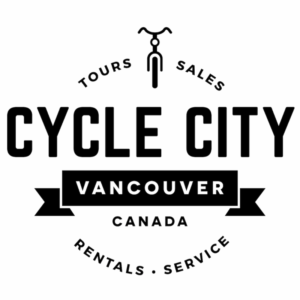 About Cycle City Vancouver:
Cycle City Vancouver offers personalized, informative and engaging small-group cycling tours, along with a selection of premium bike rentals available at its Burrard Street location, and bike rentals and retail at its expansive 4,000-square-foot space on Hornby Street. Since opening in 2010, Cycle City has received more than 1,600 five-star reviews and is consistently rated Vancouver's top sightseeing company on TripAdvisor.
www.cyclevancouver.com