Theatre Under the Stars' production of Mamma Mia! is one of the best I have seen. It was a drizzly, cool Opening Night, the audience in rain ponchos creating a sea of white, but the mood and music created an optimistic setting.
The enthusiastic, energetic, and talented cast started the show with humour, delivering the usually dull housekeeping items, dance skilfully through the production, to a finale with a great group number, that had the audience leaving on a high, humming, and dancing to the familiar ABBA songs. Director Shel Piercy and choreographer Shelley Stewart Hunt do a fabulous job of keeping the cast in almost constant movement.
Mamma Mia, an international blockbuster musical is now 20 years old and has been a play and a movie, written to accompany almost all of ABBA's chart-topping songs. 
In a story set on a dreamy little island in Greece, 20-year-old Sophie (Keira Jang) is about to get married even though her mother, Donna (Caitriona Murphy), is not thrilled. Donna has raised Sophie as a single mother, but Sophie wants her father to walk her down the aisle. She discovers Donna's old diary and learns that her father could be one of three men her mother brought to the island during the same summer. The dreamy architect, (Peter Monaghan), the perpetual traveller and tourist (Matt Ramer), and the Head-banger turned banker (Stefan Winfield); all enjoyed the glories of the little island and Donna. So, Sophie pretending to be Donna, invites all of them to her wedding.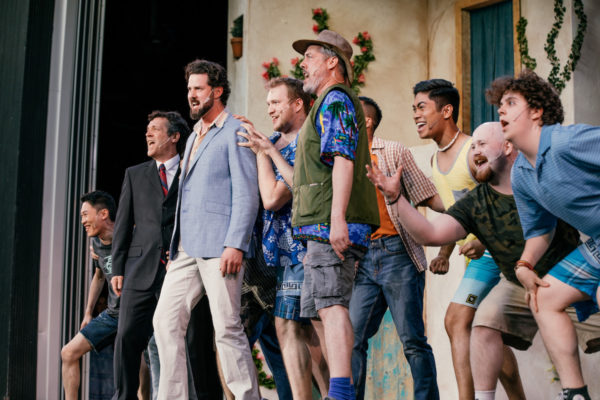 This leads to all the machinations of the typical comedy with romance for young and old and provides opportunities for hilarious and fun dance scenes.
Donna's former bandmates from her younger, wilder days: Rosie (Sheryl Anne Wheaton), an unmarried intrepid tourist, and Tanya (Lori Ashton Zondag), a happy divorcee also are invited. These three actors create a special BFF chemistry, and Zondag and Wheaton have a vivacity and zest that makes all of their numbers showstoppers. Murphy is excellent performing with the trio but spectacular in her solos, "Slipping Through My Fingers" and "The Winner Takes It All".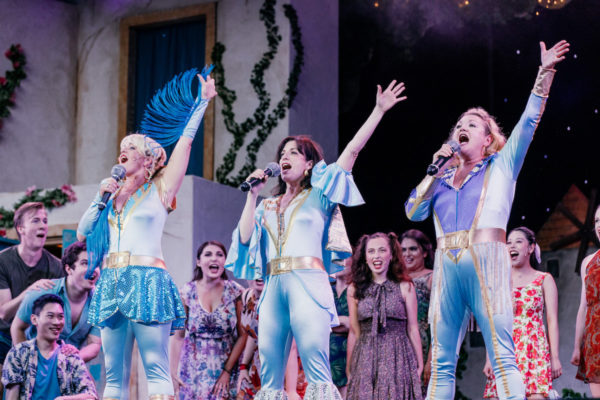 Of course, there is the groom, Sky (Joshua Lalisan) and his friends, Sophie's friends, the employees at the hotel, all young, talented and enthusiastic dancers and singers.
Jang is wonderful as Sophie, a character who naively believes she will get her answer instantly but comes to a more global truth. Her voice is clear and warm, and she's a compelling presence on-stage.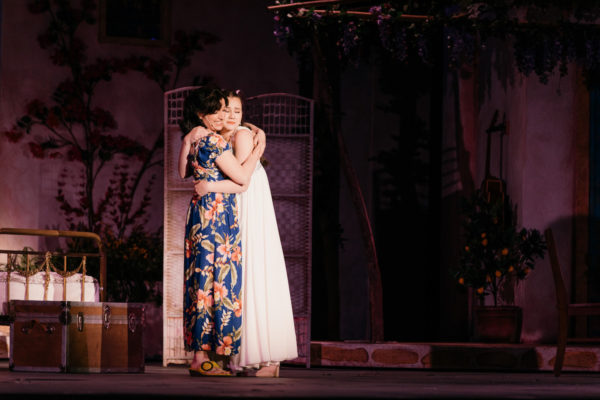 There are great dance sequences involving the athletic and talented performers including one with a variety of blow-up beach balls and floatation devices, and the other is a darker but funny nightmare sequence wherein Sophie finds herself surrounded by three dads. 
The costumes by Christina Sinosich and her team provide a beautiful mood to each set. From spectacular blues for the band and ladies at the bachelorette to the pinks for the wedding and jeans and neons, Mamma Mia! is a visual and auditory experience.
Even though it was a wet evening in the audience, there was a warm energy and glow from the stage that kept all of us warm and smiling. This excellent production, with such a talented cast and ABBA songs, lingers in your mind and brings back all the great feelings, so you think about seeing it again. "Mamma mia, here I go again/My my, how can I resist you?"
Music and lyrics by Benny Andersson, Björn Ulvaeus, and Stig Anderson. Book by Catherine Johnson. Directed by Shel Piercy. A Theatre Under the Stars production. At Malkin Bowl on Tuesday, July 9. Continues until August 16
Review by Sylvia Pritchard for MyVanCity
Images provided by Ines Min, Murray Paterson Marketing Group. Feature image: Cast of Mamma Mia! Photo credit: Lindsay Elliott.
Something is wrong.

Instagram token error.