DEEP INTO DARKNESS: TRAVERSING THE LIFE AND STORIES OF EDGAR ALLAN POE 
"Lord, help my poor soul." The last and few of any words you will hear the night you attend Deep Into Darkness. In true immersive theatre fashion, Third Wheel Productions' debut production is a movement and dance-based performance, that brings the audience into the macabre and conflicted world of Edgar Allan Poe. Fans of shows like Punch Drunk Theatre Company's Sleep No More and Third Rail Projects' Then She Fell, will be enchanted and impressed by this experience of immersive, interactive theatre.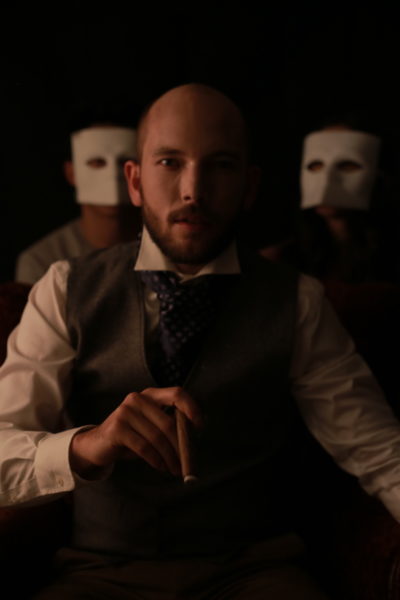 In two short hours Poe's sad story of creativity, love, heartbreak, addiction and madness loops around three floors of exquisitely dressed and detailed halls and rooms of The Cultch. This is a special night of theatre. Embrace your curiosity. In every room there are books, drawers and boxes into which to peer for insight on Poe's life. When an actor engages you, be open to the one-on-one experience with someone playing a real historical figure. Or if they take off running, follow them! You never know where it might lead. The story loops twice, so if you miss something, it's your chance to see it again. That being said, I could have used one more loop, to round out the experience.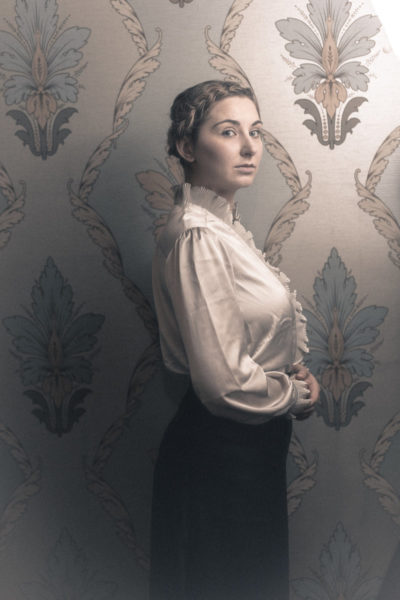 What is great about this production unlike any other immersive production I've seen, is that it employs the use of multi-media. There are environmental projections on a scrim in the set of Poe's "main house," and scenes in other areas, where live projections of the events unfolding are projected onto the walls. There are speakers on some floors, connected to the sounds on other floors. The device is very clever for site- specificity, as it allows audiences from any part of a space, to be able to see and hear the action around them at any given time. 
The theatremakers were obviously very inspired by Sleep No More, as the setup is similar. Audiences wear white masks inspired by Commedia Dell'Arte. One knows immediately who is an actor and who is an audience member. The entranceway is a bar where guests can rest, grab a drink, and return to the show. The downside to having the bar so close to – and sometimes a part of – the playing space, is that the mixture of audience members chatting loudly with their masks off is distracting from the action of the performance. It does not do justice to the hard work these wonderfully dedicated actors are doing. Furthermore, I felt myself pleading for a mandatory coat and bag check, the fifth time I was hit by someone's giant bag or backpack. 
Despite the technical limitations of renting a space for such a large production, the acting and movement is the highlight of the show. Laura Carly Miller and Sydney Doberstein's direction is detailed and passionate. The amount of research and care put into every choice shows. The text for each character to speak at certain times, as well as into how the characters meet and have scenes in specific locations cleverly culminates in a final tableau summing up the theatremakers' interpretation of Poe's life and death. Some scenes' meanings can be pushed a little more. I felt myself wanting to be engaged a little more emotionally. A touch more specificity wouldn't have gone awry. 
All in all this company is doing important work for Vancouver, as a city whose theatre scene needs a show like this to push the boundaries of what audiences will go see. What I wish for this production is a more permanent home, where they can play within a building that can be fully dressed, so that the immersion into the world is more complete. Or perhaps, they have more productions up their sleeves. All may be revealed in due time.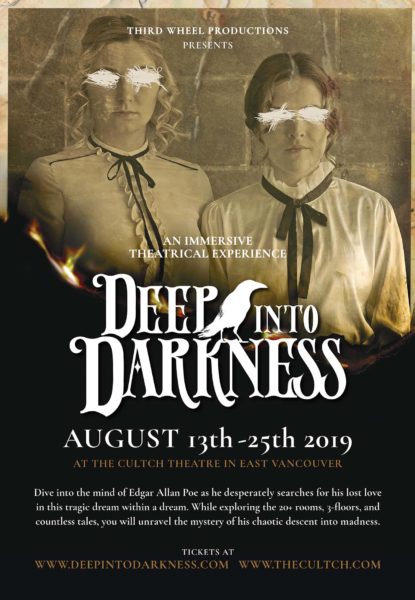 DEEP INTO DARKNESS – Aug 13 – 25, 2019 at The Cultch TICKETS: https://thecultch.com/events/deep-into-darkness
Feature image: Deep Into Darkness – Leah Beaudry (left) – Laura Carly Miller (center) – Sydney Doberstein (right) – Photo Credit Phoebe Miu
by Jessica Aquila Cymerman 
[wdi_feed id="2″]